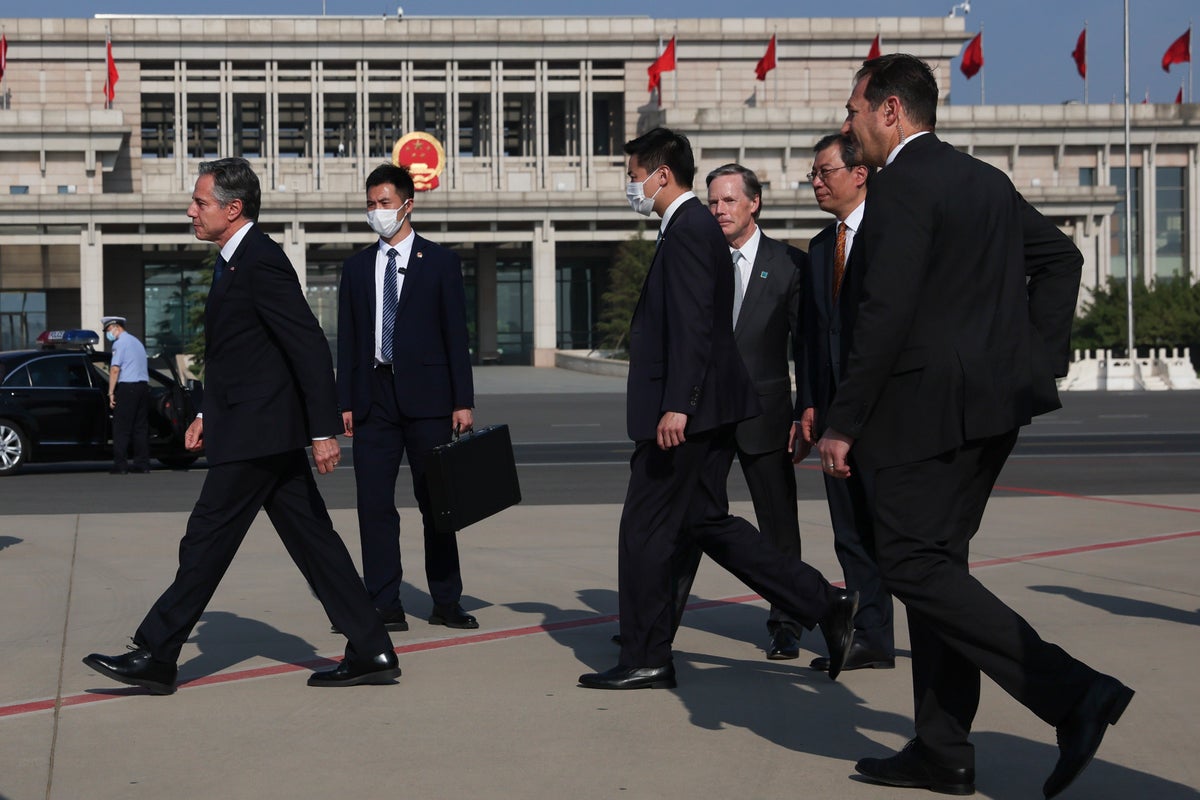 Here are the AP's latest coverage plans, top stories and promotable content. All times EDT. For up-to-the minute information on AP's coverage, visit Coverage Plan.
———————————
ONLY ON AP
———————————
RUSSIA-UKRAINE WAR-DAM COLLAPSE — Exclusive drone photos and information obtained by The Associated Press show that Russia had the means, motive and opportunity to bring down a Ukrainian dam that collapsed earlier this month while under Russian control. Images taken from above the Kakhovka Dam and shared with the AP appear to show an explosive-laden car atop the structure, and two officials said Russian troops were stationed in a crucial area inside the dam where the Ukrainians say the explosion that destroyed it was centered. Russia's Defense Ministry did not immediately respond to a request for comment. By Mstyslav Chernov and Lori Hinnant. SENT: 1,160 words, photos.
———————————
TOP STORIES
———————————
CHINA-US — U.S. Secretary of State Antony Blinken began a second and final day of critical meetings with senior Chinese officials, as the two sides expressed willingness to talk but showed little inclination to bend on hardened positions that have sent tensions soaring. Blinken met with China's top diplomat Wang Yi for about three hours, according to a U.S. official, but it is still not confirmed if Blinken will meet President Xi Jinping before he departs in the late evening. By Matthew Lee. SENT: 820 words, photos.
US-WEEKEND SHOOTINGS — A spate of mass shootings and violence across the U.S. over the weekend killed at least six people including a Pennsylvania state trooper and left dozens injured. The shootings follow a surge in homicides and other violence over the past several years that experts say accelerated during the coronavirus pandemic. By Matthew Brown. SENT: 970 words, photos.
TRUMP-MARXISM — Lashing out after his arraignment on federal charges last week, Donald Trump took aim at President Joe Biden and Democrats with language that seemed to evoke another era: He was being persecuted, he said, by "Marxists" and "communists." Trump has used the labels since he first appeared on the political scene, but it lately has become an omnipresent attack line that also has been deployed by other Republicans. By Ali Swenson. SENT: 960 words, photo.
ELECTION 2024-BIDEN — President Biden ramps up his reelection effort this week with four fundraisers in the San Francisco area, as his campaign builds up its coffers and lays strategic foundations for 2024. By Josh Boak. SENT: 530 words, photos. UPCOMING: 800 words after 4:15 p.m. event.
JUNETEENTH-WEEKEND — Americans across the country this weekend celebrated Juneteenth, marking the relatively new national holiday with cookouts, parades and other gatherings as they commemorated the end of slavery after the Civil War. While many have treated the long holiday weekend as a reason for a party, others urged quiet reflection on America's often violent and oppressive treatment of its Black citizens. And still others have remarked at the strangeness of celebrating a federal holiday marking the end of slavery in the nation while many Americans are trying to stop parts of that history from being taught in public schools. By Bianca Vázquez Toness, Ed White and Adrian Sainz. SENT: 780 words, photos.
INTO THE MULTIVERSE — Alternate universes are everywhere these days, from "The Flash" to "Spider-Man: Across the Spider-Verse." There's a deep hunger for exploring other possibilities about how other worlds and other potential lives might unfold. And movies, books and TV shows about alternate realities and multiverses feed that appetite in an era when lots of people are asking exactly how we got to this point. By National Writer Ted Anthony. SENT: 1,390 words, photos. An abridged version of 910 words is also available. With INTO THE MULTIVERSE-GLANCE — Captivated by the multiverse and alternate realities? Here's a handy guide to some good stuff. SENT: 790 words, photo.
————————————————————————-
SPOTLIGHTING VOICES
————————————————————————-
REFUGEES IN LIMBO — Two decades after the U.S. invasion of Iraq, thousands of Iraqis are still trying to emigrate to the United States. An estimated 164,000 Iraqis have already found homes in America since the 2003 invasion. But many are still waiting. That includes Iraqis who worked closely with the U.S. By Rebecca Santana. SENT: 1,190 words, photo.
VATICAN-INFLUENTIAL-NUN — A French nun is charting an unprecedented period of reform in the Catholic Church as one of the highest-ranking women at the Vatican. Sister Nathalie Becquart is the first female undersecretary at the Vatican's Synod of Bishops, which is gearing up for a big meeting in October on empowering rank-and-file Catholics to have a bigger say in the life of the church. In many ways, the meeting is shaping up as a referendum on the role of women in the church of the third millennium. SENT: 1,120 words, photos, video.
——————————
RUSSIA-UKRAINE WAR
——————————
RUSSIA-UKRAINE WAR — British officials say Russia and Ukraine are suffering high numbers of military casualties as Ukraine fights to dislodge the Kremlin's forces from occupied areas in the early stages of its counteroffensive. They say Russian losses are probably at their highest level since the peak of the battle for Bakhmut in March. SENT: 670 words, photos.
——————————
MORE NEWS
——————————
CALIFORNIA ZOO-LION DIES — Kamau, 'charismatic and iconic' African lion at California's Sacramento Zoo, dies at 16. SENT: 180 words, photo.
PIT BULL-STABBING — A man stabbed a pit bull to death in New York City's Central Park after a verbal dispute with the dog's owner. SENT: 100 words, photo.
PARTY SHOOTING-ILLINOIS — Authorities say one person is dead and at least 19 are wounded in suburban Chicago after a shooting early Sunday during a gathering in a parking lot. SENT: 130 words, photos.
BBN-PIRATES-BUS DRIVER-DUI — A bus driver has been arrested on a charge of driving under the influence while transporting the Pittsburgh Pirates from Chicago to Milwaukee for their weekend series with the Brewers. SENT: 170 words.
——————————————————-
WASHINGTON/POLITICS
—————-—————————————
TRUMP-CLASSIFIED DOCUMENTS-GARLAND — On his first day as attorney general, Merrick Garland pledged a return to what he called the "norms" of the Justice Department and said he would work to eliminate the perception of political interference. But in the two years since he took office, the former federal judge has found himself in the middle of a political firestorm of historic proportions. He's kept a poker face while under the high-profile glare, most intense now with the criminal charges against Donald Trump. By Lindsay Whitehurst. SENT: 1,000 words, photos.
OBIT-GEDDA — George Gedda, a workhorse veteran of The Associated Press whose coverage of the State Department and international relations spanned more than four decades, dies at 82. SENT: 860 words, photo.
————————
NATIONAL
————————
MEDICAID-STATES — About 1.5 million people have lost Medicaid coverage in more than two dozen states as a post-pandemic purge of the rolls gets underway. Data analyzed by The Associated Press show some states have dropped coverage for more than half the people whose eligibility cases were decided in April or May. By David A. Lieb and Andrew DeMillo. SENT: 1,270 words, photos. This is the Tuesday spotlight.
OREGON WILDFIRE-UTILITY TRIAL-IMPACT — A jury verdict that found an Oregon power company liable for devastating wildfires — and potentially billions of dollars in damages — is highlighting the legal and financial risks utilities take if they fail to take proper precautions in a hotter, drier climate. SENT: 920 words, photos.
HEAT WAVE — Forecasters warned people celebrating Father's Day outdoors to take precautions as triple-digit temperatures prompted heat advisories across much of the southern U.S. The unstable conditions triggered thunderstorms that knocked out power from Oklahoma to Mississippi. SENT: 600 words, photos, audio.
IDAHO-FATAL SHOOTING — Police in Idaho arrested a suspect in a shooting that killed four people on Sunday, according to a news report. SENT: 120 words.
FIRE-FIVE KILLED — Authorities say people were killed in a house fire in rural North Carolina. SENT: 80 words.
CALIFORNIA-MISSING REMAINS — Relatives of a late Black businessman who helped popularize Juneteenth in San Diego are suing a cemetery after his remains were reported missing from the family's burial plot. SENT: 420 words, photo.
—————————————
INTERNATIONAL
—————————————
KOREAS-TENSIONS — Top North Korean officials vowed to push for a second attempt to launch a spy satellite as they called their country's first, and failed, launch last month "the most serious" shortcoming this year and harshly criticized those responsible, state media reported. SENT: 680 words, video.
ISRAEL-PALESTINIANS — Israeli troops killed 3 Palestinians, including a minor, and wounded at least 29 others during a massive gunbattle with militants in the streets of the occupied West Bank city of Jenin, the Palestinian Health Ministry said. SENT: 230 words, photo.
MIGRANTS-GREEK SHIPWRECK — A Greek news website has published excerpts from the depositions of two survivors of Wednesday's deadly shipwreck off southwestern Greece. More than 500 people are feared drowned after an overcrowded boat carrying as many as 750 migrants went down in international waters, in what the U.N. said could be one of the deadliest such incidents on record. SENT: 850 words, photos.
AUSTRALIA-INDIGENOUS VOICES — Australia's Senate voted to hold a referendum this year on creating an Indigenous Voice to Parliament, an advocate aiming to give the nation's most disadvantaged ethnic minority more say on government policy. SENT: 620 words, photos.
JAPAN-ROAD ACCIDENT — Five people were killed and 12 others taken to the hospital after a truck collided with a bus in Hokkaido in northern Japan, according to local media reports. Police said the truck might have strayed into oncoming traffic, Kyodo news agency reported. SENT: 110 words, photos.
INDONESIA-JAPANESE EMPEROR — Japanese Emperor Naruhito met with Indonesian President Joko Widodo on the third day of his first official foreign trip since ascending the Chrysanthemum Throne in 2019. SENT: 320 words, photos.
MEXICO-ARMORED-CARS — Authorities in northern Mexico said they have destroyed 14 homemade armored cars of the kind used by drug cartels to fight land battles. The vehicles are usually adapted from commercial trucks, with steel plate armor welded on. Known in Mexico as "monstruos," or "Monsters," some of the vehicles junked were truly monstrous. SENT: 210 words.
—————————————
BUSINESS
—————————————
EUROPE-REFUGEES-HIRING — Multinational companies including Amazon, Marriott and Hilton pledged to hire more than 13,000 refugees, including Ukrainian women who have fled the war with Russia, over the next three years in Europe. By Business Writer Courtney Bonnell. SENT: 760 words, photos.
JAPAN-PRICES — Wages are rising in Japan more than they have in decades, at least for some workers. But so are prices, leaving many people feeling they must scrimp more than ever. In May, the consumer price index was up 3.2% from a year earlier, well above the central bank's target of about 2%. By Business Writer Yuri Kageyama. SENT: 1,070 words, photos.
CHINA-SHOPPING — Chinese consumers have been snapping up billions worth of items in China's first major online shopping festival after emerging from the pandemic as merchants slash prices, but analysts say that consumer confidence still remains weak as China re-emerges from the pandemic. SENT: 530 words, photos.
—————————————
ENTERTAINMENT
—————————————
TV-NETFLIX-FAN EVENT — Netflix gave audiences first looks at some planned and upcoming projects including "Avatar: The Last Airbender," "One Piece" and the third season of "Bridgerton" at a fan event. SENT: 280 words, photo.
—————————-
SPORTS
—————————-
GLF-US OPEN — Wyndham Clark is the U.S. Open champion and certainly played the part. All he did was hold his nerve against a world-class collection of contenders. Clark held off Rory McIlroy to win by one shot at Los Angeles Country Club. And to think two months ago the 29-year-old from Denver was looking for his first PGA Tour title. By Golf Writer Doug Ferguson. SENT: 1,200 words, photos.
BBO–JUNETEENTH CELEBRATIONS — The Boston Red Sox are among the teams in major league baseball commemorating Juneteenth. The Red Sox honored Ben Haith before the second game of their doubleheader against the New York Yankees on Synday. He's the designer of the red and blue Juneteenth flag with an exploding white star. By Sports Writer Jimmy Golen. SENT: 580 words, photos.
——————————————-
HOW TO REACH US
——————————————-
The Nerve Center can be reached at 800-845-8450 (ext. 1600). For photos, ext. 1900. For graphics and interactives, ext. 7636. Expanded AP content can be obtained from AP Newsroom. For access to AP Newsroom and other technical issues, contact apcustomersupport@ap.org or call 844-777-2006.
play youtube
,
xnxx
,
xvideos
,
porn
,
porn
,
xnxx
,
Phim sex
,
mp3 download
,
sex 4K
,
Straka Pga
,
gay teen porn
,
Hentai haven
,
free Hentai
,