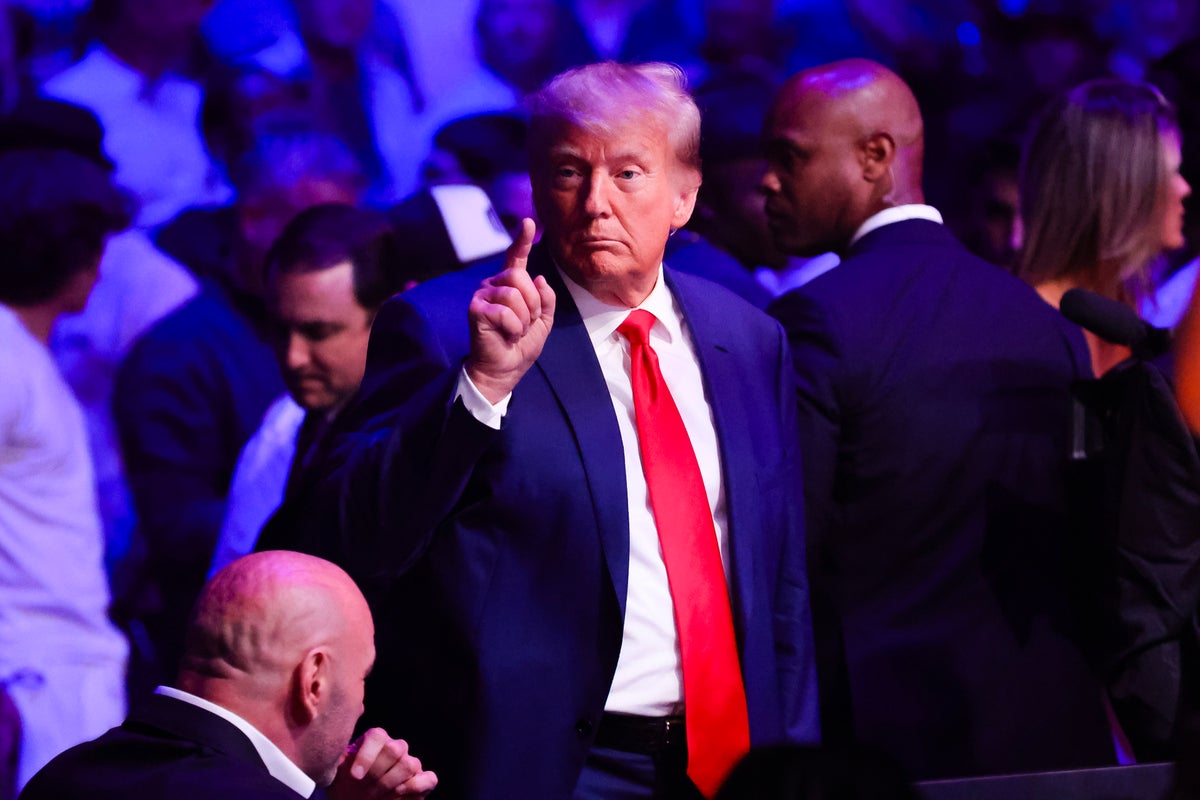 'What the hell is a Blizzard?': Trump reveals he's never been to a Dairy Queen
Donald Trump is now seeking to have his federal criminal trial delayed until after the 2024 election.
In a court filing late on Monday, Mr Trump's lawyers asked the judge for a lengthy delay to his classified documents case, saying that due to the extraordinary nature of the case, it would not be possible to try it before the election.
Mr Trump has been charged with 37 federal counts over his handling of classified documents after leaving the White House. Judge Aileen Cannon has set 18 July as the date for the first hearing in the case to discuss classified information procedures.
Meanwhile, a Georgia grand jury was slated to meet on Tuesday as part of the investigation into the efforts of the former president and his allies to overturn his 2020 election loss in the state.
Fulton County District Attorney Fani Willis has been investigating Mr Trump after he called Georgia Secretary of State Brad Raffensperger in early 2021 and urged him to "find 11,780 votes" to flip the state in his favour.
As his legal troubles heat up, Mr Trump is lashing out at Iowa Republican Governor Kim Reynolds for staying neutral in the 2024 race.
1689093937
The former US president was in Las Vegas on Saturday (8 July) night after a volunteer event for his Nevada primary campaign.
While there, the former president attended the mixed martial arts event at the T-Mobile Arena and met celebrities including Mark Wahlberg, American restaurateur Guy Fieri, controversial podcast host Joe Rogan, and Mel Gibson.
Tom Murray reports on what the musician had to say:
Oliver O'Connell11 July 2023 17:45
1689092148
GOP presidential candidates jump to defend Iowa governor from Trump attacks
After Donald Trump launched a public attack on Iowa Governor Kim Reynolds, other GOP presidential candidates have come to her defence – just six months before the Iowa caucus is set to take place.
In a Truth Social post, Mr Trump objected to Ms Reynolds' decision to remain "neutral", believing he is owed an endorsement because he backed her when she was running for governor.
Oliver O'Connell11 July 2023 17:15
1689090126
Comer questions timing of charges against so-called Biden 'whistleblower'
Four days after he claimed a "very credible witness" had emerged to provide the Justice Department with derogatory information about President Joe Biden and his family, House Oversight Committee chair James Comer questioned the timing of charges that the alleged whistleblower was actually spying for the Chinese government and attempting to broker illegal arms sales to Libya.
Andrew Feinberg has the latest from Washington, DC.
Oliver O'Connell11 July 2023 16:42
1689087648
Fani Willis: The Georgia prosecutor who could take down Trump
Alex Woodward profiles the district attorney with a long history of targeting organised crime gangs has the former president in her sights.
Oliver O'Connell11 July 2023 16:00
1689086448
Full story: Trump wants classified documents trial delayed until after 2024 election
In a court filing in Miami late on Monday, Mr Trump's lawyers asked the judge to indefinitely delay his trial on charges over his handling of classified documents, saying that due to the extraordinary nature of the case, it would not be possible to try it before the presidential election.
Rachel Sharp and Andrew Feinberg have the story.
Oliver O'Connell11 July 2023 15:40
1689085549
DeSantis to meet with major donors next week
Florida Governor Ron DeSantis is planning to meet with major east coast donors next week at a private gathering in Southampton, New York, Fox Business reports.
The meeting has been arranged to try and answer questions about why his 2024 primary campaign has stalled in the polls as Donald Trump's lead has grown.
Charles Gasparino reports that the governor is planning to tell donors that he will play the "long game" against the twice-indicted former president.
Oliver O'Connell11 July 2023 15:25
1689085248
Pence shuts down voter who blamed him for 2020 election result
A disgruntled Iowa voter asked former Vice President Mike Pence whether he "ever second-guess[ed]" himself after he certified Joe Biden's 2020 election victory, despite then-President Donald Trump repeatedly urging him to block the transfer of power.
Luann Bertrand, the voter, confronted the former vice president during his campaign stop in Sioux City, Iowa. She falsely claimed that Mr Pence had the power to block the certification.
Oliver O'Connell11 July 2023 15:20
1689084348
…meanwhile, here's the reaction on Fox Businss
Oliver O'Connell11 July 2023 15:05
1689083448
Watch: 'Morning Joe' panel reacts to new turn in Comer's Biden corruption exposé
Oliver O'Connell11 July 2023 14:50
1689082246
Judge delays Trump hearing until 18 July
Judge Aileen Cannon has delayed Friday's classified information procedures hearing in the Donald Trump criminal case until Tuesday, 18 July. It will take place in Fort Pierce, Florida.
Trump co-defendant Walt Nauta sought the delay due to his lateness in hiring local counsel. There was no objection from Special Counsel Jack Smith.
Oliver O'Connell11 July 2023 14:30
play youtube
,
xnxx
,
xvideos
,
porn
,
porn
,
xnxx
,
Phim sex
,
mp3 download
,
sex 4K
,
Straka Pga
,
gay teen porn
,
Hentai haven
,
free Hentai
,