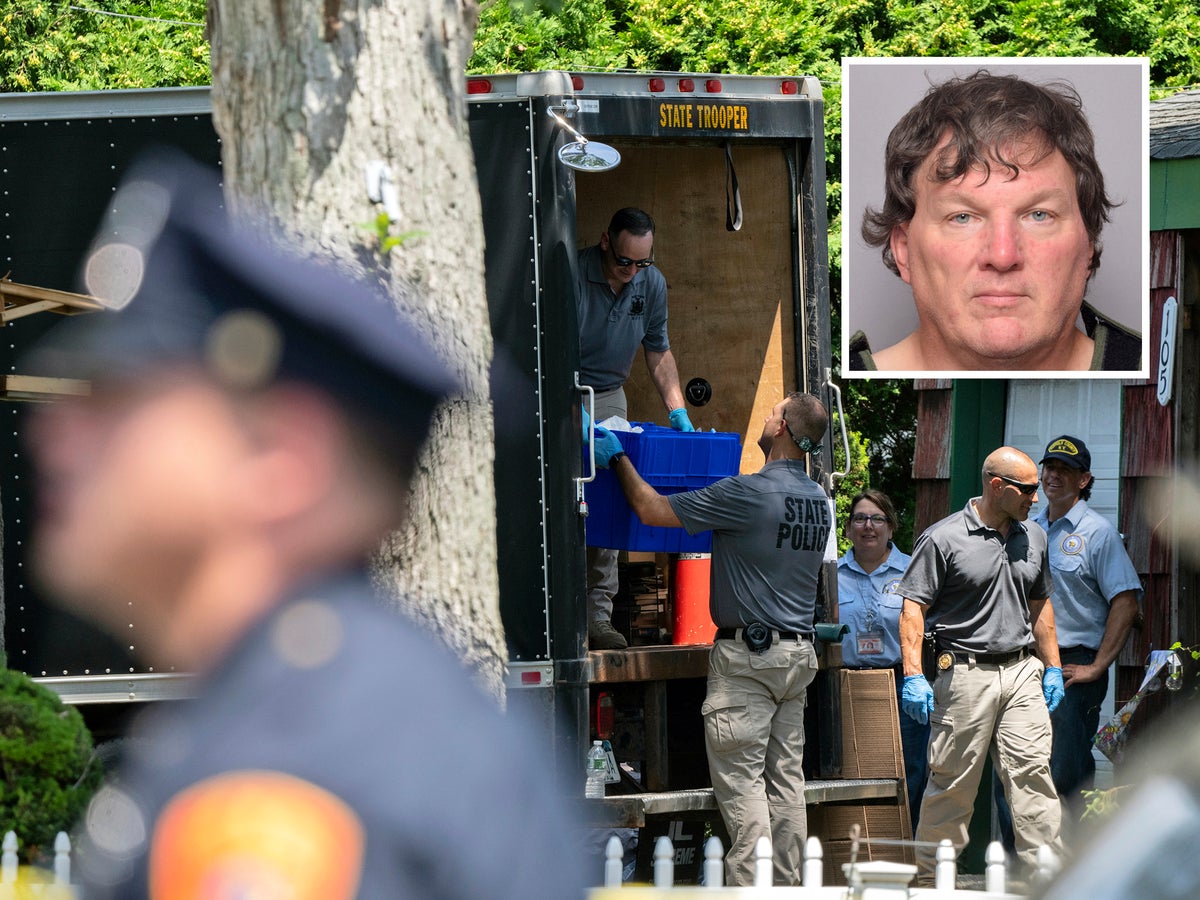 Gilgo Beach serial killer suspect Rex Heuermann is now expected to be charged with a fourth murder – as tips and evidence pour in following his shock arrest last week.
The 59-year-old married father-of-two – who has lived on Long Island his entire life and runs an architecture firm in Manhattan – was arrested on 13 July and charged with the murders of Melissa Barthelemy, Megan Waterman and Amber Costello.
He is also the prime suspect in the murder of a fourth woman Maureen Brainard-Barnes, who was last seen alive in New York City in early June 2007.
All four women – known as the "Gilgo Beach Four" – worked as sex workers and vanished after going to meet clients.
Suffolk County District Attorney Ray Tierney said on Monday that officials are "confident" that Mr Heuermann will soon be charged with the murder of Brainard-Barnes.
"We feel we can prove these three murders," Mr Tierney told CNN.
"We're also confident that we're going to be able to eventually charge that fourth murder."
It's also possible that he could also face charges for other victims as a total of 11 sets of human remains were found dumped along the shores of Gilgo Beach back in 2010 and 2011.
"As we continue to gather evidence, anything is possible," said the DA.
Since Mr Heuermann's arrest late last week, the DA said that investigators have received a wealth of evidence and information about the accused serial killer.
It is not clear what that new evidence is but investigators have been searching the married father-of-two's home in Massapequa Park for evidence – and possible trophies – linking him to the slayings.
On 14 July, authorities seized Mr Heuermann's Chevrolet Avalanche from his driveway – a vehicle matching the description of a car a witness saw on the night when one of the victims was last seen alive.
Over the weekend, multiple other items, including a trove of firearms, were also seized from the suspect's home – just a 20-minute drive from Gilgo Beach where the killer dumped the bodies of his victims.
A plastic tub full of rifles was taken from the family property and loaded into a police van, as it emerged that the Manhattan architect owned a large gun safe and had legal permits for a staggering 92 firearms.
On Sunday night, officers also swooped on a storage unit in Amityville – two miles from his home – in connection to the suspect.
Suffolk County Police Commissioner Rodney Harrison said in a press conference on 14 July that the net closed in on Mr Heuermann last year when they connected him to a pickup truck seen by a witness at the scene when Costello disappeared.
Court records show that he was then further linked to the killings through DNA obtained from a discarded pizza box, a trove of burner phones he allegedly used to contact the murdered women, and his wife's hair which was found on one of the victim's bodies.
While he was under surveillance in recent months as detectives continued to investigate the case, Commissioner Harrison said that Mr Heuermann continued to use burner phones and patronise sex workers.
He also carried out depraved online searches including for child porn – as well as searches about the Long Island serial killer and the investigation into catching the suspect, he said.
Because of these concerns – and the fact that Mr Heuermann has permits for 92 firearms – authorities felt they needed to bring him off the streets now so that no more lives were endangered, they said.
The Gilgo Beach murders had long stumped law enforcement officials in Suffolk County who believed it was the work of one or more serial killers who targeted sex workers and dumped their bodies along the remote beaches on Ocean Parkway.
The case began in May 2010 when Gilbert vanished after leaving a client's house on foot near Gilgo Beach.
She called 911 for help saying she feared for her life and was never seen alive again.
During a search for Gilbert in dense thicket close to the beach, police discovered the remains of another woman.
Within a matter of days, the remains of three more victims were found close by.
By spring 2011, the remains of a total of 10 victims had been found including eight women, a man, and a toddler. Police have long thought that it could be the work of one or more serial killers.
Gilbert's body was found in December 2011. Her cause of death is widely contested with authorities long claiming that it is not connected to the serial killer or killers but that she died from accidental drowning as she fled from the client's home.
However, an independent autopsy commissioned by her family ruled that she died by strangulation and her mother believes she was murdered.
Like Gilbert, most of the victims targeted were sex workers while some are yet to be identified.
Investigations are continuing into the other murders.
Mr Heuermann he pleaded not guilty to the charges and was ordered to be held without bond at his first court appearance on 14 July.
play youtube
,
xnxx
,
xvideos
,
porn
,
porn
,
xnxx
,
Phim sex
,
mp3 download
,
sex 4K
,
Straka Pga
,
gay teen porn
,
Hentai haven
,
free Hentai
,