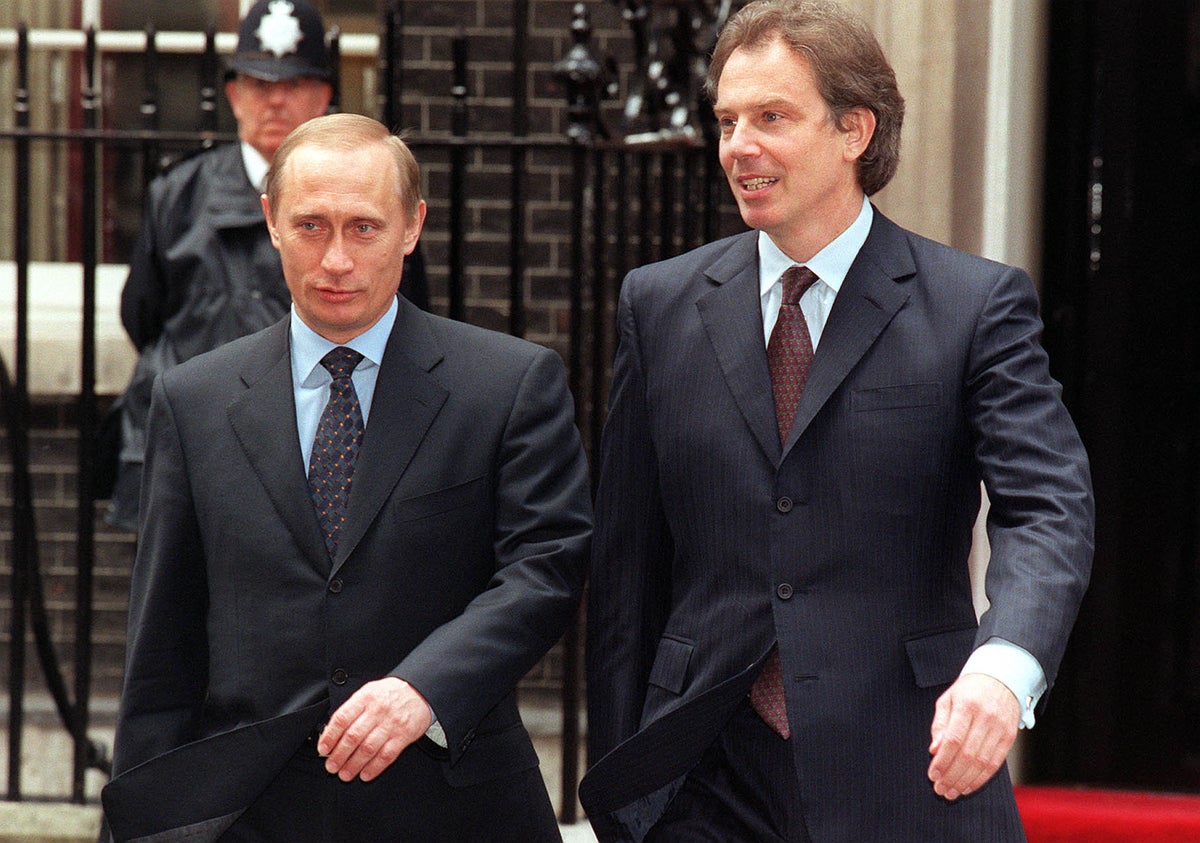 Newly unsealed government documents reveal that Tony Blair received a chilling warning that Ukraine feared the West was nurturing too "rosy" a view of Vladimir Putin – two decades before Russia's invasion.
At a time when the Labour prime minister argued that Mr Putin should be given a seat at the international "top table", having been the first Western leader to visit him in Moscow, files now issued to the National Archives show that Ukrainian officials harboured eerily prescient concerns about the relationship.
In addition to revelations about Mr Blair's fears over Italy's Silvio Berlusconi – and admiring letters from Margaret Thatcher to the Labour prime minister – the documents show that Mr Blair was urged by aides not to snuff out Kyiv's aspirations to join the EU, arguing that the presence of Ukraine within the alliance could form a "formidable barrier" to Russian imperialism.
Following talks in Crimea in July 2001, Britain's ambassador to Kyiv, Roland Smith, warned Mr Blair that British proposals for Ukraine, Moldova and Belarus to receive "special neighbour status" risked giving the impression of setting a final eastern EU boundary – and excluding countries that were deemed to be "on the wrong side".
Noting that foreign secretary Jack Straw's proposals appeared to shut off the prospect of full membership for these nations, he questioned whether this was due to a belief that they were "incurably infected with the Soviet mentality" or "that Ukraine ought to go back to Russia where she belongs".
These concerns were in contrast to Ukraine's desperate hopes of realising its "European vocation", with its president, Leonid Kuchma, adding a handwritten postscript to Mr Blair, saying he pinned "great hopes on your personal support in this exceptionally important issue".
Roger Liddle, Mr Blair's main adviser on the matter, later lamented to the PM that "the Ukrainians want to build a special relationship with us, if only we would show more interest".
At a follow-up meeting in December at the foreign secretary's grace-and-favour mansion, Chevening, Mr Liddle found the delegation from Kyiv in downbeat mood at their treatment by the West.
He told Mr Blair: "We have too rosy a view of Putin (who according to them is a clever, presentable power politician, but no democratic hero). And we rubbish Ukraine."
Despite the PM's hopes for a new era of integration with Moscow under Mr Putin's rule, the Russian president's relationship with Britain and the West ultimately soured, with foreign policy disagreements becoming marked by increasing bitterness and suspicion.
Since Mr Putin's decision to launch a full-scale invasion of Ukraine in 2022, after illegally annexing Crimea in 2014, the Ukrainian president, Volodymyr Zelensky, has pushed hard for his country to become a member of both the EU and Nato.
But as recently as this month, Ukrainians were again left disappointed as Mr Zelensky departed a summit of the military alliance in Vilnius with only vague promises of future membership.
Despite risking controversy to court Mr Putin two decades ago – even in the face of Russia's brutal war in Chechnya – Mr Blair was desperate to avoid accusations in the British press that he was "snuggling up" to Italy's Berlusconi, according to the documents handed to the National Archives this week.
Although Mr Blair had given a handwritten note to his aides stating that the Eurosceptic Italian prime minister was an "essential" ally against France and Germany in their ambitions for a more integrated EU, the documents suggest there was concern in No 10 about how to portray a planned summit in Rome.
Downing Street had (unusually) decided not to permit lobby journalists to travel with Mr Blair, as his aides sought to play down the meeting in the British media, noted David Whineray in the Foreign Office, adding: "We will want to avoid 'Blair snuggles up to Berlusconi' headlines."
The summit in February 2002 came as Berlusconi – who died earlier this year – was in the headlines following controversial comments about the supposed "superiority" of Western civilisation, and was embroiled in fresh allegations of corruption – an issue that dogged his political career.
But Britain's ambassador, Sir John Shepherd, briefed No 10 that there was a "real opportunity" for the two men to work together, noting that Berlusconi was determined to cling to power, having spent 50 billion lire (then £15.5m) in 2000 alone on legal fees as the Italian currency was replaced by the euro.
"He will spend his last cent (even though he says he has yet to spend any euros!) on ensuring he preserves his Houdini-like ability to avoid conviction. This is a war he has to win," Sir John wrote.
"Even if he does come a cropper for whatever reason, we have at least in the short term a real opportunity to exploit and form his government's orientations in Europe in support of UK interests, holding our noses and staying alert to the risks as we do so."
The documents also show that Mr Blair received private and heartfelt praise from former Tory and Lib Dem leaders Margaret Thatcher and Paddy Ashdown over his support for Washington in the aftermath of the 9/11 attacks.
"I greatly admire the resolve you are showing," wrote Thatcher, in a handwritten letter dated 4 April 2002. "You have ensured that Britain is known as a staunch defender of liberty, and as a loyal ally of America. That is the very best reputation our country can have."
She signed off: "With all good wishes, Margaret T."
Mr Ashdown, meanwhile, emailed his former adversary to say: "Heavens – what a wonderful speech. Just what the country needed. It will have daunted your enemies, thrilled your friends and comforted those who doubt."
The files also include a letter from the Tory defence minister at the time, Sir John Stanley, sent to Mr Blair just days after 9/11, warning of the need to prepare for an imminent terror attack in the UK using weapons of mass destruction (WMD).
He wrote: "I wish to urge most strongly that your government bases its security, civil defence and intelligences resourcing and deployment policies on the assumption that a terrorist WMD attack on one or more of the centres of population in the UK will be attempted and attempted in the near and foreseeable future.
"The vulnerability of British people, particularly those living in urban areas, to terrorist attack is, I suspect, all too great."
In response, Mr Blair said that while he shared Sir John's concerns and had ordered a security review, the greatest threat remained a conventional attack.
play youtube
,
xnxx
,
xvideos
,
porn
,
porn
,
xnxx
,
Phim sex
,
mp3 download
,
sex 4K
,
Straka Pga
,
gay teen porn
,
Hentai haven
,
free Hentai
,