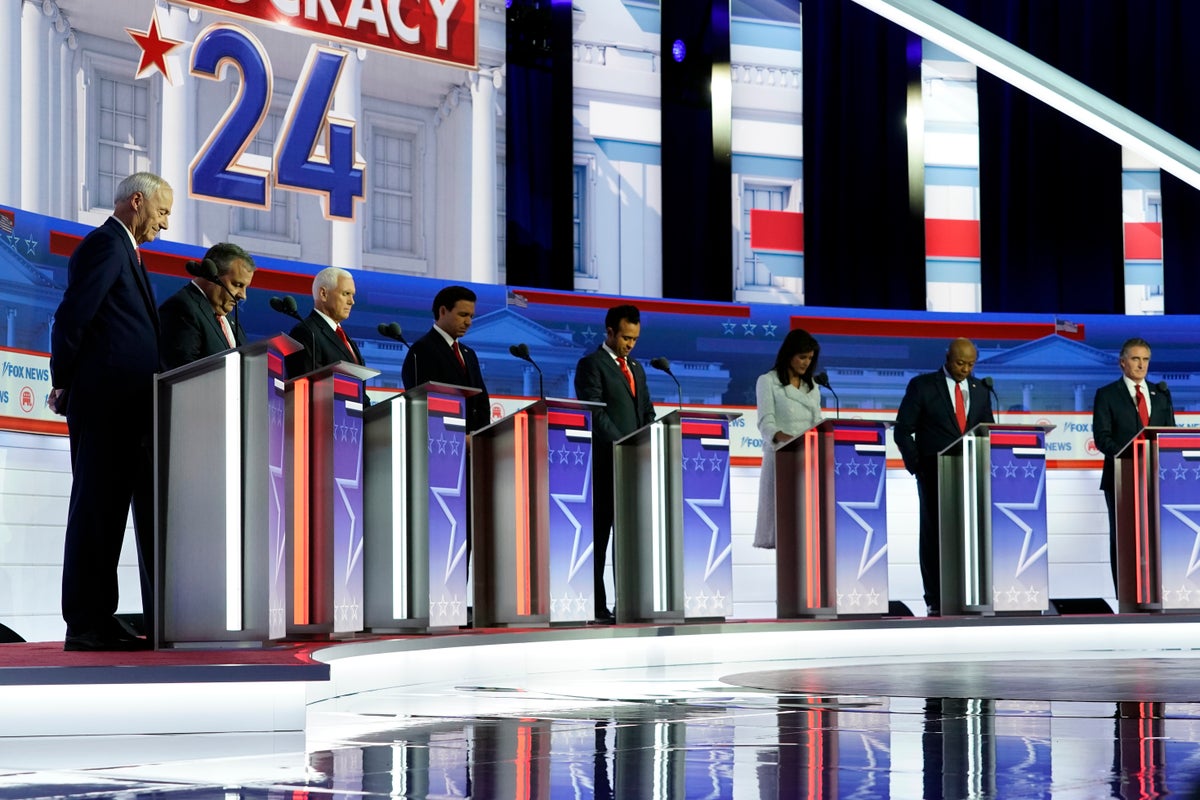 Related video: The Stage is Set: Who Will Appear at the Next Republican Presidential Debate?
The second Republican debate is underway at the Ronald Reagan Presidential Library in Simi Valley, California.
Seven candidates qualified for the debate, which is broadcast on Fox Business and Univision – moderated by Dana Perino and Stuart Varney of Fox News Media and Ilia Calderón of Univision.
Florida Governor Ron DeSantis, former Vice President Mike Pence, South Carolina Senator Tim Scott, former UN Ambassador Nikki Haley, biotech entrepreneur Vivek Ramaswamy, former New Jersey Governor Chris Christie, and North Dakota Governor Doug Burgum are on stage.
Former president Donald Trump has chosen to skip the debate to instead speak to autoworkers in Michigan.
In order to qualify, candidates needed to gain at least 3 per cent support in two national polls or 3 per cent in one national poll as well as two polls from four of the early-voting states of Iowa, New Hampshire, Nevada and South Carolina.
The White House hopefuls also needed at least 50,000 unique donors, including at least 200 from 20 states or territories. They also had to sign the Republican National Committee (RNC) pledge promising to support the party's eventual nominee.
1695862854
Highly principled libertarian or ruthlessly ambitious kook: Vivek Ramaswamy
More than a decade and a half after Vivek Ramaswamy was described as an intense "debater-extraordinaire" in The Harvard Crimson in December 2006, he took centre stage at the Fiserv Forum in Milwaukee as one of the top two candidates.
Depending on who you ask, the biotech entrepreneur came out of the 23 August showdown as either the winner or the candidate who took the most punches from his more senior colleagues.
For part of his undergraduate career, Mr Ramaswamy headed the Harvard Political Union, a role in which he was referred to as simply "The Chairman". In a moment of foresight, Mr Ramaswamy told The Crimson that "I consider myself a contrarian. I like to argue."
"Harvard teaches you to be a better questioner… you can be heard even if you aren't in the mainstream," he told the school paper.
Ariana Baio28 September 2023 02:00
1695861334
Trump rails against electric vehicles and windmills in Michigan ahead of second GOP primary debate
Trump rails against electric vehicles and windmills in Michigan
The Independent28 September 2023 01:35
1695861277
Newsom praises Biden's border plan ahead of debate
California Governor Gavin Newsom praised President Joe Biden's border plan in the spin room at the Reagan Presidential Library in Simi Valley.
"As the governor of a border state, I want to compliment the president for putting out a comprehensive plan," he said.
Gustaf Kilander28 September 2023 01:34
1695861091
Gavin Newsom in the debate spin room for Biden
California Governor Gavin Newsom is in the debate spin room at the Reagan Presidential Library in Simi Valley.
Earlier on Wednesday, Mr Newsom told Semafor that New Jersey Senator Bob Menendez should resign following his indictment on corruption charges.
Gustaf Kilander28 September 2023 01:31
1695861054
Five things to watch for in the second Republican presidential debate
1. Who is tonight's punching bag?
During the last Republican debate, most of the candidates attacked businessman Vivek Ramaswamy as he saw his numbers surge. Former New Jersey governor Chris Christie called him "a guy who sounds like ChatGPT." Former vice president Mike Pence said he was inexperienced and former South Carolina governor Nikki Haley slammed his lack of understanding on foreign policy. Since then, the number of voters who say he is the most electable has declined.
2. Do or die for Ron DeSantis
Those same polls that show Ms Haley rising have also shown Mr DeSantis cratering. For the most part, donors have decided to move elsewhere or at least look into other candidates, including Ms Haley and Sen Tim Scott (R-SC). Months of Mr Trump pummeling him as "Ron DeSanctimonious" coupled with Mr DeSantis's unwillingness to attack the former president has rendered him extremely vulnerable.
3. The culling of the field
In the same way that Mr DeSantis has seen his campaign lag, candidates who have little chance of winning will begin to hear calls to drop out. Donors will begin cutting off their money. With Mr Trump consolidating his share of the vote, Republican fundraisers and other party leaders will pressure candidates to avoid splitting the non-Trump field.
4. Separating themselves from Trump
While Mr Trump is hoping to show himself as a friend of the working man as he speaks to union workers, many of the Republican presidential candidates have criticised the union strikes. Mr Scott, for his part, praised Mr Reagan for his firing of air traffic controllers when they went on strike. Ms Haley has hit Mr Biden for supporting organised labour. Mr Biden for his part highlighted both Mr Scott and Ms Haley's words in a recent ad.
The lack of urgency of debates without Mr Trump is emphaised by the fact that it is not even the biggest story about GOP infighting this week. That dubious award goes to Republicans in the House of Representatives who have been unable to come to an agreement to prevent a government shutdown. So far, House Speaker Kevin McCarthy has been unable to broker an agreement that will make all sides happy.
Eric Garcia28 September 2023 01:30
1695860783
Trump claims to have 'risked it all to defend the working class'
Mr Trump appeared on stage in Clinton Township in Michigan, claiming to have "put everything on the line to fight" for his supporters.
"I've risked it all to defend the working class from the corrupt political class that has spent decades sucking the life, wealth, and blood out of this country," he said.
Gustaf Kilander28 September 2023 01:26
1695860690
Donald Trump takes the stage in Michigan as he skips second debate
Donald Trump has taken the stage in Michigan to speak to striking autoworkers as he skips the second Republican primary debate.
He slammed President Joe Biden after he joined workers on the picket line.
Mr Trump said Mr Biden was siding with "left-wing crazies who will destroy automobile manufacturing".
Gustaf Kilander28 September 2023 01:24
1695859250
Who are the moderators for the debate tonight?
After a fiery debate last month, Republican presidential candidates are preparing for a second presidential primary showdown on 27 September.
The debate will take place at the Ronald Reagan Presidential Library in Simi Valley, California.
Fox News Media's Dana Perino and Stuart Varney and UNIVISION's Ilia Calderón will co-moderate the second Republican presidential primary debate, the networks revealed 31 August.
Perino, 51, is a political commentator and author who served as the 26th White House Press Secretary under former US president George W Bush from 2007 to 2009.
Now Perino co-anchors FOX News' "America's Newsroom" and is a co-host on "The Five."
She has worked at Fox News for 14 years and conducted exclusive interviews with the likes of Meta founder Mark Zuckerberg, former Secretary of State Condoleezza Rice and former Starbucks CEO Howard Schultz, among others.
Varney, 75, is a British-American talk show host and a conservative political commentator who works for Fox News and Fox Business Network.
Varney has been in the TV industry for 45 years and was one of Fox Business' original anchors. He is also the host of his own show called "Varney & Co." and another programme called "American Built".
Calderón, 51, co the final 2020 Democratic primary debate between Joe Biden and Sen. Bernie Sanders of Vermont hosted by CNN.
Ariana Baio28 September 2023 01:00
1695857450
What has Tim Scott said about strikes and unions?
Mr Reagan fired thousands of air traffic controllers after they went on strike in 1981.
"He said, 'You strike, you're fired.' Simple concept to me. To the extent that we can use that once again, absolutely," Mr Scott said in Iowa earlier this month, even as the GOP has come to rely more and more on blue-collar workers.
But the Republican Party today remains anti-union, especially when considering what General Dwight Eisenhower told the American Federation of Labor when he was running for president in 1952.
"Today in America unions have a secure place in our industrial life," he said. "Only a handful of unreconstructed reactionaries harbour the ugly thought of breaking unions. Only a fool would try to deprive working men and women of the right to join the union of their choice."
The senator later elaborated on his comments, saying "Obviously the president doesn't fire folks in the private sector, but he can do in the public sector".
"I brought up the Ronald Reagan years because I do think that we need to have front and centre the example of a president who stood strong, and today's president, he stands weak," he added.
"The UAW is one of the most corrupt and scandal-plagued unions in America," Mr Scott said in a statement. "They are showing their true colours once again and autoworkers and taxpayers will be left holding the bag together. They want to threaten me and shut me up."
"They don't scare me. I will truly fight for American workers and jobs, promote the dignity of work, and end the Biden retreat from the values that make our nation exceptional," he added.
"American workers continue to witness how a weak president leads to all sorts of chaos at home and abroad," Mr Scott said. "Joe Biden and Big Labor bosses are undermining the dignity of work and setting autoworkers up for failure. They're playing politics with people's lives."
Ariana Baio28 September 2023 00:30
1695855605
Chris Christie evokes his inner Taylor Swift lashing out at Trump
Chris Christie, the former New Jersey governor who is running for president for a second time, referenced a popular Taylor Swift song to throw shade at ex-president Donald Trump.
On X, formerly known as Twitter, Mr Christie used a photo taken while he attended a Dallas Cowboys game earlier this week to reference memes about Ms Swift attending a Kansas City Chiefs game.
Social media was abuzz when Ms Swift attended the game because she has been romantically tied to Travis Kelce, the Chiefs' tight end.
Mr Christie joked that he was "just a guy in the bleachers" this past Sunday "but after tonight, Trump will know we are never ever getting back together."
The ending line was a reference to one of Ms Swift's songs, "We Are Never Ever Getting Back Together".
Mr Christie has been a harsh critic of the former president since he used claims of election fraud in 2020 to try and overturn the presidential election results.
Despite having endorsed Mr Trump in the past, Mr Christie now views him as an enemy and used his platform to call on voters to support any other candidates besides Mr Trump.
Ariana Baio28 September 2023 00:00
play youtube
,
xnxx
,
xvideos
,
porn
,
porn
,
xnxx
,
Phim sex
,
mp3 download
,
sex 4K
,
Straka Pga
,
gay teen porn
,
Hentai haven
,
free Hentai
,