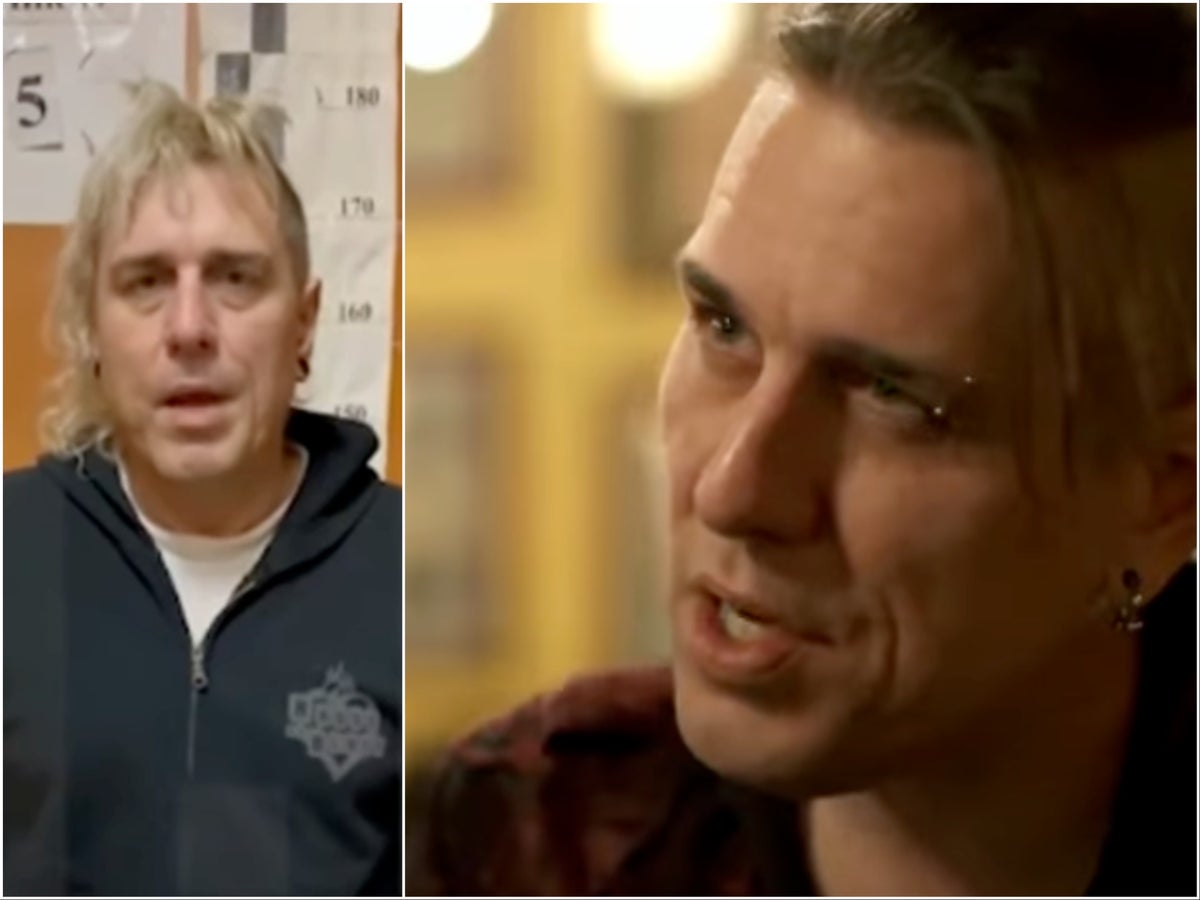 The 2014 episode of Parts Unknown set in Moscow and St Petersburg has been called one of the "most prescient" in the series, indicating the authoritarian path the country was on.
In the episode, the late host Anthony Bourdain has dinner with Boris Nemtsov, who briefly served as deputy prime minister under President Boris Yeltsin in the late 1990s. He later became a fierce critic of Mr Yeltsin's successor, President Vladimir Putin.
During filming in late 2013, Nemtsov told the chef: "Tony, I was born here 54 years ago. This is my country. Russian people are in trouble. Russian court doesn't work, Russian education declines every year, and I believe that Russia has a chance to be free. Has a chance. It's difficult but we must do it."
As he crossed a bridge near the Kremlin on 27 February 2015, Nemtsov was shot four times in the back. The assassination has been blamed on the Putin regime by opposition leaders.
Also appearing on that episode was expat American Travis Leake, who was handpicked by Bourdain, according to CNN.
Spoke about freedom of speech in Russia and US
Mr Leake, a band manager, spoke about his issues with freedom of speech in the country, mentioning an incident involving MTV.
"This was a documentary series about musicians standing up and risking their lives in some cases, to stand up against government abuse of power, government corruption," he said. "And yet, a foreign government was able to editorially control what American viewers see on their TV screens. That to me is a scandal of epic proportion."
Mr Leake has now reportedly been detained in Russia, a statement by Moscow's courts of general jurisdiction said on the social media app Telegram.
A man was taken into custody on Saturday when "the Khamovniki District Court of Moscow took a preventive measure against an American citizen".
A statement from the court said the man was named "Travis Michael Leek" but the spelling has been questioned, according to CNN.
Accused of drug violations
"The former paratrooper and musician is accused of engaging in the narcotics business through attracting young people," the statement said.
It added that he appeared at the Khamovniki District Court of Moscow on 10 June and that he's set to be detained until 6 August. Mr Leake's mother said she was aware of her son's situation, saying that his name is Michael Travis Leake and that he goes by Travis, according to CNN.
"We are aware of reports of the recent arrest of a US citizen in Moscow," a spokesperson for the State Department told the network. "When a US citizen is detained overseas, the department pursues consular access as soon as possible and works to provide all appropriate consular assistance."
The State Department said it wouldn't comment further out of privacy concerns.
'I don't understand why I'm here'
Russian media published video footage of Mr Leake's arrest on 8 June.
Tabloid station Ren TV reported that Mr Leake said: "I don't understand why I'm here. I don't admit guilt, I don't believe I could have done what I'm accused of because I don't know what I'm accused of."
Roadrunner: A Film About Anthony Bourdain
Darya Tarasova produced the Parts Unknown episode broadcast in 2014. She told CNN that the "band wasn't that famous but Travis and his friends had been very vocal about the freedom of speech and state oppression in Russia".
"Bourdain really liked that interview," she added.
"Travis was a showman – very articulate and he loved Russia," Ms Tarasova said. "Bands from the Moscow rock scene would go to him to write songs in English for them and proofread their lyrics."
"The last time we spoke was in 2018 and he seemed depressed and upset, but Travis would never do the things he is being accused of. He is an American in Russia and is very aware of the situation he's in. But I'm surprised he stayed after the war started as it was very risky for him," she added.
The production crew had to approach four or five different restaurants to film the scene with Nemtsov now almost a decade ago, Bourdain told The Daily Beast in 2018.
During the dinner, Nemtsov said that if "you have a good relationship with the government, you have a chance to raise money, to buy house in the South of France, to open accounts in Swiss banks, et cetera, but if something happens between you and Putin… you will be in jail".
"What we see is if you are rich … This is a country of corruption … For Putin and Russia, this is a system, this is not a problem," he added.
Before the dinner with Nemtsov, Bourdain said in a voiceover: "Bad things seem to happen to critics of Vladimir Putin. Journalists, activists, even powerful oligarchs once seemingly untouchable are now fair game if they displease the leader."
Could face 20-year sentence
Local Russian state media reported that Mr Leake, 51, stands accused of selling mephedrone, which is similar to cocaine and MDMA, according to The Guardian. The court in Moscow has ruled that he's to be detained for two months ahead of his trial.
He's facing charges of production or distribution of drugs, which could lead to a sentence of 20 years in prison.
Mr Leake's Instagram page states that he's the vocalist for the band LoviNoch and a producer for Louna and Tarakany.
A number of reports state that Mr Leake is a former US military paratrooper and that he's been a Moscow resident since 2010, The Guardian notes.
Americans detained in Russia
Russian drug laws are famously strict and have been used to get political leverage in relation to the US.
Brittney Griner, the WNBA basketball player, was arrested for drug violations while she was in Russia playing in that country's league during the US off-season.
She was detained in February last year after vape canisters with cannabis oil were located in her luggage at an airport in Moscow. After being sentenced to nine years in prison, she returned to the US in December after being exchanged for Russian arms dealer Viktor Bout.
Wall Street Journal reporter Evan Gershkovich is currently detained in Moscow on espionage charges following his March arrest. His detention has been slammed by the West as unsubstantiated and illegitimate. It's widely believed that he has been arrested in order for Russia to be able to trade him for Russian intelligence officers or others detained in Western countries. Mr Gershkovich is currently detained in the infamous Lefortovo prison. He could face a sentence of up to 20 years.
Another high-profile case of an American detained in Russia is that of Paul Whelan, a Michigan corporate security executive and retired US Marine, who was arrested in 2018 and is currently serving a 16-year sentence for espionage. Both Mr Whelan and the US government reject any wrongdoing on Mr Whelan's part.
The 2014 Parts Unkown episode set in Moscow and St Petersburg opens with images of anti-Putin protests as Bourdain's voice can be heard saying: "No matter how transparently autocratic, vengeful, oblivious to even a thin veneer of democracy, Russians love [Putin]. They seem to feel about him like New Yorkers used to feel about Giuliani: he may be a sonofabitch, but he's our sonofabitch."
The beloved TV host died by suicide at the age of 61 in June 2018 while filming the CNN show in France.
Bourdain on Putin: 'He strikes me as a businessman – a businessman with an ego'
In Moscow, Bourdain appeared in the programme with Russian TV producer Zamir Gotta.
"My perception of Putin? Do you really wanna hear it?" Bourdain asked. "A former mid-level manager in a large corporation. Short. I think that's very important – short – who has found himself master of the universe. And like a lot of short people, if you piss him off, bad things happen to you. He likes to take his shirt off a lot. He strikes me as a businessman – a businessman with an ego. Okay, so he's like Donald Trump – but shorter."
In 2018, Bourdain told The Daily Beast that he asked Nemtsov: "'Aren't you concerned? The enemies of Vladimir Putin, bad things have happened to them,' and he laughed it off and said, 'It would be too embarrassing. I'm too important. I'm a public figure.' One has to wonder if that was in somebody's mind as they shot him to death pretty much on the front lawn of the Kremlin."
"It's not like they don't want you to know who done it, you know? When they kill somebody with nerve gas or radioactive polonium in Central London, they want you to know who done it. That's the whole point," he added, referencing the 2006 assassination of Alexander Litvinenko.
Asked if he was allowed to return, Mr Bourdain said: "I am allowed back, but I will tell you honestly – I'm hesitant to go. I'm hesitant to go not necessarily from a personal-safety standpoint, but I don't want a camera on me when I'm sitting on the toilet, and I have to think about the people I associate with."
"With Nemtsov, we approached four or five different restaurants and when they found out I was dining with Nemtsov, they cancelled the scene. They didn't want to touch us with a 10-foot pole," he added. "So I'm sure I could go to Russia, make a show, come back, and say whatever I want about Putin and about Russia, but the people who put their faith in me and appear on camera with me, their situation back in Russia might be more precarious because they've been on the show with me."
The ending of that 2014 episode is less prophetic, considering the West's strong response to Russia's invasion of Ukraine and the fierce defence put up by the Ukrainians.
In a voiceover, Mr Bourdain speaks about Russia's 2014 annexation of the Ukrainian peninsula of Crimea and the weak response from the West at the time: "The world has done nothing. It will do nothing. As Vladimir well knew. He wins. Again."
play youtube
,
xnxx
,
xvideos
,
porn
,
porn
,
xnxx
,
Phim sex
,
mp3 download
,
sex 4K
,
Straka Pga
,
gay teen porn
,
Hentai haven
,
free Hentai
,