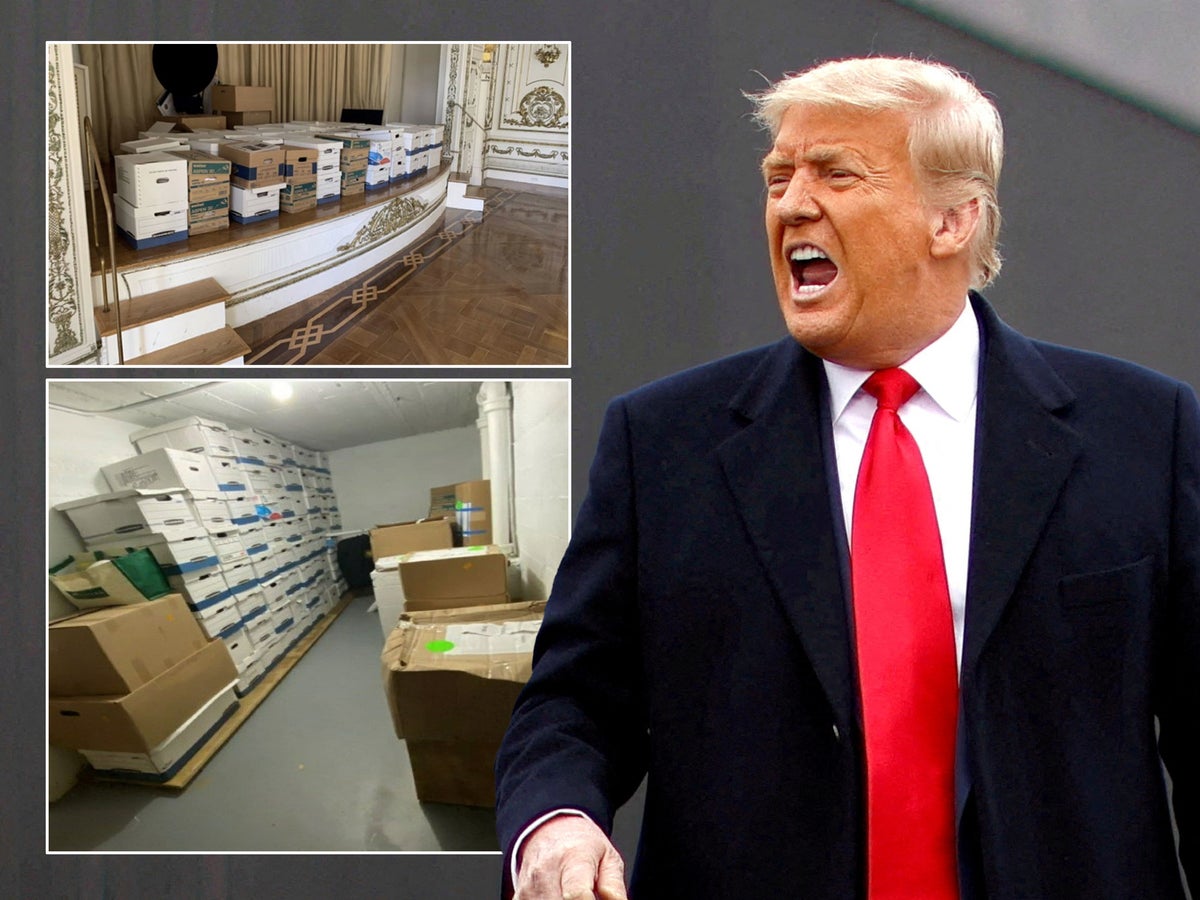 Defiant Donald Trump attacks 'nasty' Pence and 'deranged' special consul Jack Smith
Former president Donald Trump gave defiant speeches at two Republican state conventions on Saturday in Georgia and North Carolina, just one day after he was indicted for keeping highly-classified information at his Florida home, Mar-a-Lago.
The 49-page, 38-count indictment was unsealed after Mr Trump released a series of social media posts revealing that he has been indicted by a grand jury under the supervision of Special Counsel Jack Smith.
The indictment details the charges against Mr Trump and Walt Nauta, a former US Navy noncommissioned officer who left government service to work for Mr Trump after his term ended in January 2021.
The former president has fumed online about the charges and lashed out at Mr Smith calling him a "deranged lunatic". The special counsel for his part gave a brief explanation of the sweeping indictment and reiterated that in America, the law applies to everyone.
Mr Trump repeated his attacks on Mr Smith onstage in Georgia before flying up to his second event. On the flight, he told Politico he would not quit the 2024 primary race even if convicted.
Meanwhile, Trump-appointed judge Aileen Cannon will remain on the case unless she recuses herself.
1686502821
GOP Congressman's 'scary as hell' tweet seemingly calls for insurrection
GOP Representative Clay Higgins appeared to call for an insurrection following the announcement that Donald Trump would face a second set of indictments stemming from his possession of sensitive documents following his presidency.
After the announcement, Mr Higgins, a GOP congressman from Louisiana and a former law enforcement officer, issued a strange tweet responding to the news.
Graig Graziosi has the story.
Oliver O'Connell11 June 2023 18:00
1686501936
Oliver O'Connell11 June 2023 17:45
1686501021
What is an indictment? Here's what Donald Trump is facing
Donald Trump on Thursday broke another legal barrier when he became the first former US president ever to be federally indicted.
A federal grand jury indicted Mr Trump in the investigation into his alleged improper retention of classified documents. The indictment unsealed on Friday revealed 37 counts against the former president, including conspiracy to obstruct, willful retention of documents, and false statements.
He was already under indictment for his role in an alleged scheme to make a hush money payment to adult film star Stormy Daniels in the buildup to the 2016 election.
Now, Mr Trump is facing yet more legal headaches. In a post to Truth Social, he wrote that he has been summoned to appear at a federal courthouse in Miami to be arraigned next Tuesday at 3pm ET.
Here's a rundown of what all the legal terminology means and how we might see Mr Trump's case progress through the criminal justice system.
Oliver O'Connell11 June 2023 17:30
1686499221
With indictment overshadowing 2024 race, DeSantis argues he's top Trump alternative
Republican White House candidate Ron DeSantis plowed ahead Saturday with efforts to portray himself as his party's staunchest national conservative leader, even as the 2024 GOP race has been disrupted by drama surrounding the 37-count felony federal indictment for mishandling classified documents against former President Donald Trump.
The Florida governor sought to project strength amid the turmoil by campaigning in Oklahoma — one of more than a dozen states scheduled to hold its Republican primary on Super Tuesday, weeks after the earliest states vote.
Oliver O'Connell11 June 2023 17:00
1686497621
Watch: Sununu urges 2024 GOP candidates to 'come out' on seriousness of Trump indictment
Oliver O'Connell11 June 2023 16:33
1686497421
Kimberly Guilfoyle posts chilling warning over Trump indictment
Kimberly Guilfoyle, former Fox News host and Trump adviser — and also fiancé to Donald Trump Jr — has joined the chorus of violent rhetoric that has erupted from the right following the indictment of the former president.
Known for her bombastic presentation style, Ms Guilfoyle is often one of the most vocal supporters of Donald Trump.
After the indictment of the former president on 37 charges relating to the trove of classified documents he retained following his time in office and refused to return to the federal government, Ms Guilfoyle did not hold back.
Oliver O'Connell11 June 2023 16:30
1686495621
Trump remains defiant at North Carolina GOP convention
Mr Trump took the stage at the Koury Convention Center in Greensboro for the North Carolina GOP Convention, where he received an overwhelming reception despite his increasing legal woes. The Independent first reported that the Justice Department was ready to seek an indictment agianst Mr Trump, who now faces 37 charges related to his improper handling of classified materials.
A federal grand jury under the supervision of special c ounsel Jack Smith indicted Mr Trump on on a slew of charges, including showing highly classified information to unauthorised people on two separate occasions.
Mr Trump proclaimed his innocence onstage in North Carolina, calling the indictment a plot by "the radical left Democrats" and their "lawless partisan prosecutors."
Eric Garcia reports from North Carolina.
Oliver O'Connell11 June 2023 16:00
1686493800
Trump attacks special counsel Jack Smith in post-indictment speech
During his first public remarks since the unsealing of the 49-page, 37-charge indictment against him, Donald Trump again lashed out at special counsel Jack Smith the lead prosecutor in the Mar-a-Lago classified documents probe.
Speaking at the state Republican Party convention in Columbus, Georgia, the former president and current presidential candidate gave a meandering stump speech weaving in his apparent incredulity regarding the charges levied against him.
As with all of his foes, political or judicial, Mr Trump has already veered into personal attacks against the individuals concerned on his social media platform Truth Social but relished his first opportunity to talk to a large, enraptured crowd of followers.
Oliver O'Connell11 June 2023 15:30
1686493448
Watch: Lindsey Graham believes espionage charges 'completely wrong'
Oliver O'Connell11 June 2023 15:24
1686492454
Watch: Former FBI special agent says 'the receipts are here' in Trump case
Oliver O'Connell11 June 2023 15:07
play youtube
,
xnxx
,
xvideos
,
porn
,
porn
,
xnxx
,
Phim sex
,
mp3 download
,
sex 4K
,
Straka Pga
,
gay teen porn
,
Hentai haven
,
free Hentai
,