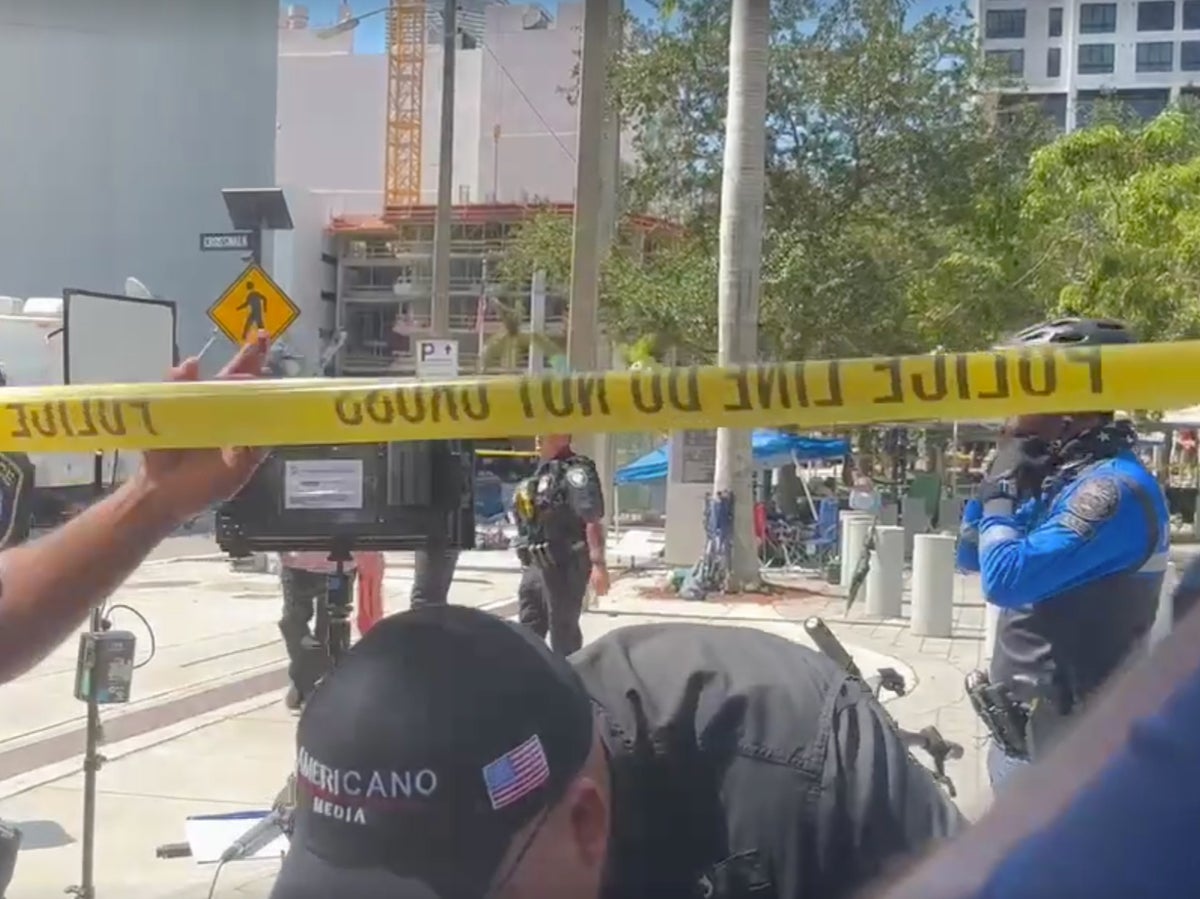 Miami Police blocked off a plaza in front of the Miami courthouse where former President Donald Trump was set to be arraigned.
The authorities moved members of the public and the media across the street from the court as a suspicious package was investigated. The all-clear was given shortly after 11.30am on Tuesday.
According to Nicole Ninsalata of WSVN, a bomb squad responded to a sidewalk outside the courthouse, where a flatscreen TV with yellow wires coming out of the back was spotted.
Protesters and supporters of Mr Trump began clashing ahead of the arraignment with video emerging of arguments where police stepped in.
As Mr Trump arrived in Florida on Monday night, footage shared on Twitter appeared to show Trump supporters confronting a man holding anti-Trump signs.
Police separated a man wearing a prison costume and holding a sign saying "Lock him up" from the crowd following a confrontation with supporters of the former president.
Former Trump White House Chief Strategist Steve Bannon appeared worried about anti-Trump protesters during his programme on Real America's Voice, a rightwing broadcaster.
"If you're asking for trouble, you let these two groups get together because the Never Trump, the anti-Trump and Antifa, BLM, are violent people," he claimed. "And they're always there to get in people's faces. They're always there to try to pick fights. And I'm just an observer here anchoring in Washington DC, but I gotta tell you, I'm not enthusiastic about what I'm seeing down there on the crowd control. I think that we're just asking for problems and what we don't want today are problems."
"This thing we want to get in and out of, and I hope the Miami authorities and others do the job that the NYPD does," he added in reference to Mr Trump's arraignment earlier this year in a separate case.
On Monday, supporters of Mr Trump and Florida Governor Ron DeSantis were seen outside the courthouse in a shouting match over Covid-19 vaccines and Mr Trump's response to the pandemic.
This comes after Miami officials claimed that they will have everything under control as Mr Trump appears in court.
Speaking at a press conference at Miami police headquarter, Mayor Francis Suarez said the city is enacting plans to "make sure that everyone has a right to peacefully express themselves and exercise their constitutional rights" in "an obviously peaceful manner".
"In our city, we obviously believe in the Constitution and believe that people should have the right to express themselves. But we also believe in law and order. And we know that and we hope that tomorrow will be peaceful.
"We encourage people to be peaceful in demonstrating how they feel. And we're going to have the adequate forces necessary to ensure that," he said.
Mr Suarez, who is rumoured to be planning to enter the 2024 Republican presidential primary himself, declined to criticise the ex-president's rhetoric and said he has not spoken to Mr Trump to ask him to retract his calls for protest, despite the former president's history of inciting violence.
"I have not spoken to him. I don't have his phone number," he said.
Mr Suarez appeared to compare the events of January 6 and the potential violence that could ensue on Tuesday to the protests that followed the murder of George Floyd by a Minneapolis police officer in the summer of 2020.
He said city and state law enforcement officials handled those protests without incident and called the response to those events "a model for how to deal with those protests in the country".
"We did things not to create unnecessary confrontations. We gave people a space to express themselves without unnecessarily creating confrontations. In that moment, in that particular case, we had a curfew that we implemented. We had a variety of different resources that we used, that I thought were different than other cities in America, and they allowed us to deescalate without creating incidents," he said.
"I have full faith and confidence that our department … will have the right action plan and will have the right resources in place. In the right place to make sure that there are no incidents," he said.
But Mr Suarez repeatedly declined to address concerns about the possibility that the same violent extremist groups that responded to Mr Trump's call for protests in 2021 would again come to support him on Tuesday.
He also told reporters there would be no effort to separate protesters and counterprotesters and said law enforcement would not be erecting any hardened barrier around the courthouse because "that's what freedom of speech is".
Because the courthouse is a federal facility, Department of Homeland Security personnel there began to take some precautions for potential protests on Monday.
Outside the building where Mr Trump will be arraigned, marked police vehicles belonging to the Federal Protective could be seen parked strategically in areas not already rendered inaccessible to cars with concrete bollards and other preexisting vehicle barriers, blocking a path from the street onto courthouse property.
Groups of FPS officers, some leading explosive detection dogs, could be seen congregating in areas where shade from trees could shield them from the hot Florida sun.
Around 10.30am, other officers began positioning moveable barriers and stretching police tape to cordon off a wide swath of the courthouse lawn from public access in preparation for possible demonstrations by Mr Trump's supporters, should any heed the twice-impeached, twice-indicted ex-president's call for protests on the day of his arraignment.
One FPS officer who asked not to be identified told The Independent that he and his colleagues were hopeful that the crowd would remain peaceful, but said they were aware that things could go south quickly."We're prepared for anything but we're hoping there won't be any trouble," he said.
play youtube
,
xnxx
,
xvideos
,
porn
,
porn
,
xnxx
,
Phim sex
,
mp3 download
,
sex 4K
,
Straka Pga
,
gay teen porn
,
Hentai haven
,
free Hentai
,