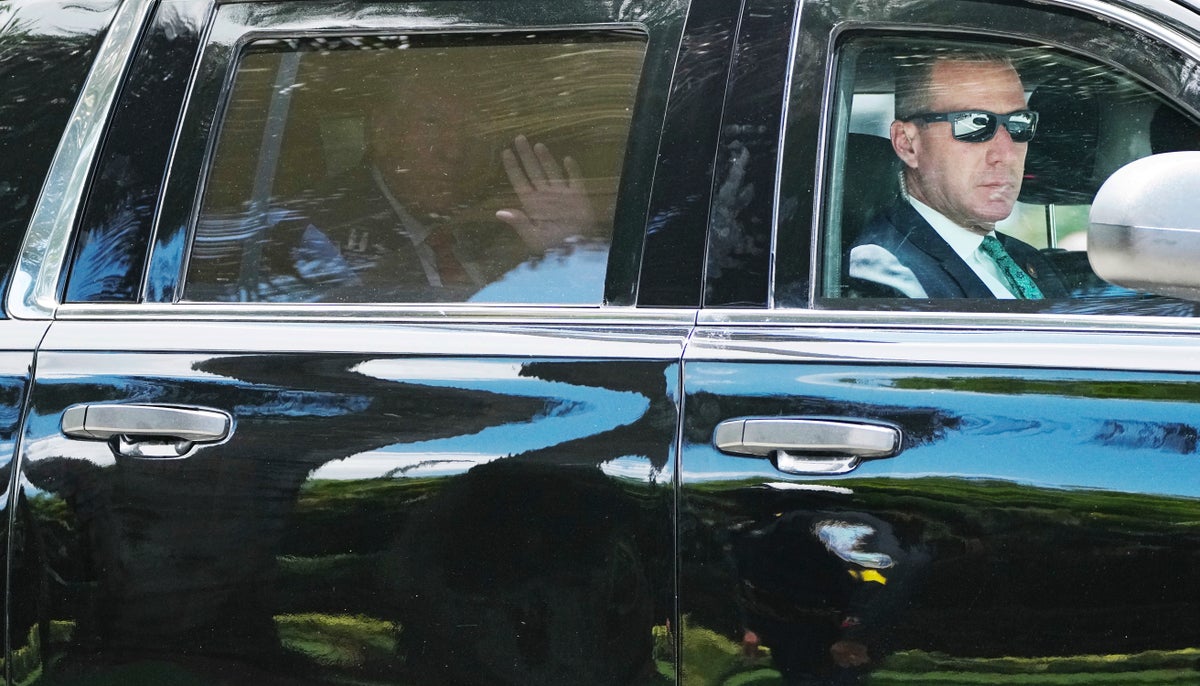 Donald Trump has arrived at a federal courthouse in Miami to be formally charged in a 37-count indictment accusing the former president of illegally retaining national defense documents and other classified materials at his Florida home.
The former president arrived at the Wilkie Ferguson Jr Federal Courthouse shorty before 2pm ET on 13 June after traveling with a motorcade and police motorcycle escort from his National Doral Hotel.
He was not photographed entering the court complex as he surrended to authorities; the armoured US Secret Service SUV carrying the former president entered through an underground gate typically reserved as a secure entrance for vehicles transporting defendants in law enforcement custody.
Mr Trump, making history as the first president to face criminal charges twice within three months, was booked alongside his co-defendant and aide Walt Nauta shortly after his arrival.
Mr Trump is scheduled to make his first appearance at 3pm ET in front of magistrate judge Jonathan Goodman. US District Judge Aileen Cannon, who was appointed to the federal judiciary by the former president in 2020, is overseeing the case.
Cameras, recording devices and laptops are prohibited from the courtroom;
Two of the more experienced criminal defence lawyers in his legal team, James Trusty and John Rowley, resigned from Mr Trump's federal case last week, hours after a Florida grand jury voted to charge him with 37 separate counts stemming from alleged violations of the Espionage Act and other crimes.
Another criminal defence attorney who once represented Mr Trump in the documents probe, Evan Corcoran, stepped away from that role in the wake of a court ruling ordering him to give evidence against the former president before a grand jury and turn over his notes and recordings. A judge invoked a rarely used exception to the attorney-client privilege used in cases where an attorney's advice is found to have been used to commit crimes.
Mr Corcoran's testimony and evidence figured heavily in Mr Trump's federal indictment, which detailed his reaction after he was served with a subpoena compelling him to return all documents with classification markings in his possession.
Todd Blanche, who represented Mr Trump in his criminal case in Manhattan, and Christopher Kise, a former Florida solicitor general who joined the former president's legal team after the FBI search of Mar-a-Lago last summer, are representing him in his federal case.
Mr Trump will not pose for a mugshot or be handcuffed after his surrender to authorities as US Marshals and probation officers begin pretrial services.
He will be formally presented with the charges against him and be informed of his rights. He may also enter a plea; he is expected to plead "not guilty".
Mr Trump is scheduled to immediately return to his Bedminster, New Jersey club to deliver remarks before a fundraising event.
He similarly returned to his Mar-a-Lago property hours after he appeared in Manhattan criminal court in April to face 34 felony counts of falsifying business records. In his remarks from his estate that night, he lambasted District Attorney Alvin Bragg and the judge overseeing the case, as well as the judge's family members, and continued his narrative of political persecution.
This is a developing story
play youtube
,
xnxx
,
xvideos
,
porn
,
porn
,
xnxx
,
Phim sex
,
mp3 download
,
sex 4K
,
Straka Pga
,
gay teen porn
,
Hentai haven
,
free Hentai
,