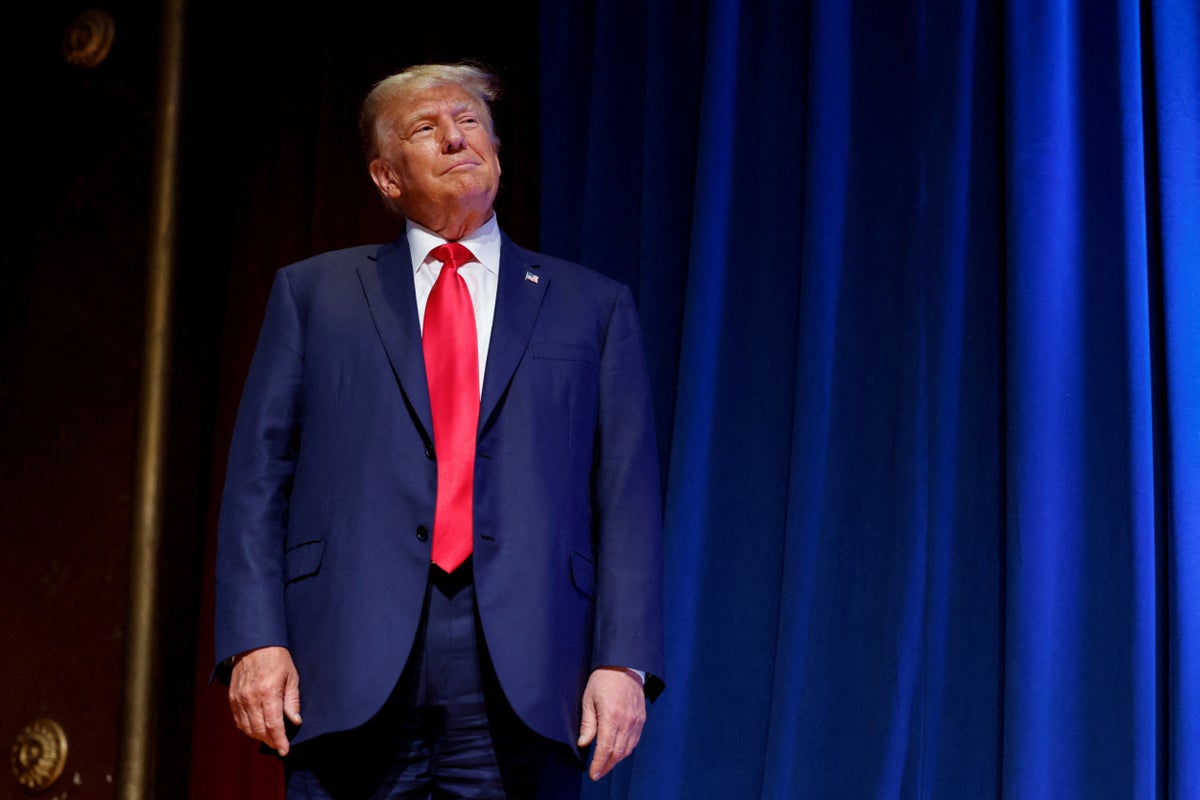 After a grand jury recommended criminal charges against Donald Trump, federal prosecutors issued a sweeping 37-count indictment charging the former president with obstruction and the unlawful retention of national defense information for allegedly storing dozens of sensitive government documents at his Florida home and refusing to turn them over to federal authorities.
The former president's second indictment follows criminal charges in Manhattan earlier this year for allegedly falsifying business records to conceal hush-money payments in an effort to kill stories about his alleged affairs during the 2016 presidential election.
Mr Trump turned himself into authorities in New York City on 4 April and sat for a brief arraignment hearing in criminal district court before returning to his Mar-a-Lago home to deliver a speech to supporters.
Law enforcement agencies are now preparing for his arraignment in Miami, where he will formally hear the charges against him in his first-ever federal case.
The case – stemming from the US Department of Justice special counsel investigation into classified documents, and whether he intentionally obstructed the government's efforts to return them – is separate from the Justice Department's probe into Mr Trump's role in the events surrounding January 6 and a Georgia prosecutor's investigation into his attempts to subvert the outcome of the 2020 election in that state.
Here, we explain what the day could look like:
Where and when is Trump going to court?
There are 94 district courts around the US, and generally a defendant will be tried in the district where the crimes are alleged to have been committed.
Mr Trump will travel to a federal court in the Southern District of Florida, the jurisdiction for his Mar-a-Lago property.
Mr Trump flew by private plane from his Trump National Golf Club Bedminster in New Jersey on 12 June. He stayed overnight at his Trump National Doral resort in Miami before making his appearance at the federal courthouse, roughly 12 miles from the hotel.
His arraignment at the Wilkie D Ferguson Jr United States Courthouse in Miami is scheduled for 3pm ET on 13 June.
Will Trump be handcuffed?
No. He will surrender to the authorities, go through processing, and then enter the courtroom for his first appearance before the judge. It is unlikely that he will be in handcuffs for any part of that process.
What about a mugshot?
He will not pose for a mugshot, either. US Secret Service officers will guide Mr Trump to the courthouse, where US Marshals and probation officers will begin pretrial services, including electronic fingerprinting and formal booking. Marshals will use a preexisting photo for booking.
What will happen during the hearing?
Mr Trump will be formally presented with the charges against him and be informed of his rights. He may also enter a plea; he is expected to plead "not guilty" based on the months-long claims that the investigations against him are a politically motivated "hoax" and a "witch hunt."
On Monday night, in an appearance on Boston radio WRKO's "The Howie Carr Show", he insisted that he plans to plead not guilty to the charges. "I'll just say 'not guilty.' I didn't do anything wrong," he said.
And what happens after?
There is a theoretical possibility that Mr Trump will remain in custody after his arraignment, but it is highly unlikely a judge would order this, and he is not considered a flight risk. He was released on his own recognizance following his arraignment in a Manhattan criminal court in April.
The former president is scheduled to return to his Bedminster club to deliver remarks before a fundraising event. He similarly returned to his Mar-a-Lago property hours after he appeared in Manhattan criminal court in April, where he lambasted District Attorney Alvin Bragg and the judge overseeing the case, as well as the judge's family members.
Who is on Trump's legal team?
Following news of the indictment, two lawyers who represented Mr Trump in the months leading up to the charges resigned from his legal team over his handling of classified documents quit working for him on Friday morning.
The attorneys, Jim Trusty and John Rowley, issued a joint statement stating that it was the "logical moment for us to step aside" and let other attorneys handle the case. Neither attorney wil represent Mr Trump in the other federal investigation stemming from Mr Trump's alleged interference in Georgia.
On Tuesday,The Independent exclusively revealed that Mr Trump was struggling to find attorneys willing to defend him in Florida.
Instead, Todd Blanche, who represented Mr Trump in his Manhattan criminal case, will accompany Mr Trump in his federal case; a notice from Judge Cannon reminded him and others involved with the case that they are not members of the Southern District of Florida Bar.
Another attorney, Christopher Kise, who is licenced in Florida, also is expected to accompany Mr Trump.
Who is the judge?
US District Judge Aileen Cannon – who was appointed by the former president in 2020 and previously ruled in his legal team's favour in a series of court decisions surrounding the investigation – will handle the case.
Last year, she appointed a "special master" to review materials seized by federal law enforcement and restricted the FBI from using those documents as part of the investigation until she completed a review, effectively freezing the US Department of Justice probe.
That order was ultimately thrown out entirely by a federal appeals court, which roundly criticised her decision.
If she does not recuse herself from the case and she remains a trial judge, she could play a potentially critical role in the case's development, from setting a trial date to overseeing jury selection, the admission of certain evidence, and sentencing, if there is a conviction.
Magistrate Judge John Goodman will oversee Mr Trump's arraignment.
The judge then will have the option to remand Mr Trump on bail or release him on his own recognizance before adjourning for a future date.
Will there be a trial?
Following a plea, the federal judge will adjourn the case and allow attorneys an opportunity to review the indictment and make motions regarding the case. It is expected that Mr Trump's legal team will want the case dismissed.
The district is known as a "rocket docket" court, where judges adhere to a speedy trial schedule that processes case to trial within 70 days.
Special counsel Jack Smith also said prosecutors will push for a speedy trial "consistent with the public interest and the rights of the accused," he said during brief public remarks announcing the indictment.
"It's very important for me to note that the defendants in this case must be presumed innocent until proven guilty, beyond a reasonable doubt in a court of law," he said.
How will this impact his presidential campaign?
Mr Trump remains the frontrunner for the 2024 Republican nomination for president, and he has insisted that he will remain in the race regardless of any outcome in the criminal cases against hime. He has relied on the investigations and indictments to raise money for his campaign, which netted millions of dollars in the days after his charges were announced in his New York case.
But the timeframe for the federal investigation – and, potentially, other pending cases that could result in criminal charges this year – could complicate his campaign ambitions.
A first debate among Republican candidates is set for 23 August. A trial for the New York attorney general lawsuit targeting Mr Trump, his adult children and his business is slated to begin in October. And he is scheduled to return to Manhattan Criminal Court on 25 March – days after voting begins in primary states.
play youtube
,
xnxx
,
xvideos
,
porn
,
porn
,
xnxx
,
Phim sex
,
mp3 download
,
sex 4K
,
Straka Pga
,
gay teen porn
,
Hentai haven
,
free Hentai
,