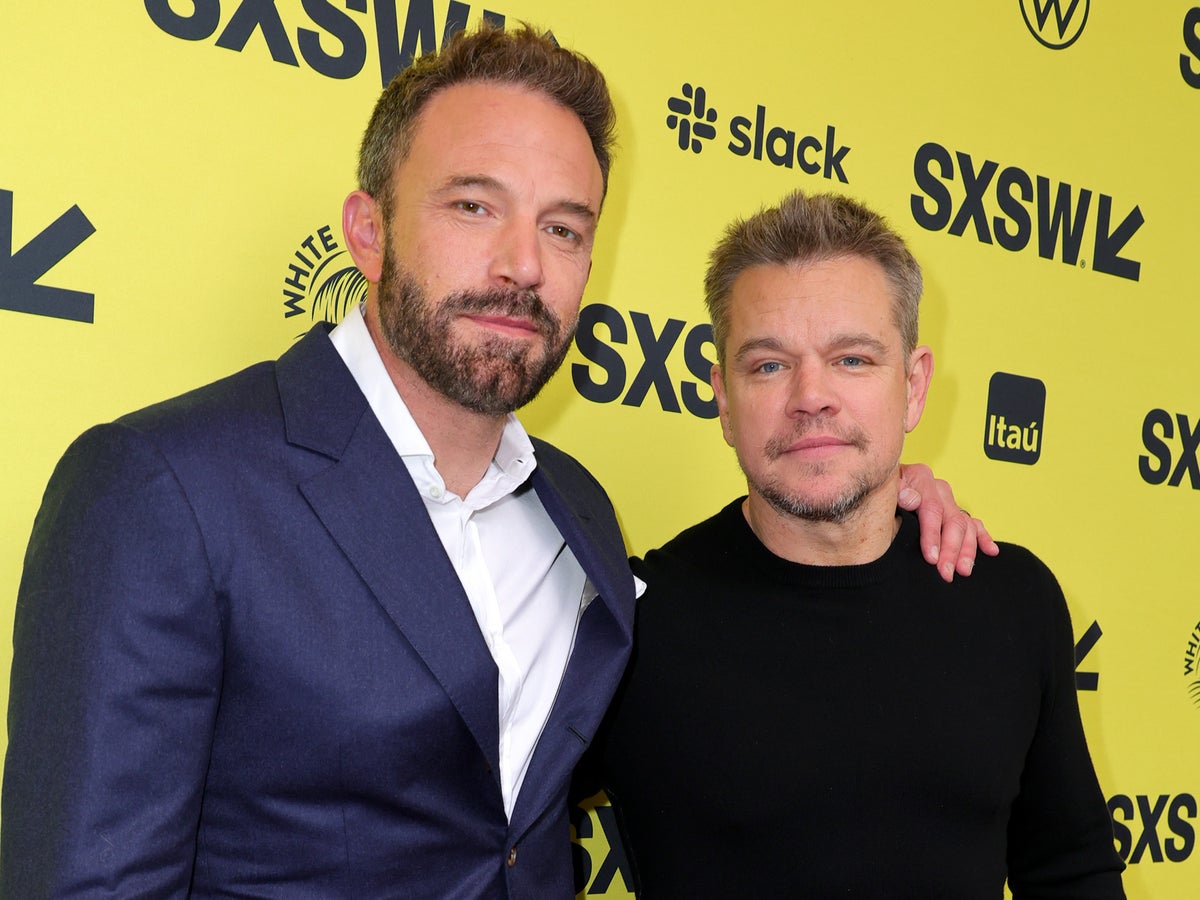 The production company of Matt Damon and Ben Affleck has asked the Trump campaign to stop using their work in the fundraising videos.
Former President Donald Trump posted a video on Saturday on his Truth Social platform that included a monologue from the Amazon movie Air in which Mr Damon plays the Nike marketing and sales representative Sonny Vaccaro, a film directed by Mr Affleck.
The film depicts the story of Nike's rise as a brand.
"Money can buy you almost anything," Mr Damon can be heard saying in the video as footage of Mr Trump is shown. "It can't buy you immortality – that you have to earn."
The caption states "MAKE AMERICA GREAT AGAIN" and also has a link where supporters can donate to the campaign.
The video was posted after an indictment of Mr Trump was unsealed on Friday afternoon, revealing that the ex-president has been charged on 37 counts in relation to his handling of classified national defence information after he left the White House in January 2021.
A spokesperson for Mr Damon's and Mr Affleck's production company Artists Equity told Axios that "We had no foreknowledge of, did not consent to and do not endorse or approve any footage or audio from Air being repurposed by the Trump campaign as a political advertisement or for any other use".
"Specifically in terms of any and all rights available to us under US copyright law, we hereby, expressly give notice that in the case of any use of material from Air by the Trump campaign where approval or consent is required, we do not grant such consent," the spokesperson added.
"No matter how viciously they attack me, I will NEVER, EVER SURRENDER," Mr Trump said in a statement alongside the video. "With your support, we will once again surge even higher and prove that our America First movement truly is UNSTOPPABLE."
Mr Damon supported Hillary Clinton in the 2016 election, later calling Mr Trump's response to the riots in Charlotteville, Virginia, which included white nationalists, "absolutely abhorrent" in scathing comments to The Hollywood Reporter.
"A lot of people, myself included, are really waking up to the extent of the existing racism, and it's so much worse than I naively thought. I just feel naive at this point. It was shocking to see those kids — they looked 20 and 30 years old — in button-down shirts, with Tiki torches, walking down the street," he said at the time in 2017.
"I thought, 'Those people are a lot younger than me. Who raised them?' Again, I naively thought that, behind our generation, [another one] was coming with more awareness and inclusiveness, and that everything was getting better with each generation. And to see these young, aggrieved, white boys walking with their torches and screaming 'Jews will not replace us!' It was just shocking. Then the night that the president [made his] 'many sides' comment was absolutely abhorrent," Mr Damon said about Mr Trump, who had claimed there were good people on "both sides".
In the monologue in Air used by the Trump team, Mr Damon says: "People are going to build you up … Because you're great. And new. We love you. Man, we'll build you into something that doesn't even exist … But you know what? Once they've built you as high as they possibly can, they're going to tear you back down."
play youtube
,
xnxx
,
xvideos
,
porn
,
porn
,
xnxx
,
Phim sex
,
mp3 download
,
sex 4K
,
Straka Pga
,
gay teen porn
,
Hentai haven
,
free Hentai
,