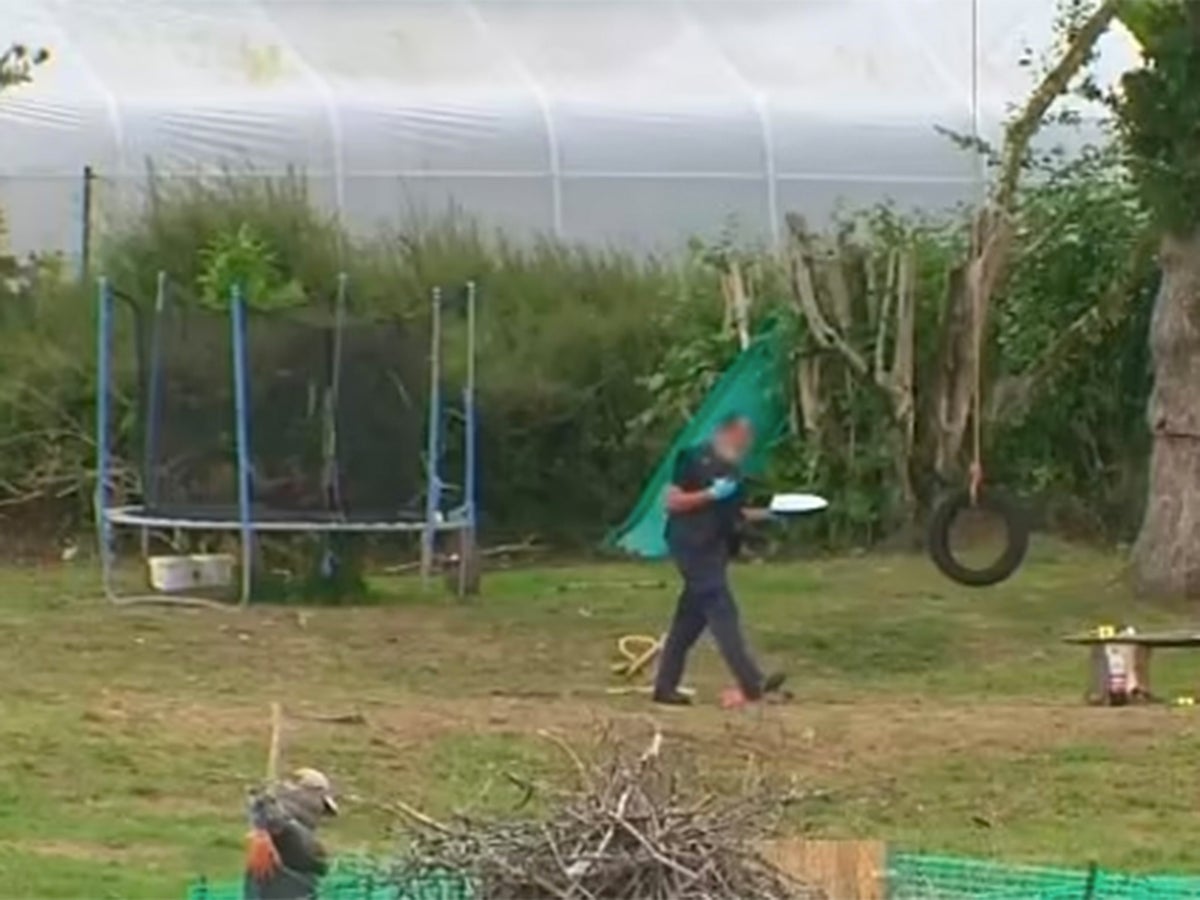 A man has been formally charged with the murder of an 11-year-old British girl who was shot dead in Brittany, France on Saturday evening.
Dirk Raats, 71, spoke briefly on Monday evening as he was formally charged with the murder of Solaine Thornton, 11, and the attempted murders of her parents Adrian and Rachael Thornton, 52 and 49 respectively.
Solaine Thornton died after she was allegedly shot while playing on swings in the garden of her home in France.
The couple's younger daughter, Celeste, eight, managed to get away unscathed to raise the alarm in the Brittany hamlet of Saint-Herbot, near Quimper.
Officials have since said Solaine was "not the target" of a fatal gunshot which killed her outside her home in France.
Speaking at a press conference on Monday, public prosecutor Camille Miansoni said: "It would seem that he was not aiming at the little girl."
On Monday, Mr Raats was taken from a secure police station for a 10-minute appearance before a judge at Brest Criminal Court.
Speaking in court, he said: "It's so horrible what happened. I don't understand," after judges confirmed a test showed he was 'on drugs' on Saturday.
The court heard that Mr Raats had worked as a photographer, shepherd and career for the handicapped before retiring to France some five years ago.
Anne Guillerme, his defence barrister, said he had "no criminal record" and may have psychiatric problems.
However, an evaluation performed since Mr Raats's arrest showed there is no evidence he is "unhinged", the public prosecutor said.
Mr Raats was remanded in custody following the charges, and could spend the rest of his life in prison if found guilty at trial.
The 71-year-old's wife, who was named as Marlene van Hook, also in her 70s, was meanwhile being questioned on suspicion of concealing a weapon.
Miansoni confirmed both Mr Raats and his wife "tested positive for alcohol and cannabis" at the time of their arrest.
The two sets of near neighbours had been involved in a dispute dating back at least three years.
Mr Raats had reportedly been in a "conflict" with the family over a plot of land beside their properties for "several years", state prosecutor Carine Halley said.
Meanwhile, a resident claimed Mr Raats regularly complained about the family cutting down trees to make way for children's play equipment, including swings.
"He was also regularly upset about the noise the family made, even though it didn't bother anyone else – it was mainly just kids having a nice time," the resident said.
Ms Halley explained initial evidence suggests the suspect "retreated" to his house where he barricaded himself in with his wife after shooting at the family.
The Intervention Group of the National Gendarmerie tactical unit was called to the scene, and a negotiator persuaded the couple to give themselves up. They were then arrested.
Solaine's grandfather, Irvin Thornton, reportedly told the Sun newspaper "she didn't stand a chance".
He said his son, Adrian, is in a coma.
A spokesperson for the Foreign, Commonwealth and Development Office said: "We are providing consular assistance to a British family following a shooting in France and are in contact with the local authorities."
play youtube
,
xnxx
,
xvideos
,
porn
,
porn
,
xnxx
,
Phim sex
,
mp3 download
,
sex 4K
,
Straka Pga
,
gay teen porn
,
Hentai haven
,
free Hentai
,