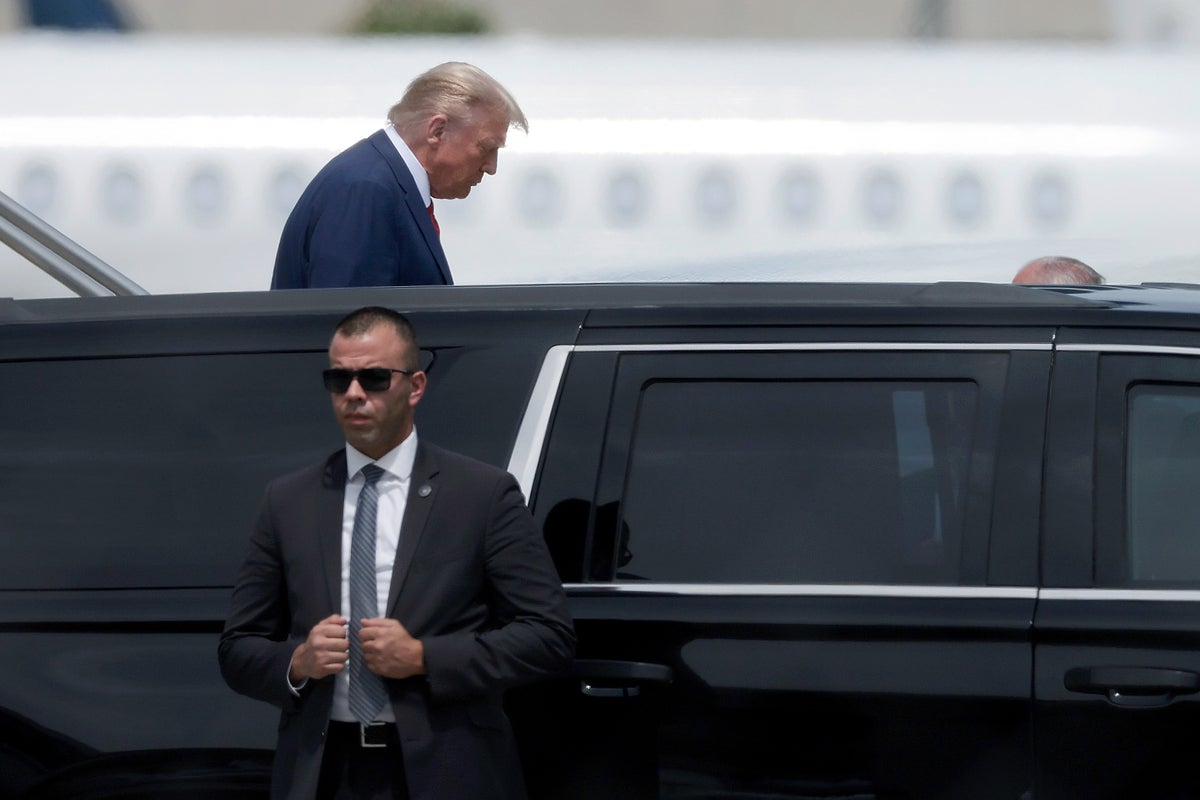 Defiant Donald Trump attacks 'nasty' Pence and 'deranged' special consul Jack Smith
Donald Trump will be arraigned today on 37 charges over his handling of classified documents after leaving the White House, as he becomes the first current or former US president to ever face federal criminal charges.
The former president will appear for his arraignment at a federal court in the Southern District of Florida at 3pm ET, where he has vowed to plead not guilty to all charges.
"I'll just say 'not guilty.' I didn't do anything wrong," he told Boston radio show WRKO on Monday.
Despite his confidence, The Independent exclusively revealed that Mr Trump was struggling to find attorneys willing to defend him in Florida.
Miami officials meanwhile are bracing for protests outside the courthouse with Mayor Francis Suarez saying at a press conference that the city is enacting plans to "make sure that everyone has a right to peacefully express themselves and exercise their constitutional rights" in "an obviously peaceful manner".
Several supporters have voiced violent rhetoric online and MAGA loyalists Kari Lake and Laura Loomer, the Proud Boys and at least one Capitol rioter (named Baked Alaska) are expected to descend on Miami in support of the former president.
1686669657
Trump protestors and supporters clash in Miami
Ariana Baio13 June 2023 16:20
1686669237
Police block off a small area in front of Miami courthouse due to 'suspicious package'
Law enforcement in Miami has sectioned off a small area in front of the federal courthouse where Donald Trump is set to appear for his arraignment at 3pm due to a possible "suspicious package."
The Independent's White House Correspondent Andrew Feinberg reports live:
"What you're seeing here is a police line that's moved about 50 yards back from where we were previously.
Officers are saying there's a suspicious package, possibly I've heard in a news van parked right in front of the courthouse."
"So they cleared out this whole, this whole plaza where all of the television press have been set up and we're holding while they check the package out, awaiting what I'm guessing will be a dog of some sort to sniff the package."
Ariana Baio13 June 2023 16:13
1686669046
Police monitoring online far-right threats and pro-Trump protests
Law enforcement agencies and extremism researchers are closely monitoring online threats and escalating rhetoric surrounding Donald Trump's arraignment as the former president formally faces federal criminal charges in a sweeping indictment connected to his possession of classified documents at his Mar-a-Lago property.
Alex Woodward has the details.
Oliver O'Connell13 June 2023 16:10
1686668457
Trump now claims classified documents were 'planted' in Mar-a-Lago boxes in wild arraignment morning rant
Former president Donald Trump has now claimed that the classified documents found at Mar-a-Lago were "planted" in the boxes after they were obtained by the Department of Justice.
In a Truth Social rant, Mr Trump lashed out at Special Counsel Jack Smith on the morning of the former president's arraignment at a Miami federal courthouse.
"This is the Thug, overturned consistently and unanimously in big cases, that Biden and his CORRUPT Injustice Department stuck on me. He's a Radical Right Lunatic and Trump Hater, as are all his friends and family, who probably 'planted' information in the 'boxes' given to them. They taint everything that they touch, including our Country, which is rapidly going to HELL!" Mr Trump wrote on Tuesday morning.
Ariana Baio13 June 2023 16:00
1686667857
Donald Trump claims grand jury was 'never told about the Presidential Records Act'
Donald Trump posted to Truth Social on Tuesday morning claiming that the grand jury in hid classified documents investigation was never told about two "exonerating" pieces of information.
In an all-caps message, Mr Trump wrote: "The grand jury was never told about the Presidential Records Act or the Clinton socks case, both exonerating!"
The Presidential Records Act was passed in 1978 and requires all records created by presidents and vice presidents be turned over to the National Archives and Records Administration (NARA) at the end of their administration.
Through the act, the incumbent president can dispose of records that: "no longer have administrative, historical, informational or evidentiary value" but they must obtain the views of the Archivists of the United States in writing before doing so.
Mr Trump has compared his classified documents investigation to Bill Clinton's so-called 'sock-drawer case' before. But the two have different circumstances.
In 2009, it was reported that Mr Clinton kept audiotapes in his sock drawer of interviews he conducted with a historian to create an oral history of his presidency.
In return, a conservative group sued NARA, asking the court to declare the audiotapes presidential records under the Presidential Records Act, however, the National Archives told the group that the materials were personal so they did not fall under the act.
In 2012, a US District Judge dismissed the case saying under the law, the tapes were "personal records" not "official records". The Judge described "personal records" as documentary materials, diaries or journals that do not relate to carrying out official duties.
Ariana Baio13 June 2023 15:50
1686667246
Why is Trump's case different to those of Biden and Pence?
Donald Trump's supporters and many Republican officials contend that the former president is the target of a politically weaponised justice system that has ignored similar alleged crimes committed by his rivals.
"Lock her up" chants directed at Hillary Clinton still dominate GOP rallies. House Republicans have launched committees to investigate the sitting president and his family.
But in classified documents cases involving President Joe Biden and former vice president Mike Pence, both men cooperated with federal law enforcement and returned those records. Ms Clinton was not found to have deliberately mishandled classified information or obstruct justice in the recovery of communications.
Mr Trump, according to prosecutors, did exactly that.
Oliver O'Connell13 June 2023 15:40
1686666631
Protests begin outside of Florida courthouse
Protests have begun to take place outside of the Miami courthouse where Donald Trump is expected for his arraignment at 3pm EST.
The Independent's White House Correspondent Andrew Feinberg reports live from the scene:
"Good morning from the federal court complex in Miami, where former President Donald Trump is expected to appear for his arraignment on federal charges, stemming from his alleged unlawful retention of national defense information after the end of his term.
Thus far the throngs of pro-trump protesters that police have feared have not materialized, but there has been a smattering of colorful characters milling about the courthouse grounds, with most appearing to be here in support of the former president.
One of Mr Trump's Republican, primary rivals, Vivek Ramaswamy, is expected to deliver remarks in front of the courthouse in approximately 20 minutes."
Ariana Baio13 June 2023 15:30
1686666031
Most Republicans believe indictment was 'politically motivated'
A new poll from Reuters and Ispsos shows that 81 per cent of self-identifying Republicans believe the federal indictment against former president Donald Trump is politically motivated.
This number exceeds the estimated percentage of Mr Trump's base – which Reuters cited as 30 to 35 per cent.
The poll gives some insight into how politically divided Americans are when it comes to Mr Trump.
Despite the federal indictment laying out 37 specific charges related to Mr Trump allegedly retaining and concealing classified documents from the government, only 35 per cent of Republicans said it was believable that Mr Trump illegally stored the documents in his Florida home.
Ariana Baio13 June 2023 15:20
1686665446
All the investigations Trump faces
Here's what you need to know about all the major investigations and lawsuits against Donald Trump.
Oliver O'Connell13 June 2023 15:10
1686664831
Kevin McCarthy gives baffling defence of Trump storing classified documents in Mar-a-Lago bathroom
The speaker was asked by a reporter on Monday if it was a "good look" for Mr Trump to have boxes of documents in his bathroom. In images released by the Department of Justice, the boxes can be seen in a bathroom with a chandelier.
"I don't know," Mr McCarthy said. "Is it a good picture to have boxes in a garage that opens up all the time? A bathroom door locks."
Gustaf Killander reports:
Ariana Baio13 June 2023 15:00
play youtube
,
xnxx
,
xvideos
,
porn
,
porn
,
xnxx
,
Phim sex
,
mp3 download
,
sex 4K
,
Straka Pga
,
gay teen porn
,
Hentai haven
,
free Hentai
,