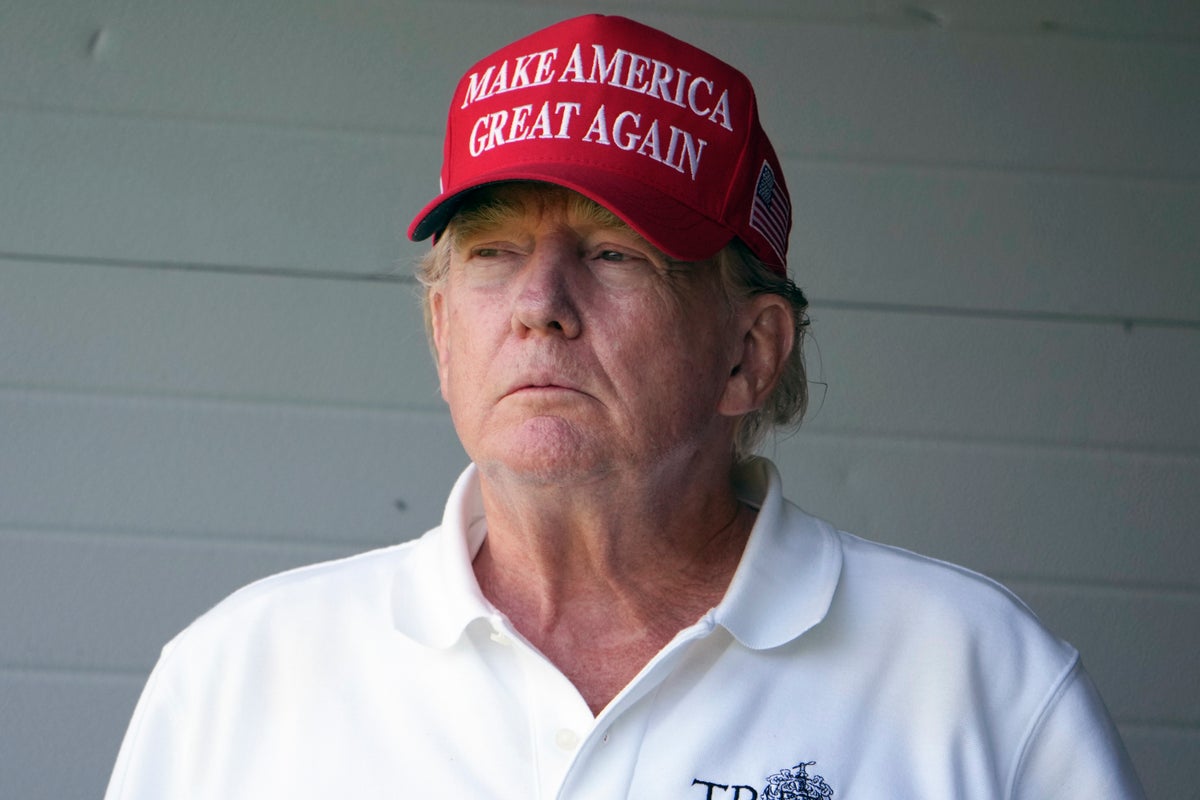 Donald Trump broke another legal barrier on 9 June when he became the first former US president ever to be federally indicted.
A federal grand jury indicted Mr Trump in the investigation into his alleged improper retention of classified documents. The indictment unsealed on Friday revealed 37 counts against the former president, including conspiracy to obstruct, willful retention of documents, and false statements.
He was already under a New York state indictment for his role in an alleged scheme to make a hush money payment to adult film star Stormy Daniels in the buildup to the 2016 election.
Now, Mr Trump is facing yet more legal headaches.
The former president is expected to appear at a federal courthouse in Miami to be arraigned at 3pm ET on Tuesday (13 June).
Here's a rundown of what all the legal terminology means and how we might see Mr Trump's case progress through the criminal justice system.
What is an indictment?
In the American legal system, an indictment is a formal notice that the state believes a person has committed a crime.
A prosecutor secures an indictment by presenting their case to a grand jury, which then votes on whether it believes there is enough evidence to charge a person with a crime.
All proceedings surrounding grand juries are sealed, and the burden of proof for prosecutors is lower than it is at a trial. Typically on 12 of the 16 to 23 grand jurors need to vote to indict a person as opposed to a trial where unanimous verdicts are often required.
An indictment does not determine guilt or innocence, but is a required procedural step in a criminal proceeding.
What is an arraignment?
After the state secures an indictment, it can take a case forward to an arraignment.
At an arraignment hearing, which takes place before a judge, defendants are read the charges facing them and the maximum penalties they carry and then are offered the opportunity to make a plea — either not guilty, no contest, or guilty.
If the defendant pleads guilty or no contest, the case most frequently moves to sentencing. If the defendant pleads not guilty, the judge will set the terms of bail for the defendant and the dates for subsequent events in the case including any pre-trial hearings and an eventual trial, which can sometimes occur months or years after the initial charging date.
So where is Trump in all of this?
The former president has now been indicted twice — once by the Manhattan District Attorney for his role in the alleged hush money scheme, and now by the US Justice Department in Florida for his alleged mishandling of classified documents and obstruction of justice.
Mr Trump was arraigned in New York in the former case in April, and will now be arraigned in Miami in the federal case on Tuesday 13 June. Mr Trump pleaded not guilty to the charges in New York and will enter his plea in Florida when he makes his courthouse appearance there.
Though Mr Trump was arrested in the former case and will be arrested in the coming days in the federal case, he is not expected to be held in jail while awaiting a potential trial. Mr Trump is, of course, running for president again and is the current polling leader for the Republican nomination.
This might not be the last time Mr Trump is indicted this year, either: the former president and several of his advisers are also currently under investigation in Georgia for interfering in the 2020 election.
What happens next?
Mr Trump will surrender to federal authorities on Tuesday before appearing in court for his arraignment. It is unlikely that he will be in handcuffs or have his mugshot taken.
Much like Mr Trump's New York City court appearance, there is expected to be a large media presence and possibly protesters and Trump supporters at the courthouse. MAGA loyalists Kari Lake and Laura Loomer, the Proud Boys and at least one Capitol rioter (named Baked Alaska) have all voiced plans to descend on Miami in support of the former president.
The Secret Service started meeting with federal court marshals and Miami Police on Friday morning regarding the security for the event. In New York, the courthouse was shut down to be inspected by the Secret Service and there was also a large impact on the traffic on the way from the airport to the court.
But the Secret Service is expecting that the court appearance at the Miami courthouse will be easier to carry out, according to The Washington Post.
Mr Trump flew to Florida to stay at his Doral resort on Monday afternoon.
Secret Service spokesperson Anthony Guglielmi told The Post that: "While operational security precludes us from going into specifics, the Secret Service will not seek any special accommodations outside of what would be required to ensure the former president's continued safety".
"As with any site visited by a protectee, the Secret Service is in constant coordination with the necessary entities to ensure protective requirements are met. We have the utmost confidence in the professionalism and commitment to security shared by our law enforcement partners in Florida," he added.
play youtube
,
xnxx
,
xvideos
,
porn
,
porn
,
xnxx
,
Phim sex
,
mp3 download
,
sex 4K
,
Straka Pga
,
gay teen porn
,
Hentai haven
,
free Hentai
,