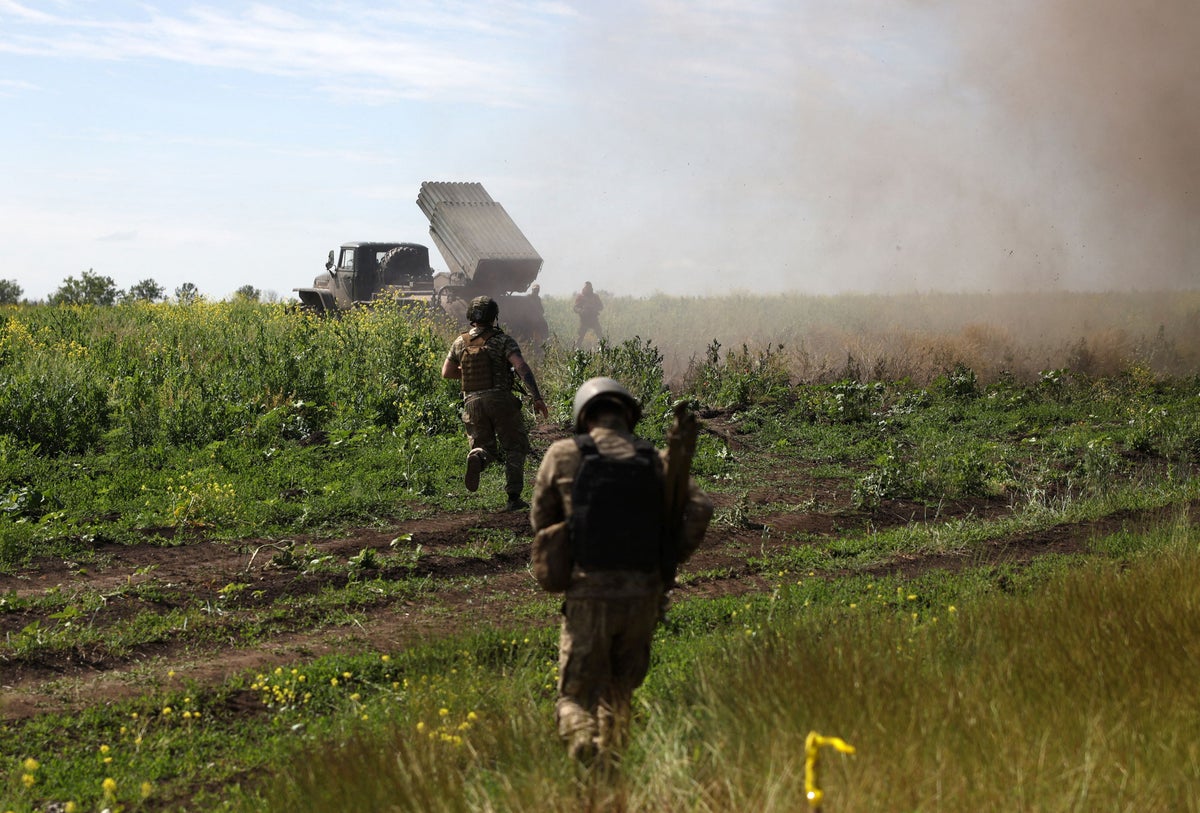 Ukraine: Residential building in Zelensky's hometown engulfed by flames after deadly strike
Russia is losing a "staggering" 900 soldiers a day, Ukrainian officials have claimed ahead of a critical Nato meeting this week where Kyiv will urge the West to greenlight delivery of fighter jets for its ongoing counteroffensive.
The heavy Russian losses were seen over the past week as the Ukrainian army advanced across several points along the frontline, Yuriy Sak, a key adviser to Ukraine's ministry of defence, told The Independent.
But the situation is also not easy for the Ukrainian fighters, he said. "The Russians continue to have command of the air, they have air superiority along the frontline lines.
"Had we had F-16s, by now the situation would have been different," the official said.
This comes as Ukraine's deputy defence minister Hanna Maliar said that the Ukrainian forces had taken back seven villages opening up 90 sq kms of land in the past week alone.
Meanwhile, Russian president Vladimir Putin said that if necessary Russia would use weapons with depleted uranium in response to reports that the United States would supply such weapons to Ukraine.
1686710436
Russia losing 900 soldiers a day during counteroffensive, Ukrainian officials claim
Russia is losing a "staggering" 900 soldiers a day, Ukrainian officials have claimed, urging the West to greenlight delivery of fighter jets for its counteroffensive at a Nato meeting this week.
Ukraine's deputy defence minister, Hanna Maliar, indicated the long-awaited counteroffensive was making headway, reporting that Ukrainian forces had taken back seven villages opening 90sqkm of land in the last week alone.
However, she said the advance was hard as Russian forces had superior air support and were showering their troops with intense artillery fire.
Arpan Rai14 June 2023 03:40
1686720777
Russia blames Ukrainian forces for shell Nova Kakhovka
At least one person was injured in shelling of a residential area in the city of Nova Kakhovka, the city's Russia-installed administration said today.
The administration also said that shelling of the nearby village of Plodovoye disrupted power supply there.
Officials in Kyiv have not issued a response on the allegations.
The region saw widespread destruction last week after the Kakhovka dam was destroyed, flooding swathes of land and forcing thousands to flee in one of the biggest industrial disasters in Europe for decades.
Arpan Rai14 June 2023 06:32
1686719337
Three killed in Russian cruise missile attack on Odesa – official
At least three people were killed and 13 were injured after Russian missiles struck civilian buildings in Ukraine's Black Sea port of Odesa overnight, the war-hit nation's military said early this morning.
Russia fired four cruise missiles on the city, the South command of Ukraine's Armed Forces said. Initially, the military said two missiles were destroyed before hitting their targets.
"As a result of air combat and blast waves, a business centre, an educational institution, a residential complex, food establishments and shops in the city centre were damaged," the South command said on the Telegram app.
The three people killed were working at a retail chain's warehouse when a missile hit, setting it ablaze, the military added. Seven people were wounded there.
"Sifting through the debris continues," the military said. "There may be people under."
A video and photographs of the attacked site by Odesa military administration spokesperson Serhiy Bratchuk showed a multi-storey building bombed out by the missile, with parts of walls and windows blown to shards.
Firefighters were also seen at the spot battling against flames in what appeared be a warehouse.
Arpan Rai14 June 2023 06:08
1686718119
In pictures: Ukrainian troops fire from Bakhmut frontline
Arpan Rai14 June 2023 05:48
1686716613
How Putin has mixed threats of new offensive in Ukraine with peace talk offer
Vladimir Putin has sprinkled threats of a new Russian offensive to capture Ukrainian land with statements about the Kremlin's readiness for peace talks this week as the war marked a new stage of targeted counteroffensive from Kyiv.
Speaking during a far-ranging meeting with Russian military correspondents and war bloggers, he made some of the most extensive comments about the conflict and his goals since sending the troops into Ukraine more than 15 months ago.
In one assertion, the Russian president claimed that Ukraine has suffered "catastrophic" losses in its counteroffensive but then, he also spoke of the circumstance under which the war would conclude.
The Russian leader said ending the hostilities in Ukraine depends on the United States. He argued that the fighting would end immediately if the US and Nato stop providing Ukraine with weapons.
Here is a quick look at some of Mr Putin's key statements:
Arpan Rai14 June 2023 05:23
1686716043
110 million people forcibly displaced as Sudan, Ukraine wars add to world refugee crisis, UN says
Around 110 million people have had to flee their homes because of conflict, persecution, or human rights violations, the UN High Commissioner for Refugees has said.
The war in Sudan, which has displaced nearly 2 million people since April, is but the latest in a long list of crises that has led to the record-breaking figure.
Last year alone, an additional 19 million people were forcibly displaced including more than 11 million who fled Russia's full-scale invasion of Ukraine in what became the fastest and largest displacement of people since the Second World War.
"It's quite an indictment on the state of our world," Filippo Grandi, who leads the UN refugee agency, told reporters in Geneva ahead of the publication of UNHCR's Global Trends Report for 2022 today.
Read the full story here:
Arpan Rai14 June 2023 05:14
1686713299
New US military aid to Ukraine pushes Washington deeper into war, warns Russia
The new US military aid package for Ukraine pushes the US deeper into the "abyss" of the conflict, Russia's ambassador to the United States, Anatoly Antonov warned today.
"The United States is getting deeper and deeper into the abyss of the Ukrainian crisis," Mr Antonov was quoted as saying in a post on the embassy's Telegram channel.
"Apparently, the strategists from the United States somehow do not understand that no amount of weapons, whatever involvement of mercenaries, will be able to turn the tide in the course of (Russia's) special military operation."
The package worth $325m (£257m), which includes munitions for air defence systems, ammunition and vehicles, comes as Ukraine is shaping its long-expected counteroffensive.
In the past week, Ukrainian forces lost some tanks and armoured vehicles provided by Western allies while making small territorial gains.
Arpan Rai14 June 2023 04:28
1686708000
Latest pictures from Ukraine
Martha Mchardy14 June 2023 03:00
1686704400
UK firms operating in Russia 'complicit in war crimes' against Ukraine, says MP
UK businesses continuing to operate in Russia are "complicit in the war crimes" committed against the Ukrainian people, MPs have heard.
Labour former minister Sir Chris Bryant told the Commons about the Russian government introducing a new law last year, requiring all businesses, including foreign ones, operating in the Russian Federation to "assist in the war in Ukraine".
Sir Chris urged the Government to make it "absolutely clear" that all British businesses should "completely and utterly desist from business in Russia immediately".
Foreign Office minister Anne-Marie Trevelyan said there has been a "positive attitude" from British businesses and a "willingness to take financial pain immediately in order to step away" from Russian markets and activity.
The Rhondda MP said: "The Russian government introduced a new law last year which requires all businesses, including foreign businesses that have any footprint in the Russian Federation, to assist in the war in Ukraine.
"That means any British businesses who are still doing business now in Russia are complicit in the war crimes that Russia is perpetrating against the Ukrainian people.
"Would the minister now make it absolutely clear that all British businesses should completely and utterly desist from business in Russia immediately?"
Martha Mchardy14 June 2023 02:00
1686700800
NATO leader says Ukrainians are making progress and advancing against Russian forces
NATO Secretary-General Jens Stoltenberg told President Joe Biden at an Oval Office meeting on Tuesday that Ukrainians are "making progress" with their counteroffensive, which could bolster their position when there's an opportunity to reach a diplomatic end to the war with Russia.
"The support that we are providing together for Ukraine is now making a difference on the battlefield as we speak," Stoltenberg said. "Because the offensive has launched, and the Ukrainians are making progress, making advances."
He added, "It's still early days, but what we do know is that the more land that Ukrainians are able to liberate, the stronger hand they will have at the negotiating table."
Biden said NATO has grown more unified during the Ukraine war and "we're going to be building on that momentum" when the alliance holds its annual summit in Vilnius, Lithuania, on July 11 and 12.
Martha Mchardy14 June 2023 01:00
play youtube
,
xnxx
,
xvideos
,
porn
,
porn
,
xnxx
,
Phim sex
,
mp3 download
,
sex 4K
,
Straka Pga
,
gay teen porn
,
Hentai haven
,
free Hentai
,