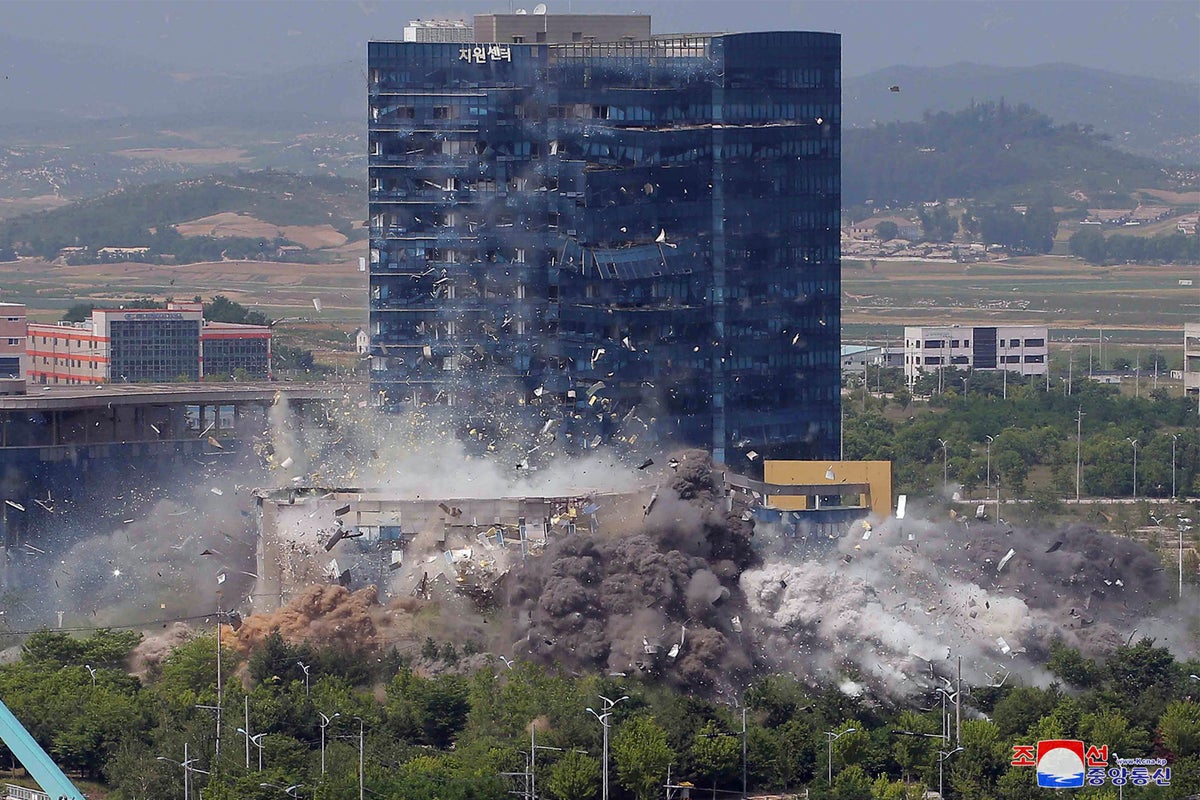 South Korea filed a 44.7 billion won ($35 million) damage suit against North Korea on Wednesday for blowing up a joint liaison office just north of their border in 2020, which highlighted a revival of tensions between the rivals following the collapse of larger nuclear talks between the U.S. and North Korea.
The symbolic lawsuit filed with the Seoul Central District Court comes amid a prolonged freeze in diplomacy and growing concerns over North Korea's nuclear weapons and missile programs. South Korea had until this Friday to claim damages, when a three-year statute of limitations over the incident would expire.
Koo Byoungsam, spokesperson for Seoul's Unification Ministry, which handles relations with North Korea, described the North's detonation of the building as an unlawful and violent act that breached previous agreements between the countries and "fundamentally damaged the foundation of mutual respect and trust."
There's no clear way for South Korea to force North Korea to pay if it is found liable for damages. Koo said the lawsuit, the first ever filed by South Korea's government against North Korea's government, was aimed at beating the statute of limitations and preserving South Korea's legal right to compensation.
In June 2020, North Korea used explosives to blow up the South Korean-built liaison office in the North Korean border town of Kaesong after criticizing South Korea's failure to stop North Korean defectors from flying anti-North propaganda leaflets across the border using balloons. North Korea shut down the office in January 2020 as it closed its borders over coronavirus concerns, and the building was empty at the time of the detonation.
The building's destruction, which was seen as a calculated display of anger to pressure Seoul over deadlocked nuclear negotiations with Washington, posed a serious setback to efforts by then-South Korean President Moon Jae-in, a liberal, to engage with the North.
Moon met North Korean leader Kim Jong Un three times in 2018 while helping set up Kim's first summit with then-U.S. President Donald Trump in June that year. However, the diplomacy derailed after a second Kim-Trump summit in February 2019 at which the Americans rejected North Korea's demand for major sanctions relief in exchange for a partial surrender of its nuclear capabilities.
Tensions have further increased in past months as Kim used distractions created by Russia's war on Ukraine to increase weapons tests, including the firing of around 100 missiles since the start of 2022. Kim has accompanied the tests with a new nuclear doctrine that authorizes preemptive strikes on rivals in a broad range of scenarios in which the North may perceive its leadership is under threat.
Current conservative South Korean President Yoon Suk Yeol, who has been labeled a "traitor" by North Korean state media, has departed from Moon's dovish policies and taken a harder stance on the North. Yoon has expanded the country's military training with the United States while seeking stronger assurances from the Biden administration that the United States would swiftly and decisively use its nuclear weapons to protect South Korea in the event of a North Korea nuclear attack.
Meanwhile, South Korea's spy agency said it has detected signs that North Korean government-backed hackers were trying to steal people's personal details through a phishing website mimicking Naver, South Korea's biggest website.
The National Intelligence Service warned internet users to check whether they are accessing Naver through the correct domain address, naver.com. The agency didn't specify whether it had confirmed actual data breaches through the fake site.
play youtube
,
xnxx
,
xvideos
,
porn
,
porn
,
xnxx
,
Phim sex
,
mp3 download
,
sex 4K
,
Straka Pga
,
gay teen porn
,
Hentai haven
,
free Hentai
,