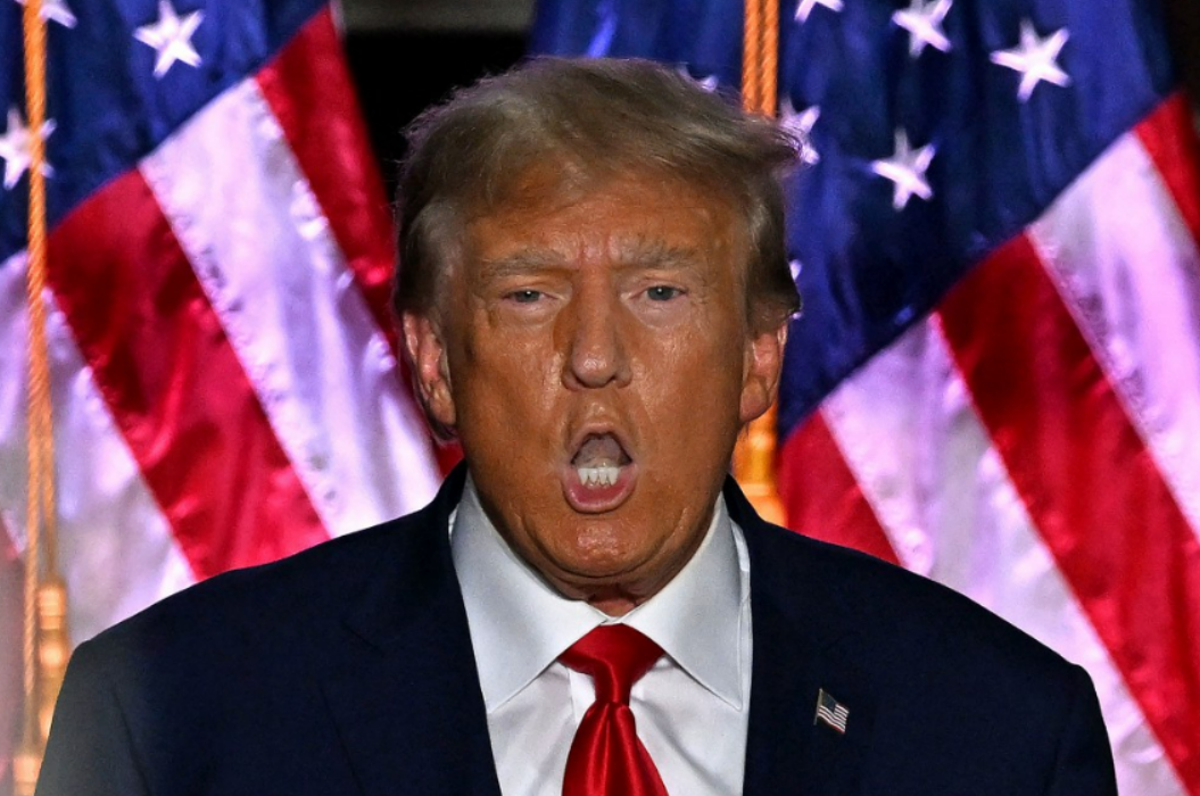 Trump's second arraignment: Watch how it happened
Donald Trump is marking his 77th birthday today as the first current or former president arrested on federal criminal charges in the history of America.
On Tuesday, Mr Trump pleaded not guilty at his arraignment in a Miami federal courthouse on 37 charges over his handling of classified national security documents after leaving the White House.
Miami officials had braced for protests outside the courthouse but much of the Maga army of supporters failed to show up as expected. One anti-Trump protester jumped in front of the former president's motorcade.
After the hearing, Mr Trump stopped by the famous Cuban restaurant Versailles where supporters sang him 'Happy Birthday'.
He then flew back to his golf club in Bedminster, New Jersey, where he gave a speech launching into his usual unsubstantiated narrative that he is the victim of political persecution.
In the remarks, he claimed that the boxes of classified documents discovered in his possession actually contained clothes.
"They were containing all types of personal belongings – many, many things, shirts and shoes, everything," he said as a bizarre explanation for why he wanted to hold onto them.
1686746400
Tucker Carlson spins new conspiracy linking Trump arrest to… Iraq WMDs?
Tucker Carlson pushed a new conspiracy theory that Donald Trump is being prosecuted for calling out Washington DC insiders over Iraq and weapons of mass destruction in his latest Twitter show.
Oliver O'Connell14 June 2023 13:40
1686745200
Trump hits out at 'Fake' Tapper after CNN cuts away from former president meetings fans
Donald Trump lashed out at Jake Tapper after the CNN host ordered the news network's control room to cut away from video of the ex-president with supporters after his criminal arraignment in Miami.
Oliver O'Connell14 June 2023 13:20
1686744000
Supporters pray over Trump and sing him 'Happy Birthday'
Donald Trump was met with a circus scene on Tuesday in Miami as he was in Florida to face 37 federal charges over his alleged mishandling of classified documents.
In a packed restaurant in the Little Havana, supporters alternatively prayed over the ex-president and sang him happy birthday, in honour of his 77th birthday, which is on Wednesday.
Josh Marcus has the story.
Oliver O'Connell14 June 2023 13:00
1686742200
Historic federal arraignment was virtually invisible to Americans
Former President Donald Trump's federal arraignment in Miami on Tuesday was historic — yet virtually invisible to the public.
In an era when people are accustomed to instantly available images and sounds of important events, Trump's not-guilty plea to charges of hoarding classified documents was a step back in time. Hundreds of photographers and television crews were at the courthouse — many broadcasting live from outside — but they couldn't show the key moments inside the courtroom.
Efforts by news organizations to loosen restrictions that generally prohibit cameras in federal courtrooms failed, despite the event's unprecedented nature. It was a stark contrast from Trump's arraignment in New York earlier this year.
Oliver O'Connell14 June 2023 12:30
1686741000
Pompeo slams Trump on Fox News saying his handling of secrets put US troops in danger
Ex-Secretary of State Mike Pompeo appeared on Fox & Friends on Tuesday and delivered a sobering assessment of the charges against his former boss which dismantled the assertion Mr Trump's allies have pushed on social media seeking to explain away the boxes of documents and classified materials at Mar-a-Lago as the president's own property.
Namita Singh14 June 2023 12:10
1686739839
In video: Trump makes bizarre claims over 'staged photos' of boxes at Mar-a-Lago
Trump makes bizarre claims over 'staged photos' of boxes at Mar-a-Lago
Namita Singh14 June 2023 11:50
1686738600
Who is Walt Nauta, Donald Trump's 'body man' and codefendant?
He was arrested, fingerprinted, and unlike Mr Trump, had his mugshot taken ahead of the arraignment.
Oliver O'Connell14 June 2023 11:30
1686737439
Is Donald Trump going to prison?
Donald Trump was arrested and arraigned yesterday for the second time in less than three months.
At 3pm local time, Mr Trump surrendered to authorities at the Wilkie D Ferguson Jr United States Courthouse in Miami, Florida on 37 federal charges stemming from his alleged unlawful retention of national defence information, adding another criminal case to the legal pressure against the twice-impeached former president as he seeks to win his party's nomination in next year's Republican presidential primary.
The arraignment comes just days after a federal grand jury indicted the former president.
But is he going to prison? Read about the legal troubles surrounding Mr Trump and what it means for him in this report:
Namita Singh14 June 2023 11:10
1686736239
Who is Jack Smith? The prosecutor overseeing the Trump probes
Jack Smith, the experienced war crimes prosecutor who unveiled an unprecedented federal indictment against former US president Donald J Trump on 9 June, is no stranger to high-profile probes of public figures.
The first mission was to consider "whether any person or entity violated the law in connection with efforts to interfere with the lawful transfer of power following the 2020 presidential election or the certification of the Electoral College vote held on or about January 6, 2021".
More about him in this report from Andrew Feinberg:
Namita Singh14 June 2023 10:50
1686735650
Mike Pence has sudden change of heart over Trump classified documents: 'I can't defend it'
Mike Pence appears to have had a sudden change of heart over his thoughts on Donald Trump's handling of classified documents.
After arguing that bringing federal criminal charges against the former president would send a "terrible message to the world" last week, the former vice president has now said that he "can't defend" his ex-boss's alleged actions laid out in the indictment.
"Having read the indictment, these are very serious allegations," Mr Pence told The Wall Street Journal's Editorial Board on Tuesday. "And I can't defend what is alleged."
Read the full story here:
Rachel Sharp14 June 2023 10:40
play youtube
,
xnxx
,
xvideos
,
porn
,
porn
,
xnxx
,
Phim sex
,
mp3 download
,
sex 4K
,
Straka Pga
,
gay teen porn
,
Hentai haven
,
free Hentai
,