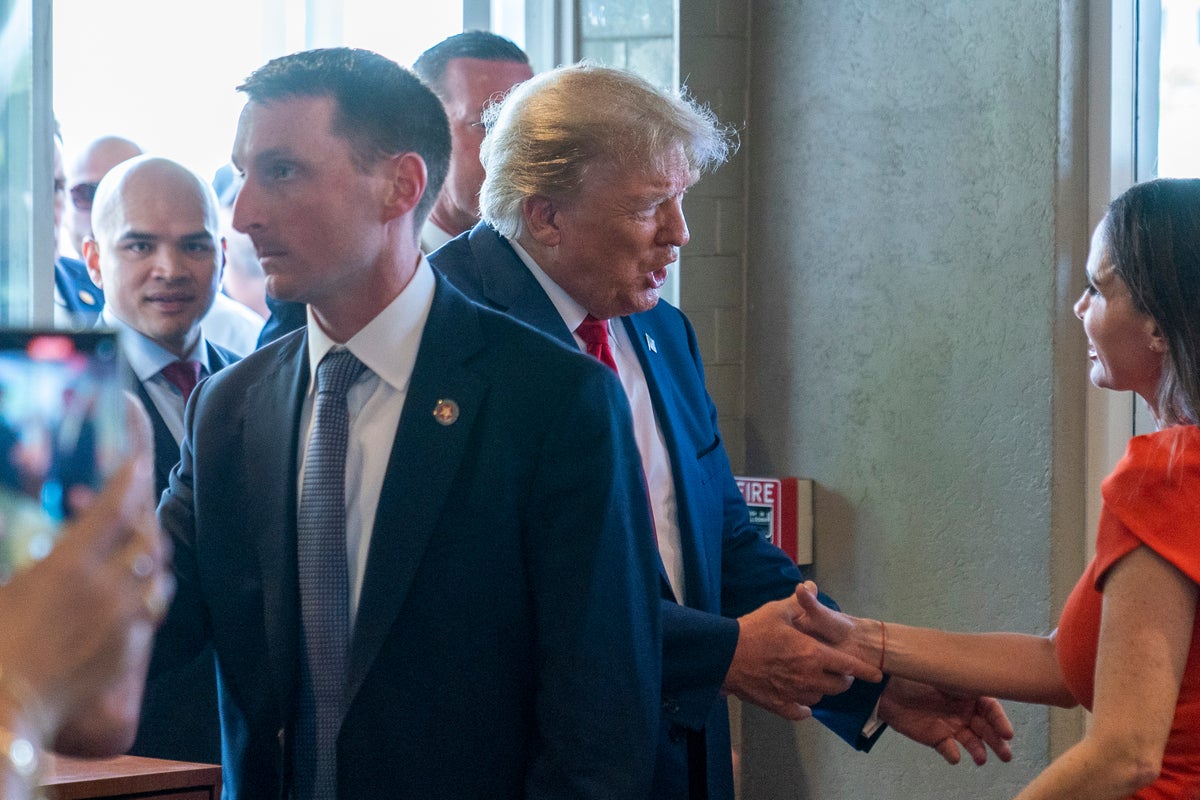 While all eyes were on Donald Trump's arraignment on federal charges of mishandling top secret material at a Miami courthouse on Tuesday, a personal aide who was virtually unknown just days ago sat beside him in the dock.
Walt Nauta, 40, is charged alongside his longtime boss and alleged co-conspirator with helping to conceal some of the nation's most sensitive documents from federal investigators.
He was arrested, fingerprinted, and unlike Mr Trump, had his mugshot taken ahead of the arraignment.
Mr Nauta did not enter a plea to six charges during the brief appearance, including conspiracy to obstruct justice, corruptly concealing a document or record and making false statement.
This was apparently due to him not having an attorney who was sanctioned to enter a plea for him in Florida.
Mr Nauta became a trusted figure within Trump's inner circle during seven years of service, stretching from the beginning of his presidency until the present day.
According to an indictment unsealed on Friday, he allegedly moved boxes containing classified material from the White House to the ex-president's Florida home and then lied about it to investigators.
Beyond Mr Trump's orbit, Mr Nauta's name was known only to a few seasoned political observers and until a few days ago.
He now finds himself in the centre of the most high profile criminal investigation in the country, his fate likely resting in the hands of a man who has shown little loyalty to associates who find themselves in legal jeopardy.
Who is Walt Nauta?
Waltine Torre Nauta, 40, was born in the US territory of Guam in the Western Pacific, and grew up one of six siblings in the small village of Agat, according to the Washington Post.
Most of the inhabitants of Agat are Chamorros, the indigenous population of Guam, and a large US naval base is near by.
He enlisted in the US Navy in 2001, where he worked primarily as a cook.
From 2012 to 2021, Mr Nauta served in the Presidential Food Service in Washington DC, according to his service record.
The unsealed indictment listed him as a "valet", and he's also been described as Mr Trump's "body man", an assistant who follows a political leader around the clock carrying out whatever tasks he may need.
In Mr Trump's case, this would reportedly involve bringing him Diet Cokes on a silver platter when he pressed the presidential call button on the Resolute desk in the Oval Office.
Mr Nauta was also constantly by his boss's side during domestic and foreign trips.
When Mr Trump's term ended in disgrace after the January 6th riots, Mr Nauta was one of the few White House staff members who followed his boss to Mar-a-Lago.
He would travel with the former president to his private Bedminster golf club in New Jersey, and to campaign rallies and press conferences. Mr Nauta reportedly earned a salary of $135,000 for his labours.
'Key witness'
Mr Nauta earned a reputation as someone who could stay out of the bitter fights between Trump staffers, according to a Washington Post article in March that identified him as a "key witness" in the classified documents probe.
It was only when the Justice Department unsealed a 49-page indictment last Friday, that the extent of his alleged involvement in concealing the documents became apparent.
Mr Nauta is alleged to have helped a maintenance worker move boxes of classified materials from Mar-a-Lago after a subpoena had been issued, and prior to an FBI raid last August.
Mr Nauta initially denied knowledge of classified materials being kept at Mar-a-Lago when questioned by investigators.
However after surveillance footage seized by the FBI apparently contradicted his account, Mr Nauta reportedly admitted in a second interview that he had moved boxes at Mr Trump's direction.
He later stopped cooperating with investigators, according to CNN.
In an interview in March with the Post, his aunt Elly Nauta said he had kept his immediate family informed about the Justice Department investigation.
"He told his mom there's nothing to worry about. He didn't do anything wrong. All he was instructed was to put the boxes where they were supposed to go," his aunt told the Post.
The few pictures that exist of the pair together appear to show a natural rapport between the two men.
In images captured in March, Mr Nauta was seen disembarking from the former president's private plane and into a black Suburban carrying papers and a black bag.
Two months later, the soft spoken aide was pictured adjusting the ex-president's collar at an LIV Golf Pro-Am golf tournament at the Trump National Golf Club in Sterling, Virginia.
'A wonderful man'
Mr Trump's attorneys, accountants, aides and family members have found themselves entangled in the estimated 4,000 investigations he's been embroiled in over the course of his business and political career.
Longtime fixer Michael Cohen was sentenced to three years in federal prison for helping to arrange hush money payments in the lead up to the 2016 election.
Allen Weisselberg, the Trump Organization's former chief financial officer, served three months in Riker's Island after he pled guilty to accepting $1.7m in untaxed compensation.
And three of Mr Trump's children have been jointly accused alongside him in a $250m lawsuit of perpetrating what some observers dubbed "the art of the steal" through a litany of fraudulent business practices by the New York Attorney General's office.
In a Truth Social post on Friday, Mr Trump criticised what he called the "'Thugs' from the Department of Injustice" for indicting a "wonderful man".
He described Mr Nauta as a member of the US Navy, "who served proudly with me in the White House, retired as Senior Chief, and then transitioned into private life as a personal aide".
Mr Trump said that federal investigators were "trying to destroy his life".
Early on in the criminal process, Mr Nauta appears to be unmoved in his support for Mr Trump.
According to the Post, his legal fees are being covered by the Trump-aligned Save America PAC.
Several of the charges he is facing carry maximum sentences of 20 years in prison.
play youtube
,
xnxx
,
xvideos
,
porn
,
porn
,
xnxx
,
Phim sex
,
mp3 download
,
sex 4K
,
Straka Pga
,
gay teen porn
,
Hentai haven
,
free Hentai
,