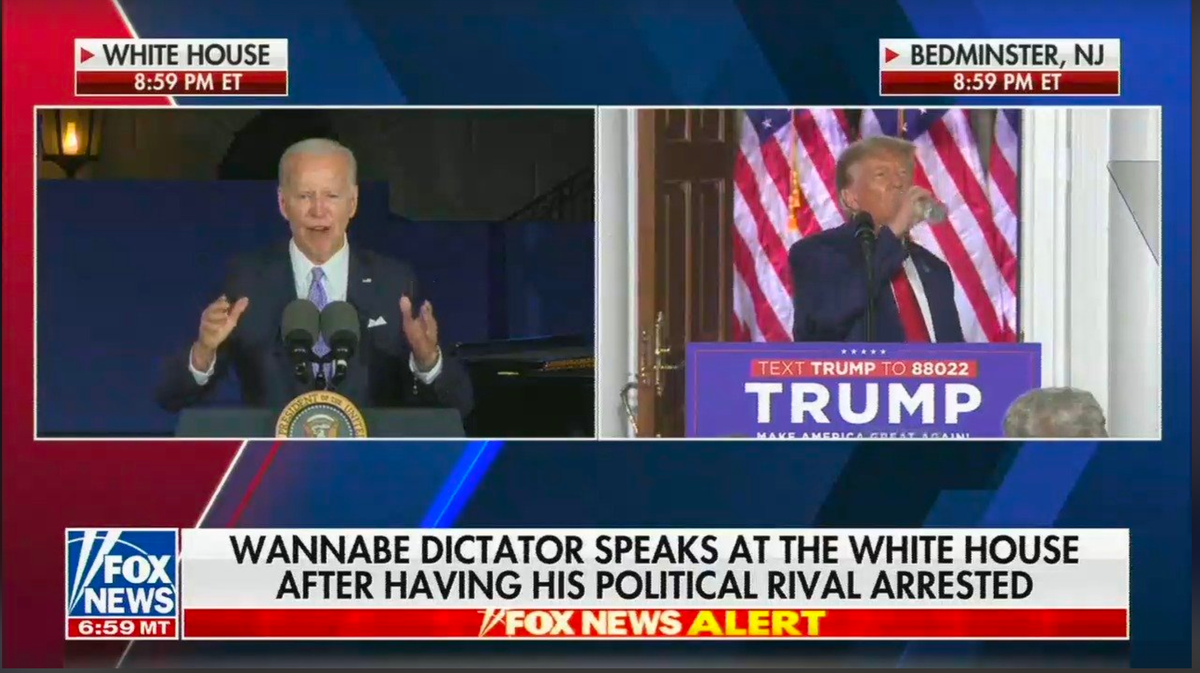 Fox News has come under fire over its shocking chyron during Donald Trump's post-arraignment speech, branding President Joe Biden a "wannabe dictator" who tried to have "his political rival arrested".
The right-wing network – which agreed to pay $787m in April to Dominion Voting Systems to settle a lawsuit over its promotion of Mr Trump's 2020 election lies – was the only major cable news network to carry the former president's speech from his Bedminster golf club in New Jersey on Tuesday night.
During its airing of Mr Trump's remarks – during which he continued to make a series of unsubstantiated claims and attacks on Mr Biden – the network shocked viewers with a caption flashing across the screen.
Over a split screen, showing Mr Biden delivering a speech from the White House on one side and Mr Trump delivering his speech from New Jersey on the other, appeared the news chyron: "Wannabe dictator speaks at the White House after having his political rival arrested".
A day after the message was displayed on air, Fox News said in a statement: "The chyron was taken down immediately and was addressed."
The chyron sparked uproar on social media with several viewers urging Mr Biden to sue the network while others said Fox News had proven its position as a mouthpiece for Republican propaganda.
"If Joe Biden were really a dictator, Fox News wouldn't exist," one person tweeted.
"I don't remember Fox ever referring to Trump as "dictator" when he promised to jail Hillary," another person tweeted.
Several social media users also speculated that the caption was a ploy by the right-wing network to try to claw back favour with Mr Trump and his supporters.
"Fox News chyron is pretty far beyond the pale even for Fox News," one person tweeted.
"With slumping ratings they are trying to pull the MAGA crowd back in and proving they are not a news program but a propaganda machine. Biden is a "wannabe dictator.""
Meanwhile, others called for Fox News to have its White House press privileges revoked because it had proven itself to be a "Republican propaganda machine".
"@whca Hello, I am troubled by Fox News airing a chryon calling Biden a "wannabe dictator."  I would ask the WHCA consider sanctioning Fox News and their WH credentials for this inflammatory stunt," tweeted one person.
"Why FOX is allowed within 50 feet of the Whitehouse Press Briefing room behooves me. They are a Republican propaganda machine and have no business being there. (It's not a free speech issue)," chimed another.
Other social media users went as far as to suggest that the president should take legal action against the network.
"Biden needs to sue Fox News," said one person.
Another wrote: "Today, Fox Propaganda displayed a message on their banner calling our President Biden a wannabe dictator who had his political rival arrested which is a complete lie.
"Biden should sue them for defamation and so should his administration."
The wild claim from Fox News parroted the words of Mr Trump who has falsely claimed his political rival is behind the federal charges he is now facing.
In his speech on Tuesday night, the former president pushed these claims once again, calling the case against him was "the most evil and heinous abuse of power" by Mr Biden.
"This day will go down in infamy and Joe Biden will forever be remembered as not only the most corrupt president in the history of our country but perhaps, even more importantly, the president who together with a band of his closest thugs, misfits and Marxists tried to destroy American democracy," Mr Trump said.
Mr Biden has repeatedly denied any involvement in the investigation, which was headed by special prosecutor Jack Smith. Meanwhile, Mr Trump himself has a record of trying to overthrow democracy as he refused to accept his 2020 election loss to the Democrat.
On Tuesday afternoon, Mr Trump appeared for his arraignment in a Miami federal courthouse, becoming the first current or former US president ever charged with a federal crime.
He pleaded not guilty to all 37 federal charges over his handling of classified documents, including national defence information, after leaving the White House.
The indictment, which was unsealed on Friday (9 June), alleges that Mr Trump deliberately lied to and misled authorities so that he could hold onto documents that he knew were classified.
On at least two separate occasions, Mr Trump then showed some of the classified documents to people not authorised to see them, the indictment alleges.
Stunning photos revealed that many of the documents were stored around a toilet, shower and ballroom at his Mar-a-Lago estate.
The charges include 31 counts of willful retention of national defense information and single counts of false statements and representations, and counts of conspiracy to obstruct justice, withholding a document or record, corruptly concealing a document, concealing a document in a federal investigation and a scheme to conceal.
Mr Trump's longtime aide Walt Nauta was also charged with six obstruction- and concealment-related charges after he allegedly helped move boxes of documents from Mar-a-Lago to Mr Trump's residence and then lied to investigators about having any knowledge of the handling of the papers.
The two men appeared in court together but Mr Nauta did not enter a plea as he did not have legal counsel in Florida.
play youtube
,
xnxx
,
xvideos
,
porn
,
porn
,
xnxx
,
Phim sex
,
mp3 download
,
sex 4K
,
Straka Pga
,
gay teen porn
,
Hentai haven
,
free Hentai
,