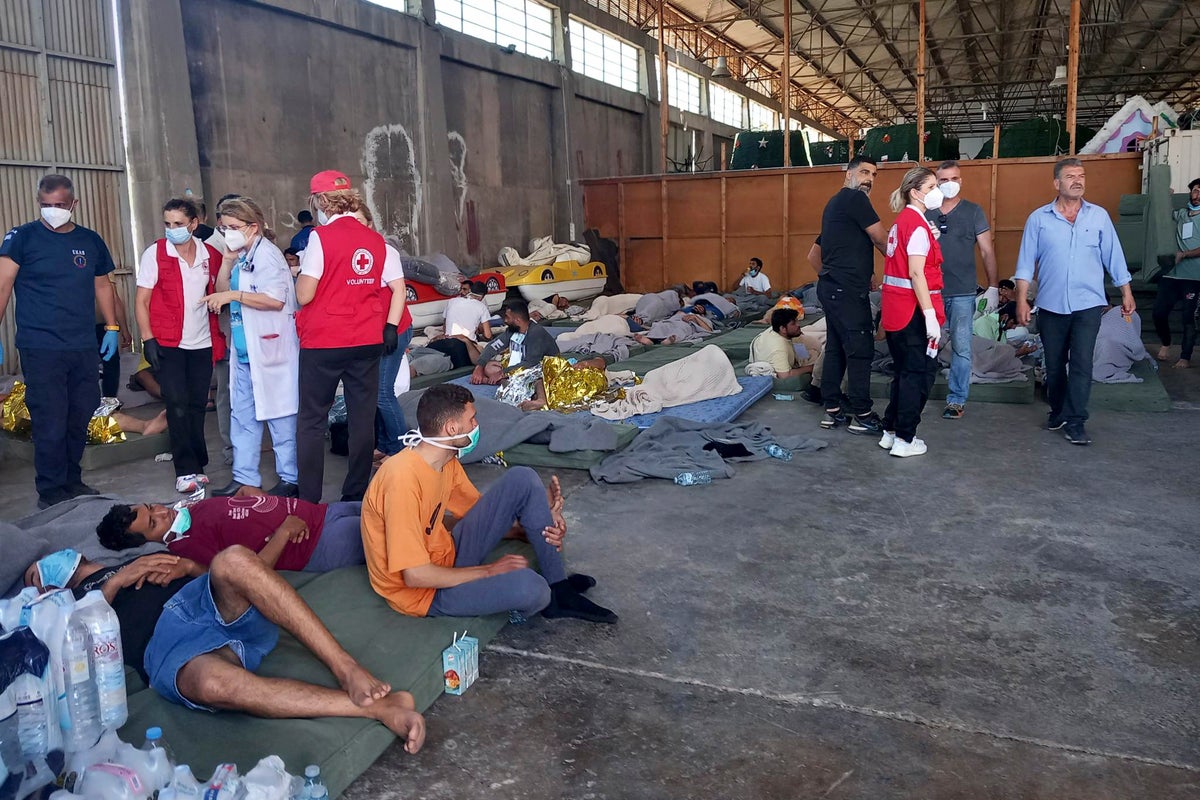 Hundreds of refugees and migrants are missing and feared dead after a fishing vessel carrying them from Libya capsized and sank off the southern coast of Greece.
At least 78 bodies have been found after the tragedy occurred early Wednesday, while officials now fear scores more may have drowned as rescue operations continued on Thursday.
The exact number of people on the boat has become the subject of speculation, with some Greek officials claiming it carried as many as 600 people.
This is the deadliest turn of events off the country's coast since the height of the 2015 migration crisis.
"It's one of the biggest operations ever in the Mediterranean," Greek coastguard spokesman Nikos Alexiou told state broadcaster ERT TV. "We won't stop looking," he said.
Rescuers have so far saved 104 passengers, including Egyptians, Syrians, Pakistanis, Afghans and Palestinians.
Mr Alexiou told local media on Thursday that all survivors are men. One of the dead, however, is a woman, said local reports.
Caretaker Greek prime minister Ioannis Sarmas declared three days of national mourning on Wednesday night and said their thoughts were with "all the victims of the ruthless smugglers who exploit human unhappiness".
"There has been a dramatic rise in the death count, which is climbing by the hour," one Greek official said on Wednesday.
"Speculation is rife that as many as 600 people were onboard but that has not been confirmed. The ship is under the water. It has sunk."
Ioannis Zafiropoulos, deputy mayor of the port city of Kalamata, where survivors were taken, said there were "more than 500 people" on board.
ERT TV reported that Charity Alarm Phone, which operates a trans-European network supporting rescue operations, said it received alerts from people on board a ship in distress off Greece late on Tuesday, saying 750 people were on board.
However, it said that the spokesman for Greece's caretaker government, Ilias Siakantaris, said reports that the vessel was carrying 700-750 people could not be confirmed.
"We do not know what was in the hold… but we know that several smugglers lock people up to maintain control," he said.
On Thursday morning, Greek coastguard spokesman Mr Alexiou said it appeared the vessel capsized after people abruptly moved to one side – shifting the centre of gravity of the 25-30-metre vessel.
"The outer deck was full of people, and we presume the interior [of the vessel] would also have been full. It looks as if there was a shift among the people who were crammed on board, and it capsized."
Eight people had been transferred to the central Port Authority of Kalamata for preliminary investigation by late Wednesday, said reports.
In Kalamata on Thursday, there were tents set up for the rescued people and provisions for soup kitchens as well.
The ship capsized in international waters, about 47 nautical miles (87km) southwest of Pylos off the Peloponnese coast, as it made its way to Italy.
The Greek coastguard learned about the boat's engine failure shortly before 2am, the shipping ministry said.
Coastguard vessels, a navy frigate, military transport planes, an air force helicopter and an array of private craft were searching for survivors on Thursday. Reports said search and rescue efforts were hampered by strong winds.
"The engine stopped and it sank in minutes," one of the survivors was quoted as saying.
Greek president Katerina Sakellaropoulou visited the area where rescued migrants were being tended to and political parties called off planned campaign events ahead of national elections later this month.
The Italy-bound boat is believed to have sailed from eastern Libya's Tobruk area. It was spotted heading north at high speed, according to the Greek coastguard.
Coastguard officers tried to approach the vessel after receiving a request for help, it said at around 2am, then "saw the boat take a right turn, then a sharp left, and then another right so big that it caused the vessel to capsize".
Repeated calls to the vessel offering help were declined, the coastguard said in a statement.
"In the afternoon a merchant vessel approached the ship and provided it with food and supplies, while the [passengers] refused any further assistance," it said.
A second merchant ship that approached it later offered further supplies and assistance which were turned down.
About 72,000 refugees and migrants have arrived so far this year in Europe's frontline countries Italy, Spain, Greece, Malta and Cyprus, according to UN data, with the majority landing in Italy.
Meanwhile, it was reported that the rescued people who were taken to the hospital in Kalamata were battling hypothermia, fainting incidents and dehydration.
"We are witnessing one of the biggest tragedies in the Mediterranean, and the numbers announced by the authorities are devastating," Gianluca Rocco, head of the Greek section of UN migration agency International Organisation for Migration (IOM), said on Wednesday.
"This situation reinforces the urgency for concrete, comprehensive action from states to save lives at sea and reduce perilous journeys by expanding safe and regular pathways to migration."
The IOM has recorded more than 21,000 deaths and disappearances in the central Mediterranean since 2014.
Additional reporting by agencies
play youtube
,
xnxx
,
xvideos
,
porn
,
porn
,
xnxx
,
Phim sex
,
mp3 download
,
sex 4K
,
Straka Pga
,
gay teen porn
,
Hentai haven
,
free Hentai
,