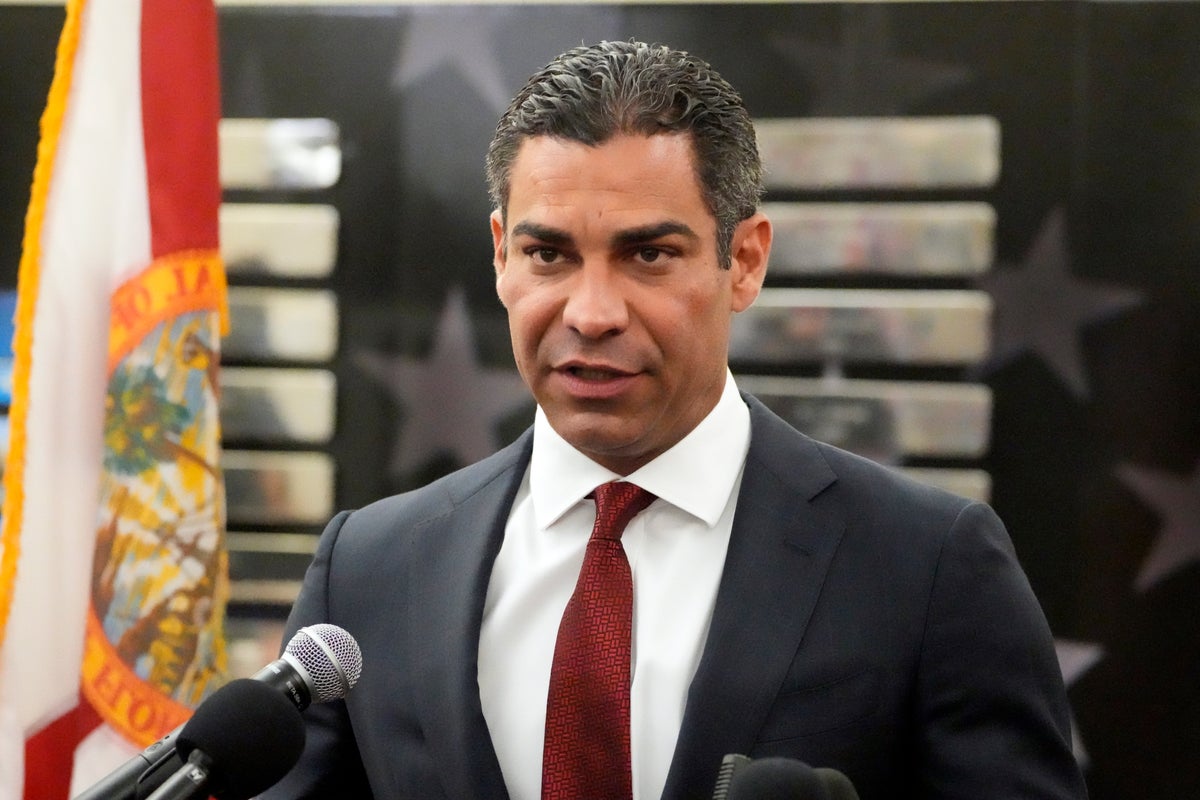 Miami Mayor Francis Suarez declared his bid for the Republican presidential nomination on Wednesday, joining the crowded field one day after Donald Trump was indicted on federal charges.
The 45-year-old Republican mayor, the only Hispanic candidate in the race, filed paperwork declaring his candidacy with the Federal Election Commission on Wednesday, the Associated Press reported.
Mr Suarez, who is vying to become the first sitting mayor elected president, joins a GOP primary battle that includes Florida Governor Ron DeSantis, former vice president Mike Pence, South Carolina Senator Tim Scott, Nikki Haley and former New Jersey Governor Chris Christie.
Despite having a candidate field in the double digits, the race is largely seen as a two-person contest between Mr Trump and Mr DeSantis.
However, Mr Trump's many legal vulnerabilities may have given his Republican opponents an opening. None are more perilous for the former president than his federal indictment on charges of mishandling top secret documents and refusing to comply with a subpoena to return them.
Mr Trump, who turned 77 on Wednesday, pleaded not guilty to 37 felony counts in a Miami federal court on Tuesday.
Mr Suarez, who has been critical of the former president, got a taste of what the campaign race might look like when he was targeted by angry Trump supporters outside the courthouse on Tuesday.
"We've got a Deep State corrupt mayor!" one screamed at him as he made his way towards the courthouse.
"We've got a swamp monster folks," another shouted. "The swamp's getting taken down, and you're getting taken down, brother."
Mr Suarez, the president of the US Conference of Mayors, is the son of Miami's first Cuban-born mayor Xavier Suarez.
He first became mayor of Florida's second most populous city in 2017 when he won 86 per cent of the vote. He was reelected for a second term in 2021 with 78 per cent of the vote.
Mr Suarez has earned national attention for trying to lure companies to Miami, with the hopes of turning it into a crypto hub and the next Silicon Valley.
Last month, Mr Suarez told CBS News making a decision on whether to run for president had been a "soul-searching process."
He acknowledged he lacked national name recognition, adding: "I'm someone who needs to be better known by this country."
His father, Xavier Suarez, served as mayor of Miami during the 1980s and 90s
He is expected to formally announce his candidacy in a speech at the Ronald Reagan Presidential Library in Simi Valley, California, on Thursday.
Recent polling shows Mr Trump with a commanding lead among likely GOP voters, despite his many legal battles.
A YouGov-CBS News poll put him at 61 per cent, compared to Mr DeSantis's 23 per cent support.
Mr Scott, Mr Pence and Ms Haley were all polling in low single digits.
play youtube
,
xnxx
,
xvideos
,
porn
,
porn
,
xnxx
,
Phim sex
,
mp3 download
,
sex 4K
,
Straka Pga
,
gay teen porn
,
Hentai haven
,
free Hentai
,