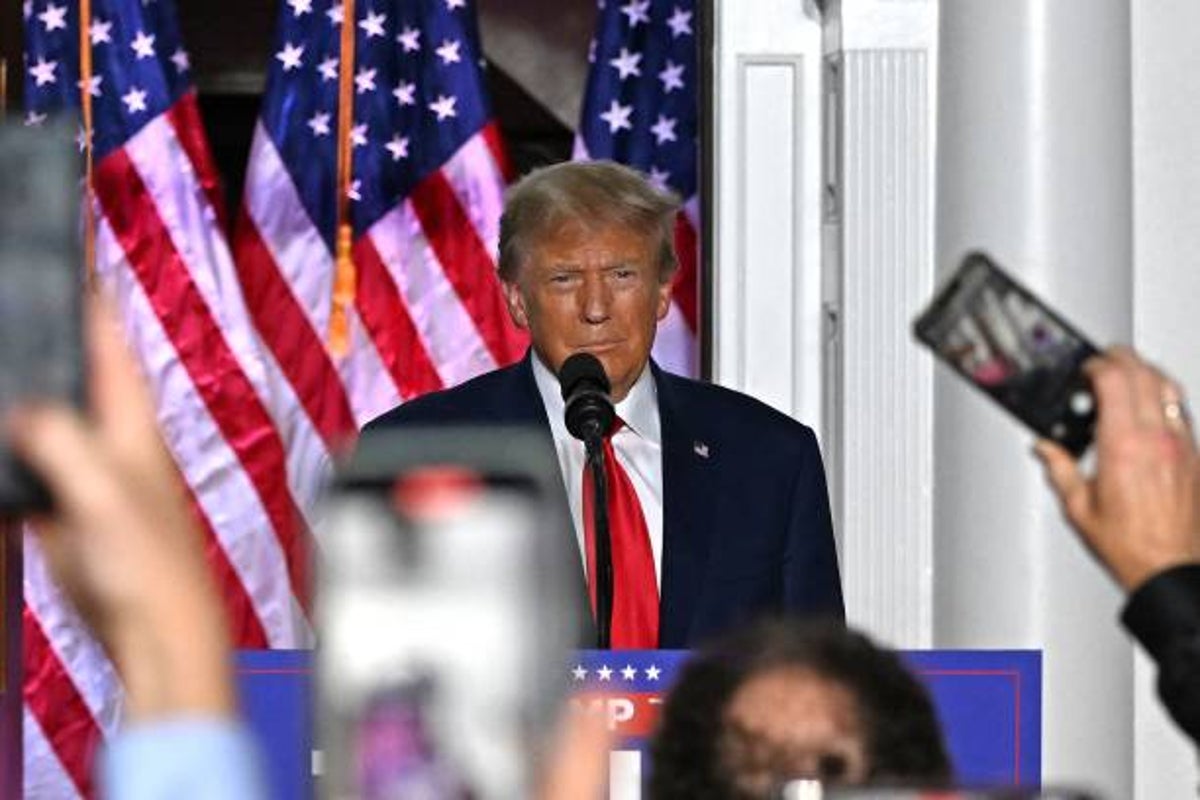 A day after Donald Trump was arraigned on 37 federal charges related to his alleged retention of classified documents, he was back fundraising for his presidential run – raking in over $7m, according to his campaign.
"The American people will not stand for this corrupt attempt to interfere in the 2024 election against the leading candidate for President who will demolish the Deep State and finish the job of draining the Swamp," Trump spokesperson Liz Harrington announced in a statement on Wednesday.
The former president's campaign accused federal officials of "weaponizing the justice system" against him.
Mr Trump hosted a "candlelight dinner" with some of his top donors after returning to his golf club in Bedminster, New Jersey from the federal courthouse in Miami, Florida on Tuesday, a source told POLITICO.
The fundraising efforts reflect Mr Trump's ability to appeal to supporters and donors despite facing mounting legal problems.
When the former president was indicted by the Manhattan district attorney in April, he raised over $4m in the first 24 hours after the indictment against him was reported.
In the two weeks after the Manhattan DA's indictment, Mr Trump made $15.4m.
Mr Trump took a page from his own book this past week when he announced the federal grand jury was choosing to indict him and quickly began sending out emails to supporters asking for money.
"Please make a contribution to peacefully stand with me today and prove that YOU will NEVER surrender our country to the radical Left," an email sent from Mr Trump's campaign to supporters shortly after the news broke read.
It is unclear how much Mr Trump may have raised through supporters in the week after he revealed the indictment against him. But the source familiar with Mr Trump's campaign revealed to POLITICO that the candlelight dinner alone raised $2.04m.
According to the report, donors paid at least $1,000 to be at the dinner. Approximately two dozen people attended including Kimberly Guilfoyle and Senator Tommy Tuberville (R-AL).
The Trump campaign said in recent days it had pulled in $4.5m from digital donations and another $2.1m at the Bedminister event.
Before the dinner, Mr Trump addressed supporters in a televised event where he maintained his innocence and partially blamed President Joe Biden for supposedly enacting the investigation and charges against him. President Biden has distanced himself from the investigation, with the Department of Justice appointing a special counsel to investigate Mr Trump's handling of government documents, as well as his role in the events of January 6, 2021. The indictment against Mr Trump was issued by a federal grand jury.
Mr Trump claimed the 37 federal charges were "fake" despite the Department of Justice conducting a nearly year-long investigation into Mr Trump allegedly refusing to turn over classified documents to the National Archives after leaving office.
The 37 charges include willful retention of national defense secrets in violation of the Espionage Act, conspiracy to obstruct justice, corruptly concealing documents, concealing documents in a federal investigation, scheme to conceal and making false statements.
play youtube
,
xnxx
,
xvideos
,
porn
,
porn
,
xnxx
,
Phim sex
,
mp3 download
,
sex 4K
,
Straka Pga
,
gay teen porn
,
Hentai haven
,
free Hentai
,