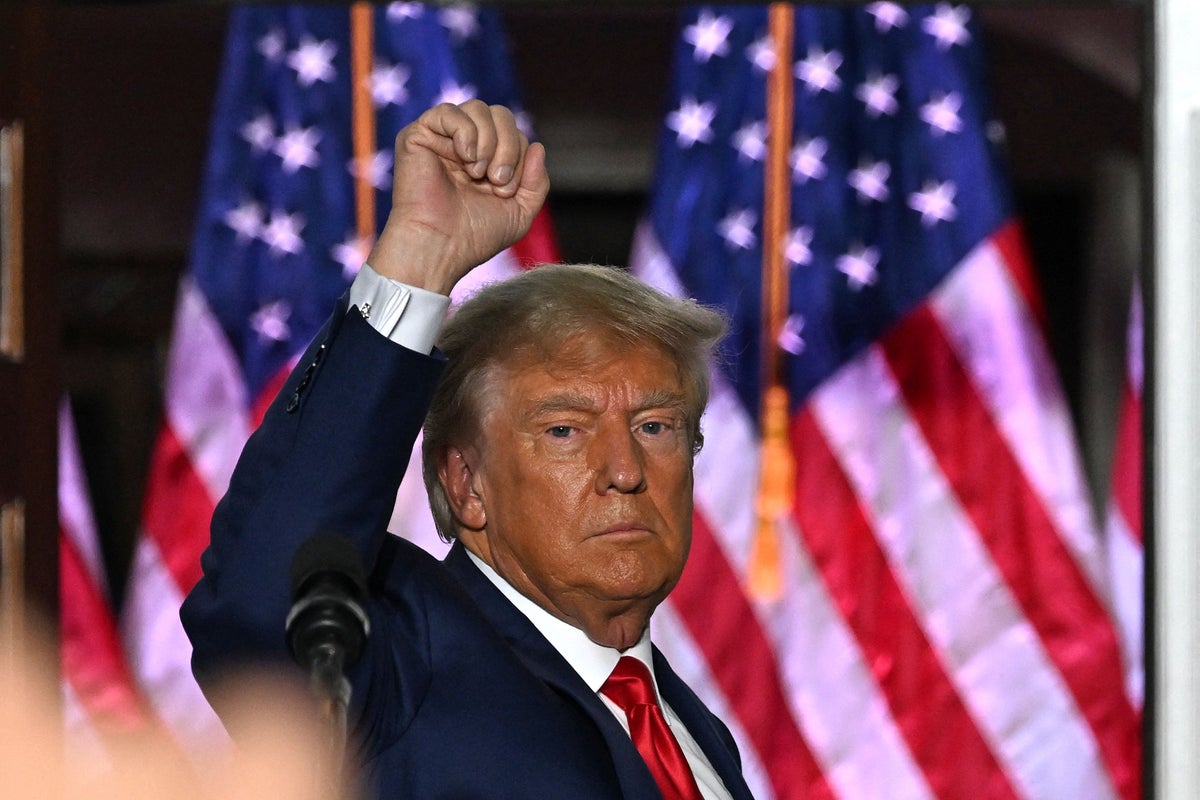 Trump's second arraignment: Watch how it happened
Donald Trump gloated on Thursday as he scored a rare legal win in the investigation into the taxes of his New York golf club.
The Westchester County, New York district attorney confirmed that a two-year investigation into the Trump Organization's valuation of a golf club there has been closed and will not result in any criminal charges.
Mr Trump took to Truth Social to describe the dropping of the case as the "honorable thing to do" and asked "when do I get my reputation back?"
"WHEN WILL THE OTHER FAKE CASES AGAINST ME BE DROPPED? ELECTION INTERFERENCE!!!" he wrote in an all-caps rant.
The move comes just days after Mr Trump appeared in court in his second criminal case in as many months.
On Tuesday, the former president was arrested and arraigned on 37 charges over his handling of classified national security documents after leaving the White House to which he pleaded not guilty, claiming he was a victim of political persecution.
He marked his 77th birthday as the first current or former president arrested on federal criminal charges in American history.
1686914100
Report: Trump declared 'food for all' in post-arrest stop at Miami cafe – but skipped the bill
When former President Donald Trump visited the iconic Versailles restaurant in Miami after being arraigned on 37 federal charges, he announced that there would be "food for all." There was just one problem: according to a report in the Miami New Times, Mr Trump never picked up the tab.
Abe Asher has the details.
Oliver O'Connell16 June 2023 12:15
1686910500
DeSantis taunts Newsom: 'Stop pussyfooting around'
As Donald Trump does what he does best and sucks the political oxygen out of the room, over in what feels issue-wise like a proxy 2024 election race, the Republican governor of Florida Ron DeSantis had a feisty message for his California counterpart Democrat Governor Gavin Newsom.
Oliver O'Connell16 June 2023 11:15
1686906900
Lindsey Graham says it would be a 'major outrage' if Trump indicted over Jan 6
Trump loyalist Lindsey Graham was back in the running for the former president's most vocal cheerleader in the Senate this week after he warned a CNN reporter that the GOP would revolt if Donald Trump were to face a third criminal indictment relating to January 6.
Oliver O'Connell16 June 2023 10:15
1686901500
Fox News cuts off White House briefing just as 'wannabe dictator' Biden chyron mentioned
Graig Graziosi has the story.
Oliver O'Connell16 June 2023 08:45
1686896100
Mike Pence spars with right-wing radio host
Former vice president Mike Pence got into a heated exchange with a right-wing radio host about whether he would pardon former president Donald Trump were he to become president.
Mr Pence appeared on "The Clay Travis and Buck Sexton Show" on Wednesday where he was asked by Mr Travis if he would pardon Mr Trump if he were facing prison time by the time Mr Pence potentially became president.
Oliver O'Connell16 June 2023 07:15
1686890700
Eric Trump forgets Barron's age as he goes on bizarre Newsmax rant
Eric Trump proved the apple doesn't fall far from the tree this week – when a rambling rant on Newsmax saw him widely mocked on social media.
The son of former president Donald Trump lashed out at the Democratic Party in a fiery monologue where he claimed the party would raid his teenage half-brother Barron's underwear drawer.
Rachel Sharp has the story.
Oliver O'Connell16 June 2023 05:45
1686885358
Indictment is all the fault of 'mutants', according to Trump
In a characteristically rambling post on the social meda site on Wednesday, Mr Trump said that the indictment "hoax" was the fault of misfits, marxists and communists – as well as "mutants".
Oliver O'Connell16 June 2023 04:15
1686881758
Recap: Is Donald Trump going to prison?
It's the question everyone wants to know the answer to…
Oliver O'Connell16 June 2023 03:15
1686878158
Report: Trump was not interested in negotiating settlement over mishandling of secret papers
A current member of former President Donald Trump's legal team suggested as far back as 2022 that his client should seek a settlement with the federal government over allegations that he retained presidential records and classified materials including, reportedly, defence documents.
That lawyer was Christopher Kise, according to the Washington Post, who was seen with the twice-impeached ex-president as recently as Tuesday for the latter's appearance before a Miami judge.
Oliver O'Connell16 June 2023 02:15
1686874558
Karl Rove says Trump and America will pay high price for ex-president's 'reckless petulance'
He echoed some other Republicans — including Bill Barr, Chris Christie, and Mike Pompeo — in his criticism of the former president, though certainly not all of his fellow Republicans.
"The blame for this calamity rests solely on Mr Trump and his childish impulse to keep mementos from his time in the Oval Office, no matter what the law says," wrote Mr Rove.
Oliver O'Connell16 June 2023 01:15
play youtube
,
xnxx
,
xvideos
,
porn
,
porn
,
xnxx
,
Phim sex
,
mp3 download
,
sex 4K
,
Straka Pga
,
gay teen porn
,
Hentai haven
,
free Hentai
,