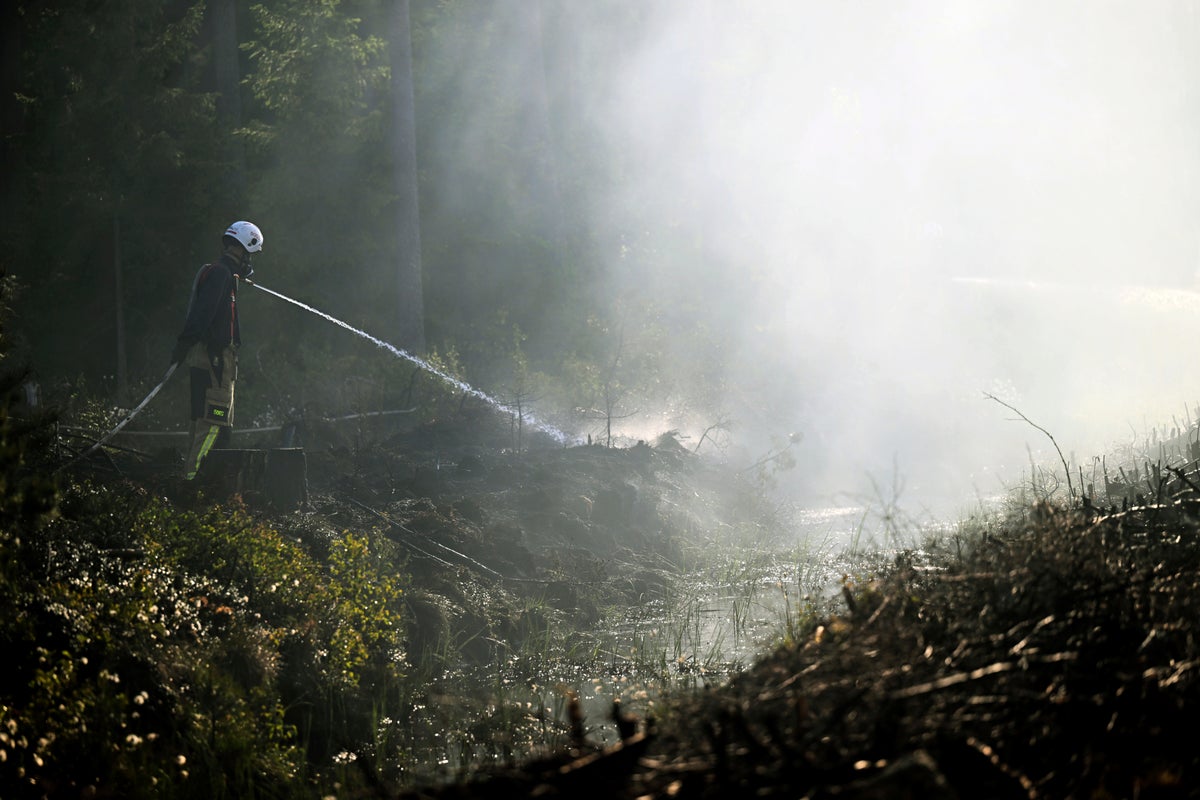 Summer is wildfire season in southern Europe, but this year the continent's north is also at risk, with forest fire warnings in effect across the Nordic and Baltic countries.
A lack of rain and rising temperatures have led to dangerously dry conditions in the region, leading to worries of a repeat of the summer of 2018 when major wildfires swept across Sweden in particular.
Small wildfires are already burning in Norway, Sweden, Denmark and Finland and experts worry it could get much worse unless there's significant rainfall in coming weeks.
Unlike the sun-soaked Mediterranean countries, which have to deal with wildfires every summer, the phenomenon is rare in the countries of northern Europe, where summers are normally cool and wet by comparison.
"These countries are relatively new to drought problems," said Niclas Hjerdt, head of hydrological forecasting at Sweden's weather agency SMHI. "We usually have an excess of water up here in northern Europe and Scandinavia. So there isn't this historic knowledge of how to deal with drought situations that you could find in countries further south in Europe."
SMHI says southern Sweden received very little rain in May and not a single drop so far in June, leaving the soil exceptionally dry. The agency says the risk of wildfires is now "extremely high" in the southern half of the country, including the Stockholm region, and even though there's some rain in the forecast this weekend, it's unlikely enough to have a significant impact, Hjerdt said.
In neighboring Finland, the Finnish Meteorological Institute this week warned of dry terrain and a "high risk" of forest fires in most of the country, with a "very high risk" in southwestern Finland and the Aaland islands in the Baltic Sea. Both Sweden and Finland are mostly covered by forests.
Similar warnings have been issued in Norway, Denmark and the Baltic countries. Campfires are banned in much of the region.
Experts say the drought could be related to the transition of La Nina to El Nino climatic conditions in the Pacific, which shifts weather patterns across the world, and often leads to dry summers in northern Europe.
Hjerdt said it's too early to draw any link to climate change but added that in general, a warming climate is making the Nordic region more vulnerable to forest fires by making summers longer and winters shorter, prolonging the "vegetative" season when most precipitation evaporates or transpires rather than sinking deeper into the ground.
Only small-scale forest fires have been reported in Sweden, Denmark and Norway so far but authorities warn the situation could escalate unless there's significant rainfall in coming weeks.
Meanwhile, temperatures are heating up in the region and are expected to hit 30 degrees Celsius (86 Fahrenheit) in coming days in Finland — rare for a country straddling the Arctic Circle.
"The heat wave can stay on the surface for next week as well and spread all the way to Lapland," said the Finnish institute's meteorologist Tuomo Bergman, referring to Finland's northernmost area. No substantial rain was expected in Finland until around Midsummer, June 24, he said, when traditional bonfires will be banned.
Denmark's farming minister, Jacob Jensen, said that "the drought has already had a major impact on our agriculture in the past few weeks, and with the prospect of a summer without rain, we will have to have a clear plan for how we can help agriculture in the best possible way."
The Federation of Swedish Farmers said the drought had already affected grassland crops and could have an impact on cereals.
"If there is no rain soon, future harvests will suffer," the industry group said in a statement. It noted that due to the hot and dry summer of 2018, the industry lost almost the entire grain harvest at a cost of approximately 10 billion Swedish kronor ($1.2 billion).
Globally, the month of May was a joint-second warmest May on record, according to the European Commission's Copernicus Climate Change Service, with temperatures in Canada and the northern United States particularly warm. Canada saw major wildfires that sent hazardous haze deep into the U.S.
In Europe, May was drier than average in southern Scandinavia, the Baltic countries and western Russia, Copernicus said. Most of Southern Europe saw wetter than average conditions, except the Iberian Peninsula which also experienced droughts.
This spring in Spain was the hottest – and the second-driest – on record for the country. That has created conditions for wildfires breaking out early this year and the need for restrictions on water for agriculture, industry and filling private swimming pools in the hardest-hit areas.
In mainland France, the water resources are still feeling the effects of a drought last summer, with two-thirds of the national water tables below normal levels. Localized forest fires have broken out in parts of France including regions such as Lorraine and Vosges where extreme heat and forest fires are rare.
Sweden saw the worst forest fires in its modern history in 2018 during an unusually dry and warm summer. The wildfires also affected Denmark, Finland and Norway.
"We are currently in a serious situation, it is similar to the one that prevailed before the summer of 2018," Sweden's Civil Defense Minister Carl-Oskar Bohlin said Thursday, adding airborne firefighting units were on standby.
___
Ritter reported from Stockholm. Jan M. Olsen in Copenhagen, Denmark, David Keyton in Stockholm, Thomas Adamson in Paris and Joseph Wilson in Barcelona, Spain contributed to this report.
play youtube
,
xnxx
,
xvideos
,
porn
,
porn
,
xnxx
,
Phim sex
,
mp3 download
,
sex 4K
,
Straka Pga
,
gay teen porn
,
Hentai haven
,
free Hentai
,