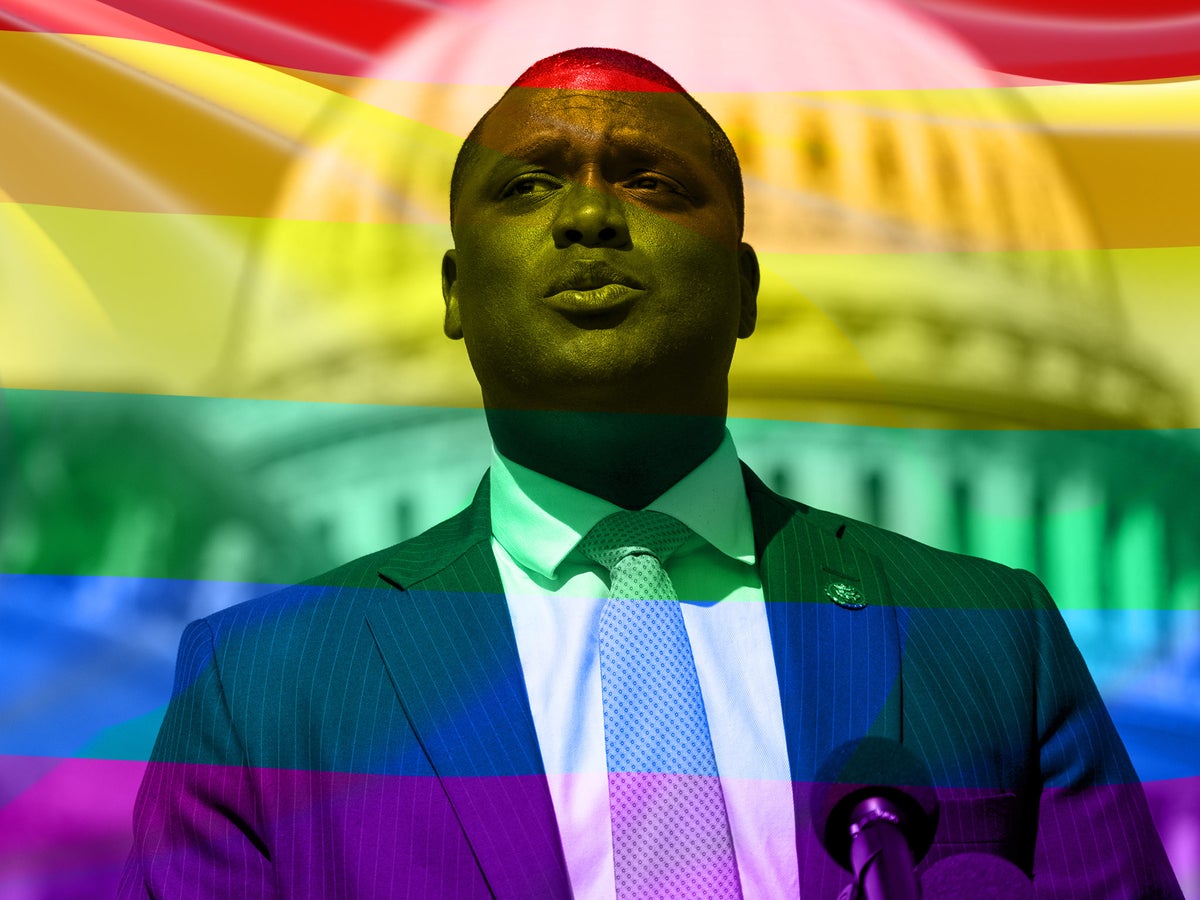 Mondaire Jones, one of the first Black and gay members of Congress, is only 36 years old, but he still looks back at his youth as a different era.
"It was tough. It was a different world then than it is today," he tells The Independent of growing up as a Black and gay man.
But he's quick to mention the challenges the LGBT+ community faces today: "There are really powerful forces trying to pull us back into that era … Ron DeSantis of Florida being one of those individuals".
The Sunshine State governor has faced heavy criticism for his legislation restricting the teaching and discussion of sexuality in Florida schools and his battles with Disney over similar issues.
Mr Jones, a former congressman and now a commissioner on the US Commission on Civil Rights and a CNN political commentator, grew up in Spring Valley, north of New York City, with a single mother who worked several jobs to make ends meet.
After graduating from Stanford University, he joined the Obama administration before moving on to Harvard Law School, earning his law degree in 2013.
Following years of legal work, including a period as a law clerk at the US District Court in the Southern District of New York, he won his home congressional district, New York's 17th, in 2020.
After redistricting last year, the then-chair of the Democratic Congressional Campaign Committee, Sean Patrick Maloney, chose to run in Mr Jones's former district. Mr Jones ran in the 10th district, losing in the primary to Representative Dan Goldman.
Mr Jones left Congress when his term ended at the start of this year.
2022: Mondaire Jones reveals what he will do after leaving Congress
"Growing up, I had never imagined someone like me could run for political office, let alone get elected to Congress. And that was largely because I did not believe that as an openly gay candidate, I could win office," he says of his career in politics.
Mr Jones says that much like many others in the LGBT+ community around the world, he didn't see himself represented in media or in politics. "Certainly not in a positive way," he adds. "So there was a lot of insecurity and discomfort with what I was feeling about myself at the time".
He continues: "It's difficult to divorce this from my religious experience growing up in the Baptist Church where things have gotten a lot better, even over the past decade.
"Back when I was growing up, the conditions were such that I felt like I was going to hell if I were to embrace the feelings that I felt towards other people.
"No one in my life was openly gay."
As for what helped him figure things out, Mr Jones says that in the TV series Noah's Arc, he "saw openly gay Black men in loving relationships, unlike anything I've ever seen".
The show was broadcast for two seasons on the Logo network between 2005 and 2006. It followed the lives of four Black gay friends living in Los Angeles.
Mr Jones also mentions singer-songwriter and rapper Frank Ocean and recently ousted CNN anchor Don Lemon.
He adds that "the progress that seemed on its way with respect to the Supreme Court, in terms of gay marriage, and the striking down of the so-called Defence of Marriage Act – all of those things were helpful to me in coming out" in addition to a supportive family and group of friends.
Mr Jones says that his family had been "primed to be supportive by a lot of the progress that I myself observed".
"If I had come out to them in high school, it would not have been received as well as when I came out to them at the age of 24 years old," he says.
Coming out was "a process" and "didn't happen all at once".
"I had started coming out to some people before Frank Ocean wrote that letter about the album Channel Orange, but it encouraged me to go further," Mr Jones says.
The artist "acknowledged that so many of the songs on Channel Orange had been written for another man," he recalls.
"This was after I had watched Noah's Arc, which, more than anything in media, was critical for me," he says. "It's how I know firsthand the power of representation – to not see yourself is not just erasure, but it sends a message that you shouldn't exist, that there's something taboo about your existence. That somewhere, someone got it wrong along the way."
Asked about the intersection between race and sexuality, Mr Jones says that "growing up poor, Black, and gay is very different from growing up as a middle-class, white gay person".
"I do believe that given the role that religion has played historically within the Black community, as well as the role that racism has played in subjugating Black people, such that members of the Black community have clung to their masculinity as a form of resistance," he says. "To say nothing of the disparate ways in which Black LGBTQ+ people experience the denial of quality medical care, and the difficulty obtaining housing that is affordable.
"The ways in which Black LGBTQ+ people disproportionately experience student debt, all of these things, these traumas that are disproportionate to the Black LGBTQ+ community, makes life more difficult and makes accepting and embracing being a member of the LGBTQ+ community a bigger deal and more of a challenge."
Mr Jones says his Christian faith has been "transformative" in helping him get to where he is today.
"When you grow up poor and Black and gay in the way that I did, you look for sources of inspiration, and a promise that things will get better even when the world is sending you signals to the contrary," he says. "At the same time, the way that religion has figured in America in particular as a cudgel for bad actors to discriminate against people and to otherize people, led me to believe that that I was less than."
Politico recently reported that Mr Jones is preparing to run to take back his old seat in New York's 17th congressional district, where he may be going up against Liz Gereghty, the sister of Michigan Governor Gretchen Whitmer, in the Democratic Primary.
The seat, which is now in the Republican hands of Representative Mike Lawler after Mr Maloney's midterm loss in 2022, is an important comeback opportunity for Democrats in their fight to take back the House, which is currently narrowly controlled by the GOP.
When asked by The Independent about his plans for 2024, Mr Jones lets out a laugh. "I have not made any such announcement. But stay tuned," he says.
Some members of the Democratic Party were outraged when Mr Maloney decided to run for Mr Jones's seat, in the end leading to both of them being ousted from Congress.
"I think what happened last year with redistricting, and the behaviour of some Democrats in Washington was a national travesty, felt most acutely by the residents of my district in the Hudson Valley. And that is an injustice that I look forward to correcting," Mr Jones says.
"My absence from Congress this term I think is glaring given the work that's not being done … and look at what happened in Uganda," the civil rights commissioner says.
President Joe Biden joined the chorus of outrage after the passing of Uganda's draconian anti-gay law, calling for its immediate repeal and threatening sanctions if no action is taken.
"The enactment of Uganda's Anti-Homosexuality Act is a tragic violation of universal human rights—one that is not worthy of the Ugandan people, and one that jeopardizes the prospects of critical economic growth for the entire country," he said in a statement on 29 May.
The bill was signed into law earlier that same day by Ugandan President Yoweri Museveni. The law includes the death penalty for what's referred to as "aggravated homosexuality" – meaning those having sex while being HIV positive, those having sex with minors or others considered to be vulnerable.
Under the law, an individual found guilty of "attempted aggravated homosexuality" can be sent to prison for 14 years.
"As the nation's first openly gay, Black member of Congress, I'd be in that body, leading the charge to get Uganda to reverse that law that was just enacted, and pushing the United States to do what it could to protect the lives and livelihoods of the LGBTQ+ community in that country, including, but not limited to economic sanctions," Mr Jones says.
In 2020, Mr Jones became the first openly gay African American elected to Congress alongside fellow New York Representative Ritchie Torres, who also became the first openly gay Hispanic member.
Thirty-two members of the LGBT+ community are known to have served in Congress – 29 in the House and three in the Senate.
In the current Congress, there are 13 LGBT+ members, 11 of them Democrats, according to the Pew Research Center. 
Mr Torres is now the only Black LGBT+ member of Congress.
"As someone who's Black and gay, I'm uniquely situated to speak to the experience of the Black LGBTQ+ community in an African nation like Uganda," Mr Jones says before criticising what he calls an "assault" on democracy and LGBT+ rights by the US Supreme Court.
"I understood that an assault on multiracial democracy and on LGBTQ+ rights, and on the rights of racial and ethnic minorities are things that are urgent because I live those experiences," he adds.
He has pushed for Supreme Court expansion, something that he says "far too few" in the Democratic caucus back considering of the support by the "overwhelming majority of Democratic voters if you look at recent polls".
Monmouth University said in September last year that only 36 per cent of Americans support expanding the court. A majority of Democrats – 67 per cent – support the measure, while 30 per cent of independents and 14 per cent of Republicans back the idea.
Asked about why it took so long before he and Mr Torres became the first Black and gay members of Congress, Mr Jones says: "It is so telling about the history of this country that it took well over 240 years for there to be an openly gay Black member of Congress."
He has received messages from all over the world "about what it has meant for them to see us in Congress. It has made a lot of difference".
"I was standing in line to see the Beyonce concert on Monday night (29 May) in London. And it was a Black, queer person who walked up to me and said, 'Are you Mondaire Jones?' and my friend … asked, 'How did you know that?' He said he had worked on my campaign, he had phone-banked for me back in the 2020 primary from the UK," Mr Jones recalls.
Speaking about the power he had as a member of Congress, he mentions how he was part of the effort to get the CDC and the Centres for Medicaid and Medicare Services to cover a new version of the HIV/AIDS prevention drug PrEP.
"The HIV AIDS epidemic, particularly has ravaged the Black LGBTQ+ community," Mr Jones says.
"I wanted to do my part in making sure that that the Black LGBTQ+ community, and the LGBTQ+ community writ large, was getting access to life-saving medical care. Those are the things that you can do when you actually have the ability and the platform as a member of Congress," he adds.
Mr Jones, who's expected to announce his campaign to return to the House sometime this summer, says that the fight for LGBT+ rights is far from over. "I think people historically have felt that so long as the LGBTQ+ community get marriage equality and protections and federal anti-discrimination law, which we still don't have fully, that that really is the policy arc for the LGBTQ+ justice movement in the United States, and nothing could be further from the truth.
"We have to deal with equity. And that's why I raised issues like homelessness among LGBTQ+ youth and the student debt crisis."
The stakes are simply much higher for someone like Mr Jones compared to his former colleagues in the chamber, he says.
"The matters that Congress focuses on or should be focused on are matters of life or death for people like me.
"And it is absolutely the case that being a member of one of the most vulnerable groups in our society, that being the LGBTQ+ community, was one of many factors in my desire to enter Congress and fight harder than many of the Democrats I had been seeing in Congress were fighting at the time under the Trump presidency.
"I continue to be motivated by that desire and by that rationale."
play youtube
,
xnxx
,
xvideos
,
porn
,
porn
,
xnxx
,
Phim sex
,
mp3 download
,
sex 4K
,
Straka Pga
,
gay teen porn
,
Hentai haven
,
free Hentai
,