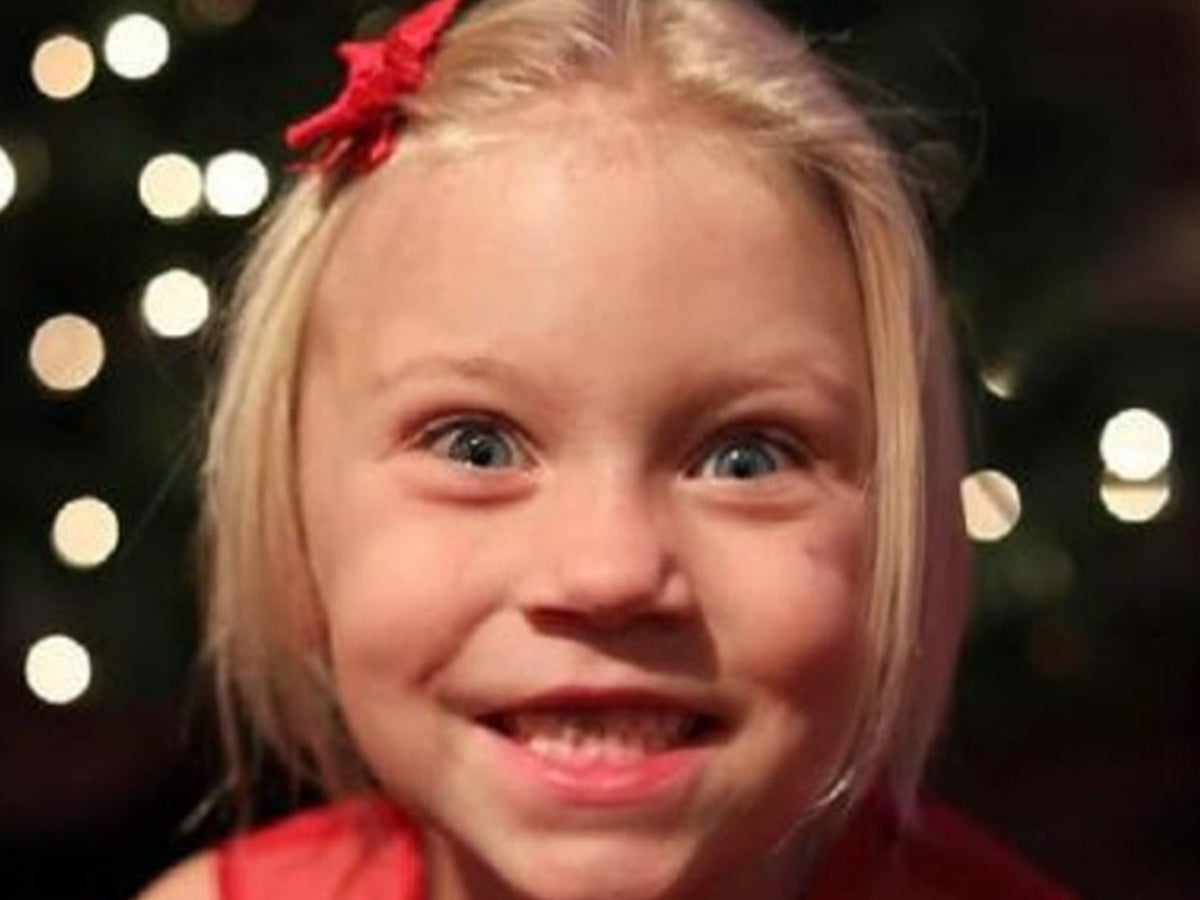 An age-progression photo has been released of missing Tennessee girl Summer Wells as the search for her continues two years after her disappearance.
The technologically-produced picture of Summer – who vanished on 15 June 2021 – predicts what she would look like now, at age seven, two years after she went missing from her remote home in Rogersville, in the northeast of the state. The picture was tweeted on the anniversary by the National Center for Missing & Exploited Children (NCMEC).
"This new age progression created by NCMEC forensic artists shows what Summer may look like today," the centre wrote alongside the photo, pinning it to the top of its twitter account.
The Tennessea Bureau of Investigation (TBI) re-tweeted the new photo and updated its site information regarding Summer's disappearance, which led to "one of the most exhaustive and involved missing child cases we've ever investigated".
"Though we have no new details to share, rest assured: We're continuing to work with the FBI and the Hawkins County Sheriff's Office to chase every lead, ask every question, and search every place we can to find Summer. We won't stop until we have answers," the agency wrote this week in an update.
Summer was reported missing at approximately 6.30pm on 15 June 2021 from her home on Ben Hill Road in the Beech Creek Community of Hawkins County, according to the TBI. She lived there with her parents, Candus Bly and Don Wells, and three brothers.
In an interview in the days following her disappearance, Ms Bly said she'd been picking flowers with Summer and the girl's grandmother before the five-year-old went inside to watch TV with her brothers. After just a few minutes, when she asked where Summer was, the boys told her she'd gone downstairs to play with her toys – but Summer has never been seen again.
"She was just gone," her mother told WJHL.
The couple's three sons were removed from the home in the weeks following Summer's disappearance.
"We've said from the beginning that this case is outside of the norm," the TBI wrote last year on the one-year anniversary of Summer's last sighting. "There are few clues as to what happened to Summer despite investigators doing everything within their power to find answers. All possibilities are still being explored."
The agency added that "agents and detectives have worked thousands of hours on this case. Numerous search warrants have been executed. Cell phone data has been analyzed, and any other available digital evidence has been collected, searched, and documented. This includes the social media accounts of those associated with Summer. Three large-scale ground searches have taken place in the last year with the assistance of more than a hundred local, state, and federal agencies. Those searches don't account for the numerous other targeted searches that agents and detectives have done while following up on potential leads."
The TBI continued to appeal this week for information but stressed the importance of fact-based tips after theories and false information have plagued the investigation. A court dispute had also erupted about more than $40,000 in reward money, and Summer's parents – who cooperated with authorities – have endured ongoing legal and custody troubles involving their sons.
Summer remains the subject of an AMBER alert.
In interviews this week, Don Wells and the girl's mother were working to get their sons back – as they continued to hope for their daughter's return.
"We couldn't understand what happened to Summer," he told WJHL this week. "The police couldn't understand. And they were questioning us. There were times they were hard on us and other times they weren't. Just depending on, you know, what police agency was there at the time or whatever. You know, so emotionally, it was very bad."
He told WVLT he had "no clue" whether his daughter was still alive and shared theories that included Summer being abducted and ferreted out of America.
"Only thing I can say is please let her come home," Mr Wells told the station. "Let her have her freedom and her life."
play youtube
,
xnxx
,
xvideos
,
porn
,
porn
,
xnxx
,
Phim sex
,
mp3 download
,
sex 4K
,
Straka Pga
,
gay teen porn
,
Hentai haven
,
free Hentai
,