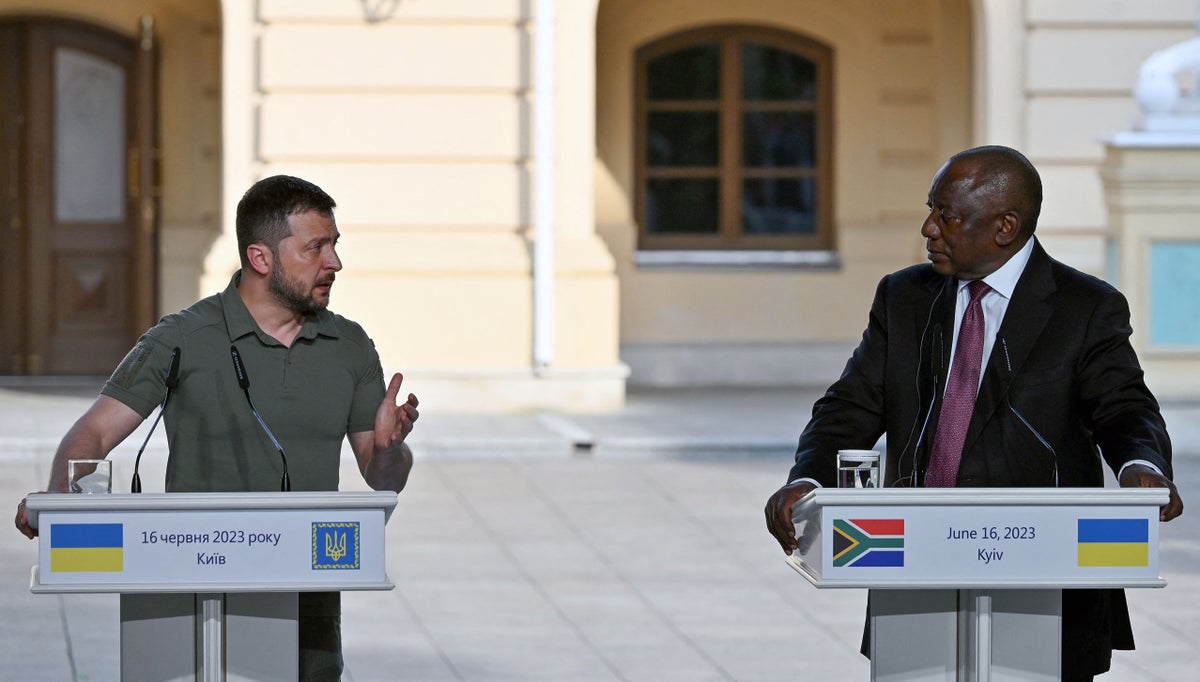 Drone footage shows scale of destruction in Odesa after Russian strike
At least two explosions rocked Kyiv and air raid sirens blared on Friday as African leaders visited Ukraine, sending them running to bomb shelters.
The politicians, including South African president Cyril Ramaphosa and Senegal president Macky Sall, were on a peace mission to Kyiv when mayor Vitali Klitschko reported explosions in the central Podil district and warned that more missiles were headed towards the capital.
Dmytro Kuleba, the Ukrainian foreign affairs minister, said the Russian missiles were "a message to Africa".
"Russia wants more war, not peace," he said.
The African leaders had begun their visit with a trip to a mass grave in Bucha, near Kyiv, before meeting Volodymr Zelensky.
The Ukrainian air force later claimed six hypersonic Russian missiles were shot down over Kyiv. The Kinzhal missiles were accompanied by six Kalibr cruise missiles and two drones, which the air force said had also been downed.
Kinzhal translates to "dagger" in Russian. One of the latest weapons utilised by Moscow, the Russian military claims that the air-launched ballistic missile has a range of up to 2,000km (approximately 1,250 miles).
1686993514
Kremlin links granting accreditations to Western media with their 'behaviour'
Russia will take into account the "behaviour" of Western media and attitudes to Russian reporters abroad when deciding whether to accredit their journalists for major forums in Russia, the state-owned TASS news agency quoted Kremlin spokesman Dmitry Peskov as saying on Saturday.
Journalists from countries that Russia calls "unfriendly" did not get accreditation for the ongoing St Petersburg International Economic Forum.
Asked whether Moscow will allow Western journalists to attend forums in Russia in the future, Peskov said: "Let's see what the regime will be, how they (foreign media) will behave."
Peskov added that the issue of giving accreditations would also depend on how Russian journalists were treated in "unfriendly" countries. Moscow uses that label for states which imposed sanctions over what the Kremlin calls its "special military operation" in Ukraine.
"Everything will depend on the attitude towards our journalists in foreign – unfriendly – countries," TASS cited Kremlin spokesman as saying.
"Business as usual will no longer happen. We will be ready to receive them (Western journalists), but we will not tolerate such treatment of our journalists abroad."
Martha Mchardy17 June 2023 10:18
1686991686
Russia repels Ukrainian attack on Druzhba oil pipeline facility – governor
Russian air defence units repelled a Ukrainian attack overnight on a pumping station on the Druzhba oil pipeline in the Bryansk region adjoining Ukraine, the region's governor said on Saturday.
Three Ukrainian military drones were destroyed in the attack in the Novozybkov district, Alexander Bogomaz wrote on Telegram.
Drone attacks inside Russia have been increasing in recent weeks, frequently targeting energy facilities. Russia blames Ukraine although Kyiv does not publicly acknowledge responsibility for them.
The southern branch of the Soviet-era Druzhba pipeline crosses Ukraine and, despite the conflict there, continues to supply crude oil to Hungary, Slovakia and the Czech Republic.
Martha Mchardy17 June 2023 09:48
1686990623
Ukrainians leaving UK as can't get housing, volunteer made MBE says
Some Ukrainians who fled to the UK are having to leave the country because they cannot find housing, a volunteer made an MBE has said.
Alice Good, 55, from Northumberland, said she is "honoured and overwhelmed" to be recognised in the King's Birthday Honours for setting up Sunflower Sisters, a support group for families arriving in the country from Ukraine, which was invaded by Russia last February.
Ms Good, who came up with the idea after seeing a picture of a mother with a child the same age as her daughter, said 14,000 refugees have been housed by her group.
She has called on the Government to step in as families come to the end of their sponsorship arrangements and try to find their own private rented accommodation.
Tara Cobham17 June 2023 09:30
1686987023
Rescuers ferrying Ukrainians out of Russian-occupied flood zones
Massive flooding from the destruction of the Kakhovka Dam on June 6 has devastated towns along the lower Dnieper River in the Kherson region, a front line in the war. Russia and Ukraine accuse each other of causing the breach.
In the chaotic early days of flooding, Ukrainian rescue workers in private boats provided a lifeline to desperate civilians trapped in flooded areas of the Russian-occupied eastern bank — that is, if the rescue missions could brave the drones and Russian snipers.
The boats have carried volunteers and plainclothes servicemen, shuttling across from Ukrainian-held areas on the western bank to evacuate people stuck on rooftops, in attics and elsewhere.
Now, that window is closing. As floodwaters recede, rescuers are increasingly cut off by putrid mud. And more Russian soldiers are returning, reasserting control.
Accounts of Russian assistance vary among survivors, but many evacuees and residents accuse Russian authorities of doing little or nothing to help displaced residents. Some civilians said evacuees were sometimes forced to present Russian passports if they wanted to leave.
Russia's Defense Ministry did not immediately respond to requests from The Associated Press for comment about actions by authorities in the Russian-occupied flood zone.
The AP spoke with 10 families rescued from the eastern bank, as well as with rescue workers, officials and victims injured on the rescue missions.
"The Russian Federation provided nothing. No aid, no evacuation. They abandoned people alone to deal with the disaster," said Yulia Valhe, evacuated from the Russian-occupied town of Oleshky. "I have my friends who stayed there, people I know who need help. At the moment I can't do anything except to say to them, 'Hold on."'
At least 150 people have been rescued by Ukraine from Russian-controlled areas in the risky evacuation operations, said government spokesperson Oleksandr Tolokonnikov. It is a small fraction compared to the nearly 2,750 people rescued from flooded regions controlled by Ukraine.
A local organization Helping to Leave, which helps Ukrainians living under Russian occupation to escape, said it received requests from 3,000 people in the occupied zone, said Dina Urich, who heads the organization's evacuation department.
Tara Cobham17 June 2023 08:30
1686983441
Why Russia's attempts to get round oil sanctions risk ecological disaster
The last time Russia was involved in a major oil spill in the Arctic it triggered one of the worst man-made environmental disasters in recent history.
Three years later, the waters of the Ambarnaya are still red and the impacts of the incident are expected to last for decades.
Now, experts and environmentalists fear that the way Russia is responding to Western oil sanctions over the Ukraine war is creating the perfect set of circumstances for another major spill, and that another disaster is overdue.
Stuti Mishra17 June 2023 07:30
1686981641
Biggest missile attack on Kyiv in weeks 'sends message to Africa'
A missile attack took place in Kyiv on Friday just as African leaders began a visit to Ukraine where Volodymyr Zelensky proposed the idea of a Ukraine-Africa summit.
The attack reportedly forced the delegation of African leaders to take cover in a bomb shelter while several houses in the outskirts of Kyiv were destroyed.
Reacting to the attack, Dmytro Kuleba, the Ukrainian foreign affairs minister, said: "Russian missiles are a message to Africa: Russia wants more war, not peace.
"Putin 'builds confidence' by launching the largest missile attack on Kyiv in weeks, exactly amid the visit of African leaders to our capital."
Stuti Mishra17 June 2023 07:00
1686979841
ICYMI: Nato chief appears likely to stay on as allies struggle to find a replacement for him
Nato Secretary-General Jens Stoltenberg seems increasingly likely to have his term at the helm of the world's biggest security organization extended yet again, as members struggle to agree on another candidate to replace him.
Mr Stoltenberg, a former Norwegian prime minister, has been Nato's top civilian official since 2014. His term was due to expire last year but was extended for a second time to keep a steady hand at the helm after Russia's full-scale invasion of Ukraine in February 2022.
President Joe Biden and his Nato counterparts are due to choose a successor when they meet for a summit in Vilnius, Lithuania, on 11-12 July.
No candidate has been proposed publicly, and leaders usually decide by consensus on who should be appointed.
Stuti Mishra17 June 2023 06:30
1686978061
Putin calls Zelenskyy a 'disgrace' to Jews
In his speech on Friday, Vladimir Putin vehemently defended Russia's move to send troops into Ukraine and repeated his claims that the Ukrainian government is a neo-Nazi regime, despite president Volodymyr Zelensky's Jewish roots.
"My Jewish friends say that Zelensky is not a Jew, but a shame to the Jewish people," Mr Putin said.
Here are key takeaways his speech on Friday:
Stuti Mishra17 June 2023 06:01
1686975767
Ukraine's defence minister thanks Nato after Brussels meet
Ukraine's defense minister Oleksii Reznikov thanked Nato secretary general Jens Stoltenberg and US secretary of defence Lloyd Austin on Twitter following a meeting at Nato headquarters in Brussels, Belgium.
"Secretary Austin, thank you for your leadership in coordinating this exceptional meeting of heads of defence. Secretary General Stoltenberg, thank you for your hospitality at Nato headquarters and for your dedication to making the world safer," Mr Reznikov wrote on Twitter.
The Nato defence ministers discussed additional support for Ukraine as well as the upcoming summit in Lithuania next month.
Ukrainian president Volodymyr Zelensky applied for Nato membership in September.
Stuti Mishra17 June 2023 05:22
1686973209
Ukraine advancing in the south, says military chiefs
Ukrainian forces are advancing in southern sectors of their counteroffensive against the Russian occupation, Ukrainian military officials said.
Deputy Ukrainian defence minister Hanna Maliar said on the Telegram messaging app that troops were "engaged in active moves to advance in several directions at once.
"Practically in all sectors where our units are attacking in the south, they have registered tactical successes," Ms Maliar said.
"They are gradually moving forward. At the moment, the advance is up to 2 km (1.3 miles) in each direction."
In Ukraine's east, Ms Maliar said Russia forces were trying to dislodge Ukrainian forces from established positions.
Stuti Mishra17 June 2023 04:40
play youtube
,
xnxx
,
xvideos
,
porn
,
porn
,
xnxx
,
Phim sex
,
mp3 download
,
sex 4K
,
Straka Pga
,
gay teen porn
,
Hentai haven
,
free Hentai
,