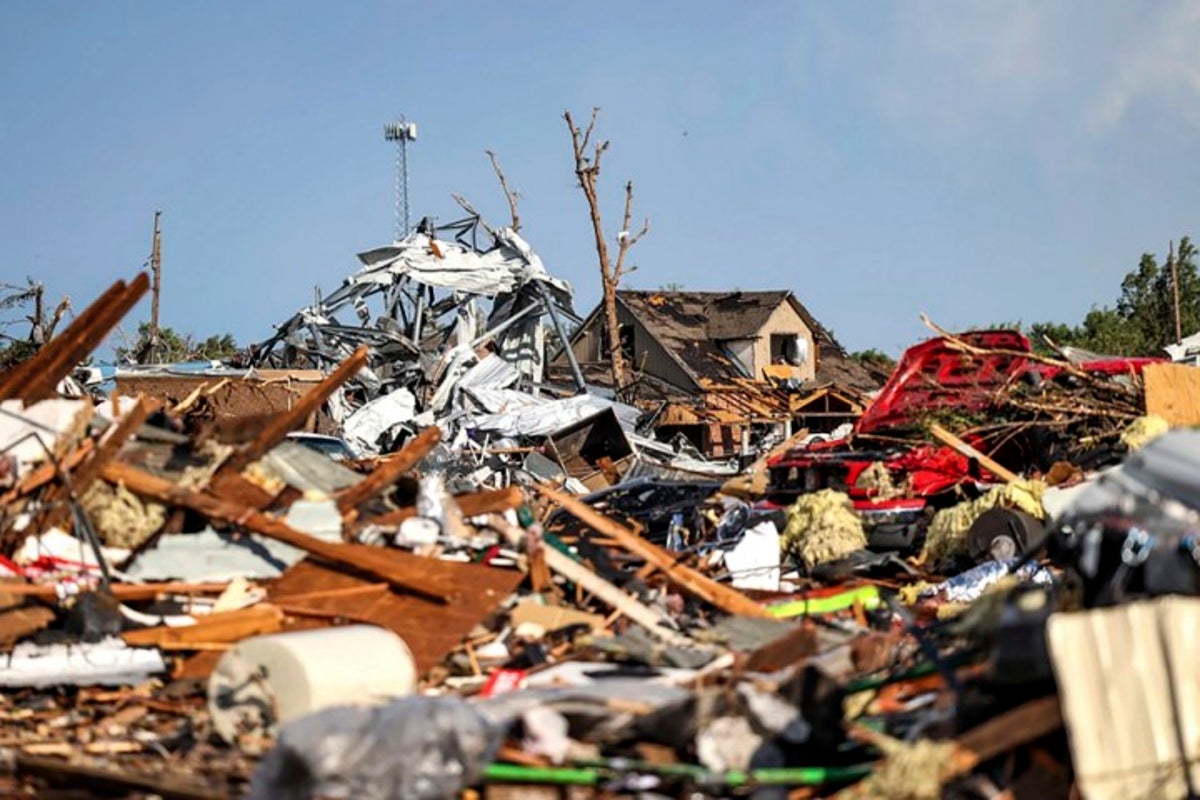 Texas tornado captured crossing through Perryton by locals
An 11-year-old boy was among three people killed by the massive tornado which tore through a Texas Panhandle town on Thursday.
Becky Randall, a woman in her 60s, was found in a print shop, and Cindy Bransgrove, a woman also in her 60s, was discovered in a food bank, Ochiltree County Sheriff Terry Bouchard said.
The body of an 11-year-old boy, Matthew Ramirez, was found in a trailer park.
The twister hit Perryton, a town of around 8,000 people close to the Oklahoma border, on Thursday around 5pm local time and left a mile-long trail of destruction, the National Weather Service reported.
A mobile home park took a "direct hit" from the tornado, Perryton Fire Chief Paul Dutcher said. In addition to the fatalities, up to 100 people are being treated for injuries ranging from minor to severe.
More than 200,000 customers were without power in Texas on Friday afternoon, according to utility tracker Poweroutage.us. In Ochiltree County, home to Perryton, 91 per cent of customers were cut off.
In a separate incident, one person died late on Thursday in the Florida Panhandle when a tornado ripped through Escambia County and downed a tree on a home, The Associated Press reported.
1686949271
Taking stock of the damage in Perryton
Louise Boyle16 June 2023 22:01
1686945654
Forecasters in 'Tornado Alley' warn of more severe weather through the weekend
Forecasters located in "Tornado Alley" warned of more severe weather on the way this weekend.
The National Weather Service's office in Norman, Oklahoma, said that the chance of severe conditions had increased for parts of Oklahoma and north Texas from Saturday evening into Sunday morning.
"Large hail and damaging winds remain the primary concern with this activity," the NWS office tweeted.
Louise Boyle16 June 2023 21:00
1686943811
Pictured: Emergency responders search collapsed buildings in Perryton
Louise Boyle16 June 2023 20:30
1686942551
World breached 1.5C limit temporarily in hottest June on record
The world breached – for a time – 1.5 degrees Celsius this month, scientists confirmed on Thursday, as they issued warnings on how fast humanity is approaching the critical warming limit set by the Paris Agreement.
The first 11 days of June were the hottest on record for this time of year, the European earth observation programme, Copernicus, reported.
While hitting 1.5C is temporary, it is the first time that the limit has been breached in June, Copernicus said.
The world has warmed on average 1.1C since industrial times began, largely due to burning fossil fuels. The ensuing excessive heat had led to a barrage of climate impacts from more powerful storms to prolonged droughts and more frequent wildfires.
Louise Boyle16 June 2023 20:09
1686941411
Watch: Excessive heat remains in Texas this weekend
Houston weather: Excessive heat warning Friday, Saturday
Louise Boyle16 June 2023 19:50
1686940419
More severe weather forecast across the US on Juneteenth holiday weekend
Heavy rain, flash flooding and severe thunderstorms were rolling across large parts of the US on Friday.
The National Weather Service warned of downpours and stormy conditions over the Central Plains going into the Juneteenth holiday weekend, with risk of extreme rainfall and severe thunderstorms over parts of eastern Colorado and western Kansas.
A complex of storms was moving up through the Northeast impacting parts of Pennsylvania, New Jersey and New York on Friday afternoon, with wind and hail the main hazards.
Severe weather will continue across the Plains, Gulf Coast and the Deep South on Saturday with large hail, damaging gusts and an isolated tornado possible.
Strong cells could gather strength in the central Gulf Coast on Saturday afternoon, causing wind damage and hail in coastal Mississippi, Alabama and the Florida panhandle before moving offshore.
Record heat will continue to blanket southern Texas in the coming days with highs in the 100Fs-110Fs, a 15-25 degree anomaly for this time of year over that area, NWS noted.
The threat of fire outbreaks is high in southeastern Arizona and New Mexico this weekend due to very dry and windy conditions.
Another low pressure system moving through the Northeast and Canada's coastal areas will push wildfire smoke from dozens of wildfires north of the US border over the Midwest, Great Lakes and interior Northeast this weekend.
Louise Boyle16 June 2023 19:33
1686939254
Downtown Perryton in the aftermath of devastating tornado
Louise Boyle16 June 2023 19:14
1686937601
Tornado warnings issued in New Jersey
Multiple tornado warnings were issued in New Jersey on Friday afternoon.
The National Weather Service warned of potential twisters around 1.30pm local time in Ocean and Burlington counties.
Severe thunderstorms were also being reported in the counties of Atlantic, Burlington, Cape May, Cumberland, Mercer, Middlesex and Monmouth.
Louise Boyle16 June 2023 18:46
1686936671
Watch: Shocking drone footage reveals Texas tornado's trail of destruction
Deadly Texas tornado leaves trail of destruction
Louise Boyle16 June 2023 18:31
1686935471
Satellites capture huge supercell storm system's path
A satellite captured the supercell thunderstorm moving over Texas that spawned a devastating tornado.
The National Oceanic and Atmospheric Administration's GOES16 satellite tracked the huge system on Thursday afternoon.
A tornado hit the small town of Perryton, near the Oklahoma border, around 5.10pm (local time) and left a quarter-mile wide path of destruction, NOAA reported.
Louise Boyle16 June 2023 18:11
play youtube
,
xnxx
,
xvideos
,
porn
,
porn
,
xnxx
,
Phim sex
,
mp3 download
,
sex 4K
,
Straka Pga
,
gay teen porn
,
Hentai haven
,
free Hentai
,