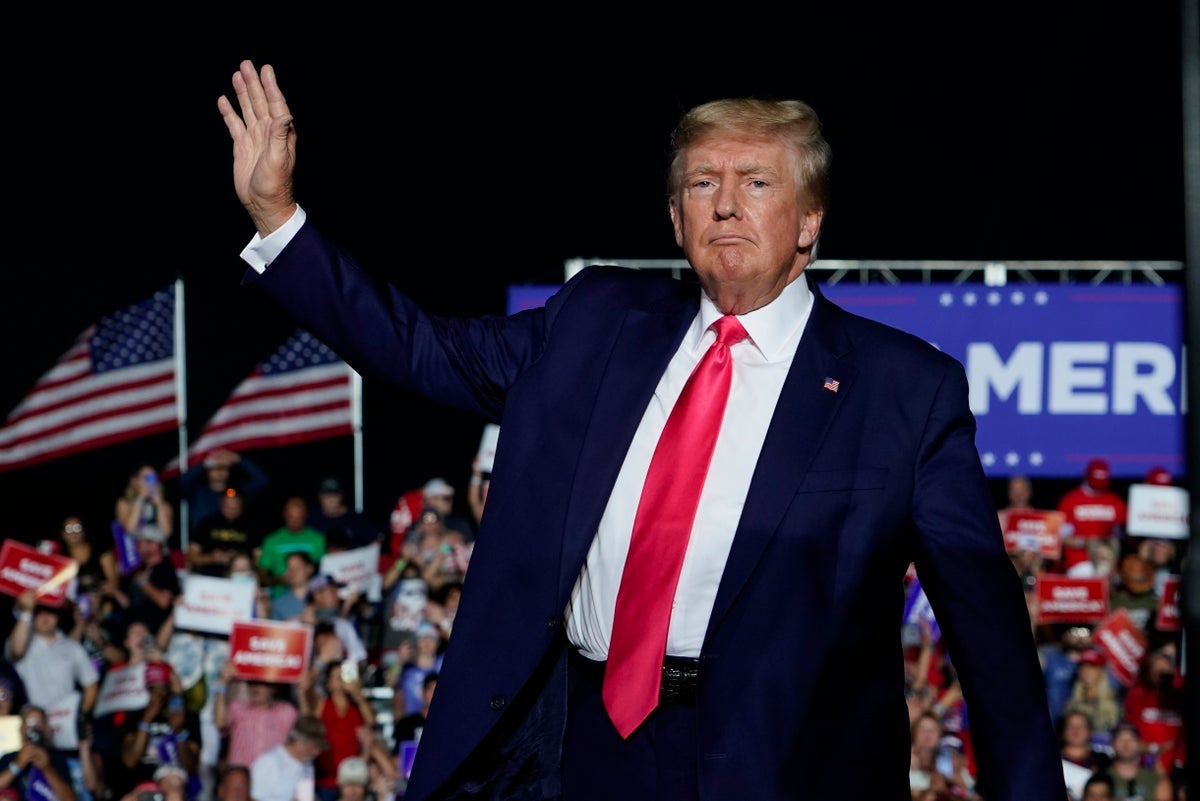 Donald Trump was arrested and arraigned on Tuesday 13 June for the second time in less than three months.
At 3pm local time, Mr Trump surrendered to authorities at the Wilkie D Ferguson Jr United States Courthouse in Miami, Florida on 37 federal charges stemming from his alleged unlawful retention of national defence information, adding another criminal case to the legal pressure against the twice-impeached former president as he seeks to win his party's nomination in next year's Republican presidential primary.
The arraignment comes just days after a federal grand jury indicted the former president.
Mr Trump first revealed the indictment in a series of posts on his Truth Social platform on 8 June – just one day after The Independent reported that federal prosecutors had planned to ask a grand jury to return an indictment against him.
The 49-page indictment was unsealed on Friday (9 June), revealing 37 counts against the ex-president.
They include: willful retention of national defence information, conspiracy to obstruct justice, withholding a document or record, corruptly concealing a document or record, concealing a document in a federal investigation, scheme to conceal, and false statements and representations.
Each charge carries a maximum sentence ranging from five years to 20 years. A potential sentence, if convicted, could include decades in prison.
Just before the arraignment hearing, deputy marshals booked Mr Trump and took electronic copies of his fingerprints.
Proceedings followed similarly to what happened in early April when Mr Trump appeared in Manhattan court to face criminal charges following Manhattan District Attorney Alvin Bragg's investigation into hush payments leading up to the 2016 presidential election.
They did not take a mugshot of the former president since he is recognisable nor did they place him in handcuffs.
After approximately 45 minutes, in which Mr Trump pled "not guilty" the former president left the courthouse to return to his home in Bedminster, New Jersey, where he gave a speech covering his usual unsubstantiated narrative that he is the victim of political persecution.
In the speech, where he lashed out at President Joe Biden and Special Counsel Jack Smith, Mr Trump claimed that the boxes of classified documents discovered in his possession actually contained clothes.
"Many people have asked me why I had these boxes, why did you want them?" he said.
"The answer, in addition to having every right under the Presidential Records Act, is that these boxes were containing all types of personal belongings — many, many things, shirts and shoes, everything."
The latest charges come just days after a last-ditch attempt by Mr Trump's legal team to convince Department of Justice officials not to seek charges against him in the classified documents probe, which began early last year after National Archives and Records Administration (NARA) officials discovered more than 100 classified documents in boxes that were retrieved from Mr Trump's Palm Beach, Florida residence.
That discovery led NARA officials to notify the Department of Justice, which kicked off an investigation into how the documents ended up at Mr Trump's property.
Following his indictment, Mr Trump declared that he was "an innocent man".
"This is election interference and continuation of the greatest witch hunt of all time," he ranted.
"The corrupt Biden Administration has informed my attorneys that I have been Indicted, seemingly over the Boxes Hoax," he wrote, using the phrase he has frequently used to describe the long-running probe.
Throughout the investigation, prosecutors and investigators harboured concerns that the ex-president was not being truthful about whether he had returned any and all classified documents in his possession to government custody as required under the Presidential Records Act.
But the classified nature of the records at issue added another wrinkle to the dispute between Mr Trump and the government he led from January 2017 to January 2021.
At times, the ex-president has claimed that he had used the sweeping classification and declassification authority to declassify any record he took with him to his Palm Beach home at Mar-a-Lago.
No evidence has emerged that any such order was ever issued, and in audio recordings obtained by prosecutors, Mr Trump is said to have acknowledged that he did not declassify certain records that were in his possession long after his authority to possess them expired.
The Department of Justice is likely to attempt to have Mr Trump incarcerated if he's convicted.
National security lawyer and George Washington University law professor Kel McClanahan said that the department will probably "want to go for incarceration" in the case of Mr Trump, according to Insider.
Mr McClanahan said that the evidence in the indictment is intended to show that Mr Trump "is a kingpin who knowingly broke the law, endangered national security, endangered nuclear weapon security, [and] endangered other countries' national security".
The consensus among most legal experts commenting on the indictment appears to be that Mr Trump is in serious legal jeopardy.
A former assistant US attorney in the Southern District of New York, Sarah Krissoff, said that "to the extent that there's a conviction here, the Department of Justice is going to want to be seeking a real sentence" because of the "nature of the conduct, how long it lasted, his involvement, the involvement of other people, working allegedly at Trump's direction".
She noted that if Mr Trump is convicted, the sentence would depend on the judge, which seems likely to be Trump-appointee Aileen Cannon in the District Court for the Southern District of Florida.
Mr McClanahan noted the novelty of possibly having to find a proper way to put a former president behind bars.
He questioned how the authorities would go about imprisoning someone "who has a Secret Service detail and who has national security secrets bouncing around his brain, such that if someone holds a shiv to his neck, he'll reveal the location of our missile bases".
He added that Mr Trump might become a "foreign intelligence gold mine for most countries on earth" if he's imprisoned. Mr McClanahan sees it as more likely that if Mr Trump is convicted, he would be sentenced to house arrest with an ankle monitor.
But Ms Krissoff told the outlet that "Trump can share that information that is in his head whether he is incarcerated or not incarcerated. So I'm not particularly concerned that, as a citizen, the incarceration will trigger the sharing of information that wouldn't be shared otherwise".
Fox News legal commentator Jonathan Turley also didn't hold back after the indictment was unsealed.
Mr Turley, the Shapiro Chair of Public Interest Law at George Washington University, said on Fox News that "it is an extremely damning indictment".
"There are indictments that are sometimes called narrative or speaking indictments. These are indictments that are really meant to make a point as to the depth of the evidence, there are some indictments that are just bare bones," he added.
This is not one of those indictments, Mr Turley said.
"The Special Counsel knew that there would be a lot of people who were going to allege that the Department of Justice was acting in a biased or politically motivated way. This is clearly an indictment that was drafted to answer those questions. It's overwhelming in detail," he continued. "The Trump team should not fool itself. These are hits below the waterline. These are witnesses who apparently testified under oath [and] gave statements to federal investigators, both of which can be criminally charged, if they're false."
"Those witnesses are directly quoting the president in encouraging others not to look for documents or allegedly to conceal them. It's damaging," Mr Turley said.
"This is not an indictment that you can dismiss. There are a lot of people who are testifying under oath, and they're saying highly incriminating things," the attorney added.
Speaking about the images from Mar-a-Lago of the boxes of documents found in a ballroom and a bathroom, in addition to other less-than-ideal places, Mr Turley said, "It's really breathtaking. Obviously, this is mishandling. Putting the classified documents into ballrooms and bathrooms borders on the bizarre. And these are the types of pictures that hit you below the waterline in a trial.
"It's hard to show a picture of these boxes surrounding a toilet and saying 'we really acted responsibly,'" he added, going on to note that "the government is bringing dozens of counts – they only have to land one of those punches".
"Keep in mind that every one of these counts is coming with a substantial potential sentence," Mr Turley said.
The lawyer said that the Trump legal team has "to run the table, they have to take out every single count, or you've got a 76-year-old man looking at a potentially terminal sentence".
play youtube
,
xnxx
,
xvideos
,
porn
,
porn
,
xnxx
,
Phim sex
,
mp3 download
,
sex 4K
,
Straka Pga
,
gay teen porn
,
Hentai haven
,
free Hentai
,