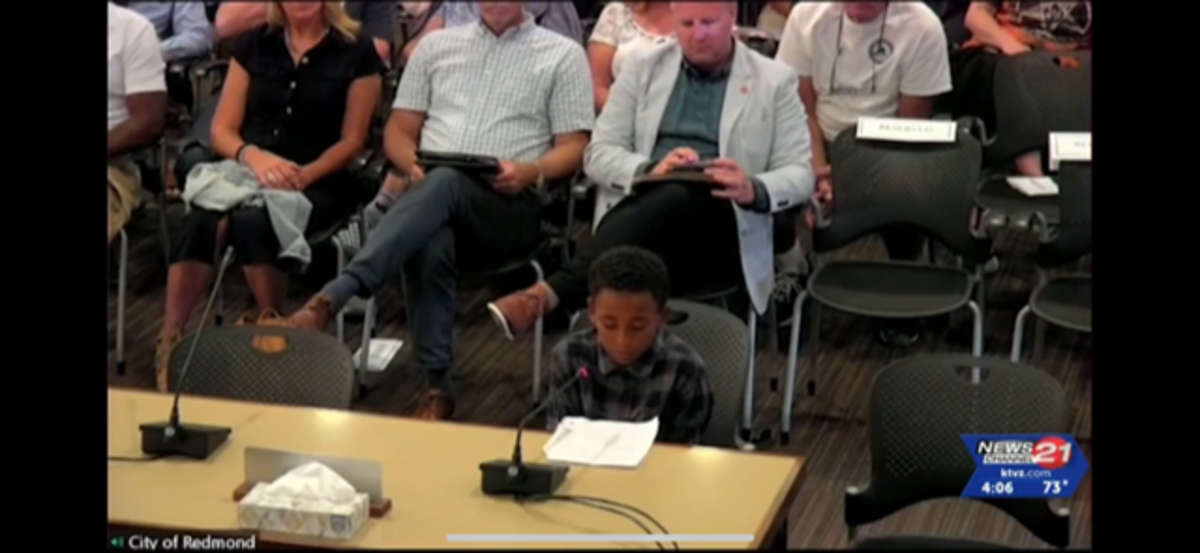 A Black 10-year-old took centre stage at an Oregon city council meeting after a potential racial crime in which a dead raccoon was left outside the Redmond mayor's office.
The incident happened on 5 June, when Mayor Ed Fitch arrived at his law office to find "a sign with intimidating language and a dead raccoon had been left on the front door of his office" – mentioning Mr Fitch and the council's sole Black member, Clifford Evelyn, according to Redmond police. The city of just under 36,500, about a three-hour drive southeast of Portland, is almost 90 per cent white, according to the 2020 census.
The discovery at Mr Finch's office was being investigated as a potential bias crime in the 2nd degree, defined as "when a person tampers or interferes with property, having no right to do so nor reasonable ground to believe that the person has such a right, with the intent to cause substantial inconvenience to another person because of the person's perception of the other person's race, color, religion, gender, identity, sexual orientation, disability, or national origin," police said.
Mr Clifford addressed the incident during a Tuesday council meeting, calling it in a prepared statement "a cowardly act" reminiscent of "something out of the 1950s and '60s," according to The Daily Beast – but it was a local fourth-grader whose words truly resonated with attendees and a much wider audience.
Gavin Alston, aged 10, accompanied his parents to the meeting and read a speech that he, too, had prepared – explaining how, at a different school in third grade, "I felt like I belonged."
"Now I'm in fourth," he continued. "A lot of people have been calling me the n-word or a monkey, even 'Black Boy.' One girl said to me, 'I would hit you, but that's called animal abuse'. We should not get treated like this. We should get treated equally. This is not fair to us Black people."
His mother, Heather Alston, warned Gavin that "everybody's going to be looking at you" and he was "going to be the centre of attention," she told The Washington Post – but he remained unwavering in his resolve to speak and share his experience.
His comments prompted the Redmond School District to later issue its own statement.
"On Tuesday evening, a brave student from Redmond School District spoke out about his experience with racism at a city council meeting to bring awareness to an issue that many may not know is happening in our own community," the district told KTVZ. "It is the right of every student to feel safe and welcome in our schools."
Gavin told the Post he hoped his words would help pave the way for progress and inclusivity.
"I want people to change and not judge people just because of their skin color," Gavin said. "They've got to know them for their personality, their kindness and respect."
play youtube
,
xnxx
,
xvideos
,
porn
,
porn
,
xnxx
,
Phim sex
,
mp3 download
,
sex 4K
,
Straka Pga
,
gay teen porn
,
Hentai haven
,
free Hentai
,