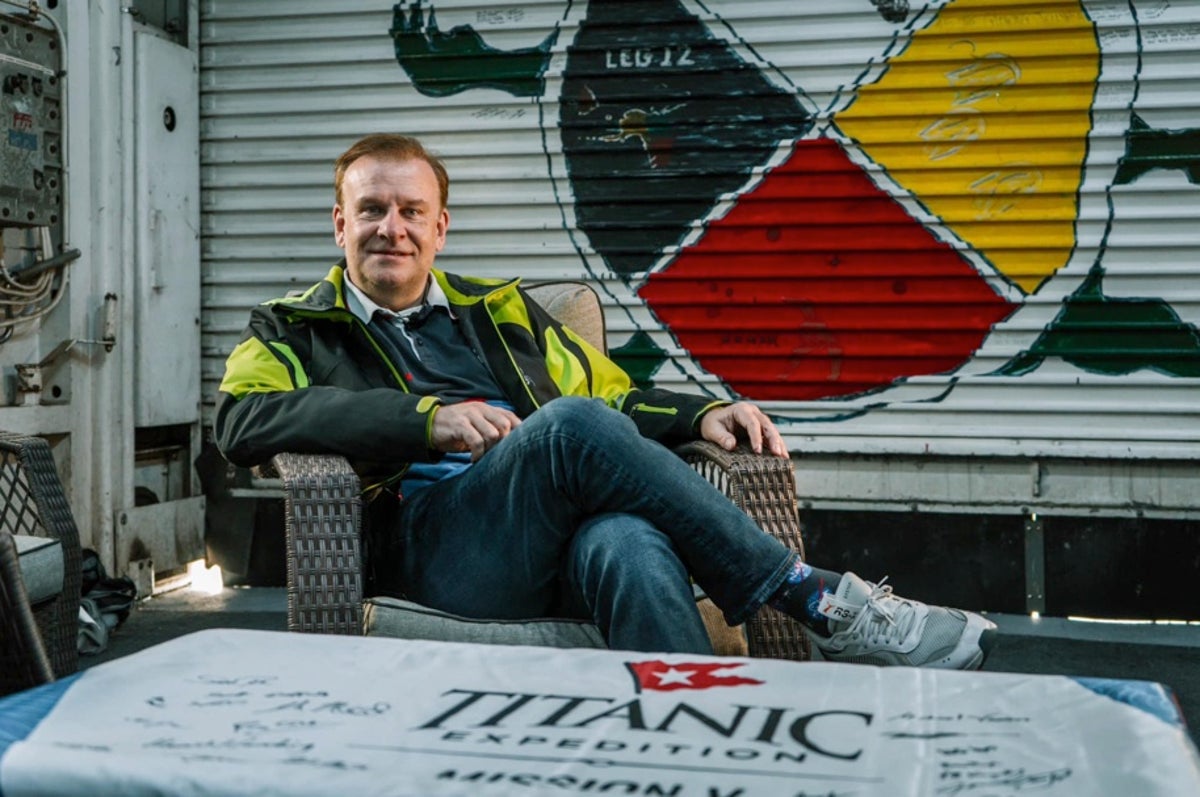 A British billionaire explorer is feared to be on board the missing Titanic tourist submarine somewhere in the depths of the Atlantic Ocean.
Hamish Harding, who has previously travelled on the Challenger Deep to the bottom of the ocean and on Jeff Bezos' Blue Origin into space, took to Facebook on Saturday to announce that he was joining OceanGate Expeditions for its Titanic mission this week.
"I am proud to finally announce that I joined OceanGate Expeditions for their RMS TITANIC Mission as a mission specialist on the sub going down to the Titanic. Due to the worst winter in Newfoundland in 40 years, this mission is likely to be the first and only manned mission to the Titanic in 2023," he wrote, alongside an image of him signing a card reading Titanic Mission V.
"A weather window has just opened up and we are going to attempt a dive tomorrow. We started steaming from St. Johns, Newfoundland, Canada yesterday and are planning to start dive operations around 4am tomorrow morning. Until then we have a lot of preparations and briefings to do.
"The team on the sub has a couple of legendary explorers, some of which have done over 30 dives to the RMS Titanic since the 1980s including PH Nargeolet. More expedition updates to follow IF the weather holds!"
He has not posted online since.
On Monday – as news of the missing submersible broke – Mr Harding's stepson Brian Szasz confirmed that his stepfather was on board the vessel when it went missing.
"Hamish Harding my step father has gone missing on submarine thoughts and prayers," he wrote on Facebook, sharing family photos and articles.
"Thoughts and prayers for my Mom and Hamish Harding," he added.
In a follow-up post, he added: "Thoughts and prayers for my stepfather Hamish Harding as his Submarine has gone missing exploring Titanic. Search and rescue mission is underway."
Mr Harding is a seasoned explorer who boasts three Guinness World Records for his global escapades.
The father-of-two, who is also the chairman of aviation sales and operations company Action Aviation, jetted into space in June 2022 on board Blue Origin's fifth manned flight on the New Shepard rocket.
This came after a world record-breaking trip to the deepest oceanic trench on earth – the Mariana Trench, a trip to the South Pole with astronaut Buzz Aldrin and the trip which marked the fastest circumnavigation of the globe.
Meanwhile, other explorers who were part of the Titanic expedition have confirmed that they are safe.
Deep sea explorer Rory Golden posted on Facebook that he was safe and thanked people for their well-wishes as he said he is now focused on helping "our friends".
"I'm OK. We are all focussed on board here for our friends… I really want to thank everyone who has been trying to Message and WhatsApp me. We have a situation that is now the part of a major Search and Rescue effort, being undertaken by major agencies. That is where our focus is right now," he posted on Facebook.
He later added: "Think positive. We are."
OceanGate Expeditions, a company offering eight-day tourist missions to see the Titanic wreckage at a cost of $250,000 per person, confirmed on Monday that its submarine was lost at sea with crew members on board.
The company said in a statement to CBS News that it is "exploring and mobilizing all options to bring the crew back safely."
"Our entire focus is on the crewmembers in the submersible and their families," it said, adding that it is "deeply thankful for the extensive assistance we have received from several government agencies and deep sea companies in our efforts to reestablish contact with the submersible".
The exact number of people missing remains unclear but the company's submersibles can carry up to five people at a time.
An OceanGate Expeditions submersible like the one missing in the Atlantic Ocean
It is also unclear if they are all crew members or if some are paying tourists.
There has been no communication from the sub for more than seven hours, according to Sky News. It usually sends signals to its mother ship every 15 minutes.
The submersible operates by being launched from a mother ship which then later recovers it at the end of its mission.
A search and rescue operation led by the Boston Coast Guard is currently under way in the Atlantic Ocean.
The Titanic wreckage at the bottom of the ocean
The rescue mission will be "very difficult", said RADM Parry – pointing to the "undulating" sea bed, the fact the Titanic lies in a trench on the sea floor and that the debris of the shipwreck will make it challenging to locate the sub using sonar.
"The only hope I think one has is that the mother ship will have a standby craft that will be able to go down and investigate immediately what is going on," he said.
When asked how quickly this could happen, he said that "any responsible organisation would have another submersible ready to go down at an hour's notice". If the company doesn't, he said it could take up to a couple of days for search teams to send such a craft from the east coast.
The Independent's attempts to contact OceanGate have been unsuccessful.
The company last posted on Twitter on 15 June, detailing its latest Titanic expeditions.
"It's been an incredibly busy two weeks! Thank you to all of our dive teams who've joined us – here's a look at our Mission 3 and Mission 4 crew," the company said.
The Titanic, operated by the White Star Line, sank on its maiden voyage across the Atlantic Ocean back in 1912.
The ship – the largest vessel at the time – set sail from Southampton, UK, on 10 April 1912, with more than 2,200 passengers and crew on board headed for New York City.
Five days into its voyage, the Titanic struck an iceberg and sank to the bottom of the ocean. More than 1,500 people died.
In recent years, people have taken trips to visit the wreckage which now lies around 12,500 feet at the bottom of the Atlantic Ocean, approximately 370 miles off the coast of Newfoundland, Canada.
play youtube
,
xnxx
,
xvideos
,
porn
,
porn
,
xnxx
,
Phim sex
,
mp3 download
,
sex 4K
,
Straka Pga
,
gay teen porn
,
Hentai haven
,
free Hentai
,