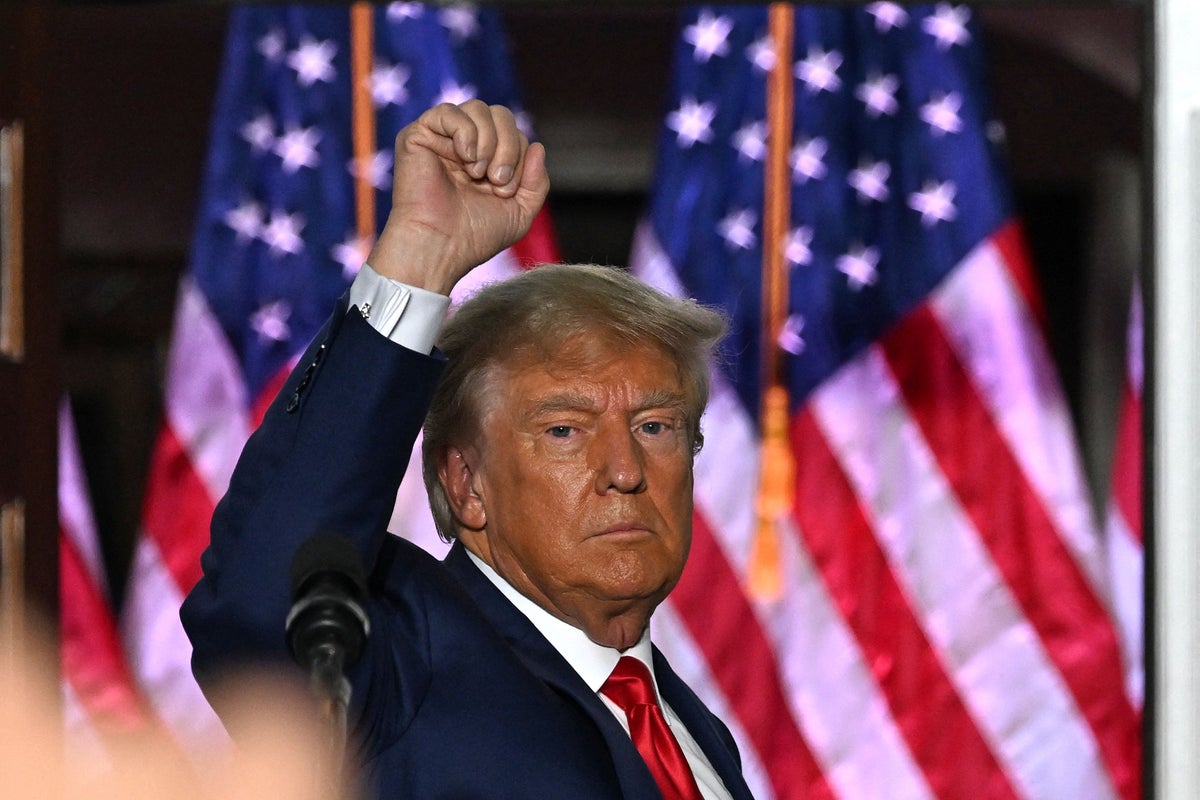 Trump's second arraignment: Watch how it happened
The former president's allies are turning on him, calling his conduct with classified documents at Mar-a-Lago illegal and dangerous.
"The legal theory by which he gets to take battle plans and sensitive national security information as his personal papers is absurd," Trump administration attorney general Bill Barr told Face the Nation on Sunday. "It's just as wacky as the legal doctrine they came up with for the vice-president to unilaterally decide who won the election."
"People have described him as a hoarder when it comes to these type of documents. But, clearly, it was unauthorized, illegal and dangerous," former Trump administration defense secretary Mark Esper added.
Voters may be growing sick of Mr Trump as well.
In a new poll, voters were most likely to describe Donald Trump in one word as a "criminal"; others were even less flattering, such as "disgusting", "liar", "evil" and "dangerous" (though "patriot" also made a top-10 appearance).
1687154451
Attorney General Garland keeps poker face as firestorm erupts after Trump charges
On his first day as attorney general, Merrick Garland pledged a return to what he called the "norms" of the Justice Department and said he would work to eliminate the perception of political interference. But in the two years since he took office, the former federal judge has found himself in the middle of a political firestorm of historic proportions.
The case against Donald Trump — the first former president to face federal criminal charges — brought a crush of protesters to the Miami courthouse last week, as well as a torrent of social media broadsides from Trump and an onslaught of criticism from Republicans.
The decision to charge Trump, who is running for president again, is perhaps the most consequential in the history of the Justice Department. The ultimate call on that came from Garland, whose demeanor leans to the mild.
Lindsay Whitehurst has more.
Josh Marcus19 June 2023 07:00
1687150851
Voters think Trump is a criminal, Biden is too old and DeSantis is a fascist, new poll finds
A new poll out from JL Partners underscores major weaknesses for the three men most likely to be sworn in as president on 20 January 2025, with little good news to soften the blow.
With the GOP primary now in full swing, Americans are getting a good look at the alternatives the Republican Party will present to the re-election of President Joe Biden, who was already the oldest president ever to take office when he did so in 2021.
But the top contenders in the GOP, former President Donald Trump and Florida Governor Ron DeSantis, each have debilitating labels to overcome if they have any shot of picking up ground with a general election audience, according to the survey. For Mr Trump, voters were most likely to describe him in one word as a "criminal"; others were even less flattering, such as "disgusting", "liar", "evil" and "dangerous" (though "patriot" also made a top-10 appearance).
Josh Marcus19 June 2023 06:00
1687147251
Why South Carolina matters in the presidential primary
South Carolina Republicans have set Feb. 24 as the date of their 2024 presidential primary, a move that, if approved, the party says will give GOP White House hopefuls more time to campaign in the first-in-the-South state.
The state GOP executive committee voted unanimously to approve the measure on Saturday, party executive director Hope Walker told The Associated Press. The selection still needs approval from the Republican National Committee to be official, and Walker said that a formal submission will be sent ahead of an October deadline.
The move comes as both major parties make moves to solidify their voting calendars ahead of the 2024 nominating process.
Josh Marcus19 June 2023 05:00
1687143651
Voices: Trump is incredibly guilty: that doesn't mean he'll get the prison time he deserves
Over on Independent Premium, Eric Lewis takes a deep dive into the Trump classified documents case.
Josh Marcus19 June 2023 04:00
1687140051
Trump's defence secretary says his hoarding of secrets was 'unauthorised, illegal and dangerous'
As the ex-president's loyalists continue to offer a wide scope of defences for their leader ranging from arguments that Mr Trump was allowed to designate the materials as personal records for his own safekeeping to the idea that the prosecution is merely a politicised weaponisation of the Justice Department, former Defense Secretary Mark Esper has offered his own assessment on the situation.
On Sunday, he joined CNN's State of the Union with Jake Tapper, and flatly stated that his ex-boss's actions were "illegal and dangerous".
Josh Marcus19 June 2023 03:00
1687136451
Congresswoman accidentally says Trump should be 'shot' over classified documents case
Stacey Plaskett, a US representative for the US Virgin Islands, accidentally said Donald Trump should be shot for taking classified documents from the White House.
Watch the gaffe below, via MSNBC.
Josh Marcus19 June 2023 02:00
1687134051
New Lincoln Project ad slams Trump for classified documents indictment
In a blistering new attack ad, the anti-Trump Republican group the Lincoln Project hammers the former president for taking classified documents out of the White House, and criticises as well the Republican politicians and conservative media figures who won't condemn such conduct.
"Trump did this to himself," the ad says. "He took the documents. He shared them and tried to cover it up. Patriots know people who committ this crime belong in prison, not the White House."
Watch the full clip below.
Josh Marcus19 June 2023 01:20
1687132251
Trump is a 'petty individual,' former attorney general says
Bill Barr has been unloading on Donald Trump all day.
In a recent interview on Face the Nation, Mr Barr, who served as the Trump administration's attorney general, called his former colleague "petty and selfish."
"He's a very petty individual who will always put his interests ahead of the country's," Mr Barr said.
Josh Marcus19 June 2023 00:50
1687130451
Voting third party will put Trump 'back in the presidency,' former senator says
Former US senator for Alabama Doug Jones is warning voters not to go with third-party options like the No Labels group, which intends to run an outsider candidate, during the 2024 election.
"This is a vote for Donald Trump," Mr Jones said in an interview with MSNBC. "This is an effort to get Donald Trump back in the presidency."
Josh Marcus19 June 2023 00:20
1687128651
Trump had 'disturbing' habits with documents
Donald Trump was a bit of a hoarder, according to his former top deputies.
"I think he was kind of a collector of things that he thought were of interest to him for some reason or another: clippings, mementos, classified documents," former national security adviser John Bolton told MSNBC on Sunday, calling the behaviour "disturbing."
"We could see in the course of meetings with him — intelligence briefings, decision meetings — that sometimes he liked to retain things, and it became a practice just to make sure that we got them back in as many cases as we could," he added.
Josh Marcus18 June 2023 23:50
play youtube
,
xnxx
,
xvideos
,
porn
,
porn
,
xnxx
,
Phim sex
,
mp3 download
,
sex 4K
,
Straka Pga
,
gay teen porn
,
Hentai haven
,
free Hentai
,