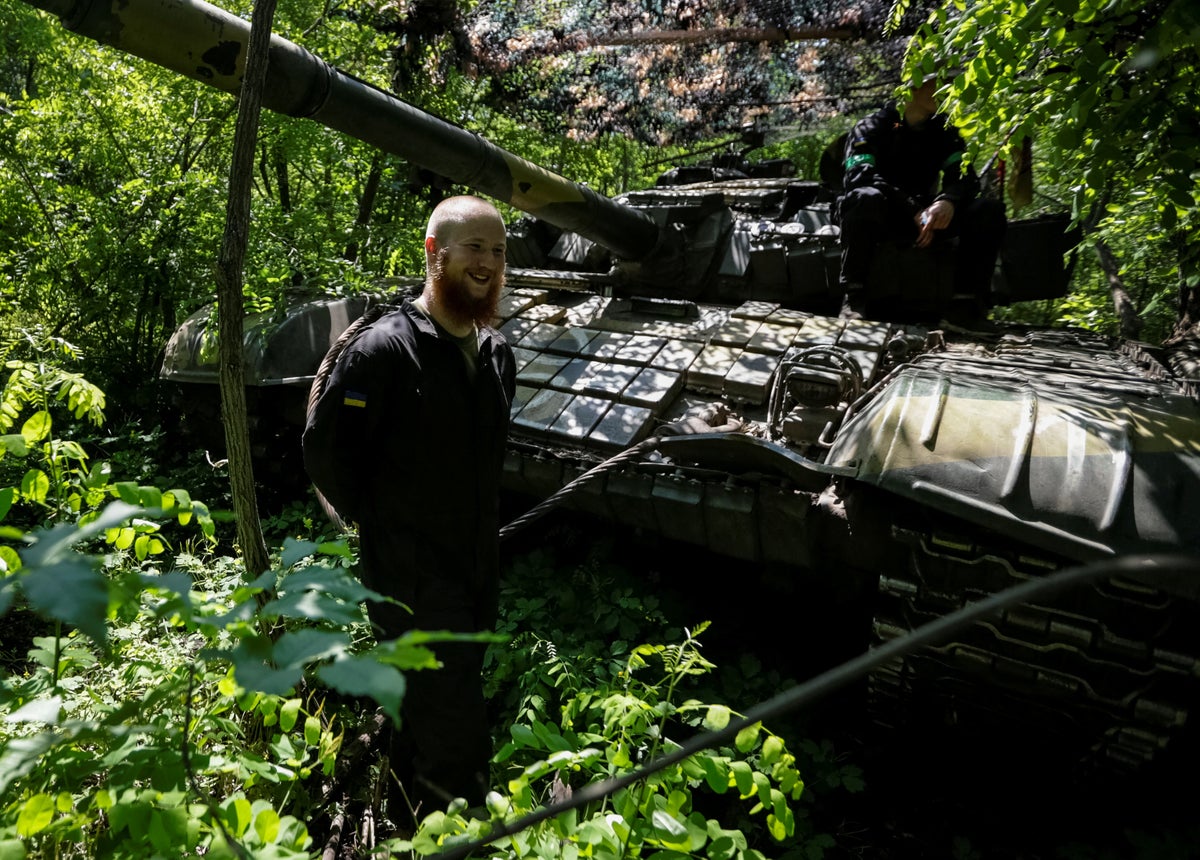 Ukraine is said to have recaptured its first village in several days – as fierce fighting continues across the frontline.
A Russian-installed official said Ukraine had recaptured Piatykhatky, a village in the southern Zaporizhzhia region, and were entrenching themselves there while coming under fire from Russian artillery.
"The enemy's 'wave-like' offensives yielded results, despite enormous losses," the official, Vladimir Rogov, said on the Telegram messaging app.
Russia's defence ministry made no mention of Piatykhatky in its daily update, in which it said its forces had repelled Ukrainian attacks in three sections of the 600 mile front line. A separate statement from Russia's Vostok group of forces said Ukraine had failed to take the settlement.
There was no comment from Ukraine, which last week said it had recaptured another nearby settlement, Lobkove, and a string of villages further east, in Donetsk region, at the start of its long-awaited counteroffensive.
Ukrainian officials have imposed an information blackout to help operational security, but say that Russia has suffered much greater losses than Ukraine has during its new assault.
President Volodymyr Zelensky praised Ukrainian forces for their "very effective" repelling of enemy assaults near Avdiivka, one of the focal points of fighting in the east.
"The Avdiivka sector is very effective in repelling assaults," Mr Zelensky said in his nightly video address on Sunday.
The head of the military administration in Avdiivka, a mining town shattered by months of fighting, told national television that Ukrainian forces had advanced about one kilometre around the town over the past two weeks.
In his remarks, Mr Zelensky also said the Tavria, or southern front, was "the most brutal" and expressed gratitude to soldiers fighting there and elsewhere.
A regional official said Ukrainian forces had destroyed a major Russian ammunition dump in occupied Kherson region, part of a weeks-long effort by Kyiv to wreak havoc with Russian supply lines.
British defence intelligence said heavy fighting in recent days had been focused on Zaporizhzhia, western Donetsk and around Bakhmut, which Russian mercenaries captured last month after the longest battle of the war.
"In all these areas, Ukraine continues to pursue offensive operations and has made small advances," it said on Twitter.
Russian defence operations had been "relatively effective in the south", with both sides suffering heavy casualties, the assessment said.
Russian President Vladimir Putin, who rarely comments on the course of the war, made two unusually detailed interventions last week in which he derided the Ukrainian push and said Kyiv's forces had "no chance" despite being newly equipped with Western tanks. His comments appeared intended to reassure Russians at a crucial juncture.
At talks in Saint Petersburg on Saturday, South African President Cyril Ramaphosa presented Putin with a 10-point peace initiative from seven African countries and told him the time had come for Russia and Ukraine to start negotiations to end the war.
Mr Putin responded by rattling off a string of familiar accusations denied by Ukraine and the West and saying it was Kyiv, not Moscow, that was refusing to talk. He thanked Mr Ramaphosa for his "noble mission".
However, Ramaphosa sought to cast the trip to Ukraine – on Friday – and Russia in a positive light, tweeting on Sunday that the "Africa Peace Initiative has been impactful and its ultimate success will be measured on the objective, which is stopping the war".
He said the Africans would keep talking to both Mr Putin and Mr Zelensky and would brief the UN secretary-general, Antonio Guterres, on their efforts so far.
Egypt's Foreign Minister, Sameh Shoukry, said on Sunday they had not been expecting immediate results. "But it is a beginning that we hope will bear fruit in the end."
Reuters
play youtube
,
xnxx
,
xvideos
,
porn
,
porn
,
xnxx
,
Phim sex
,
mp3 download
,
sex 4K
,
Straka Pga
,
gay teen porn
,
Hentai haven
,
free Hentai
,