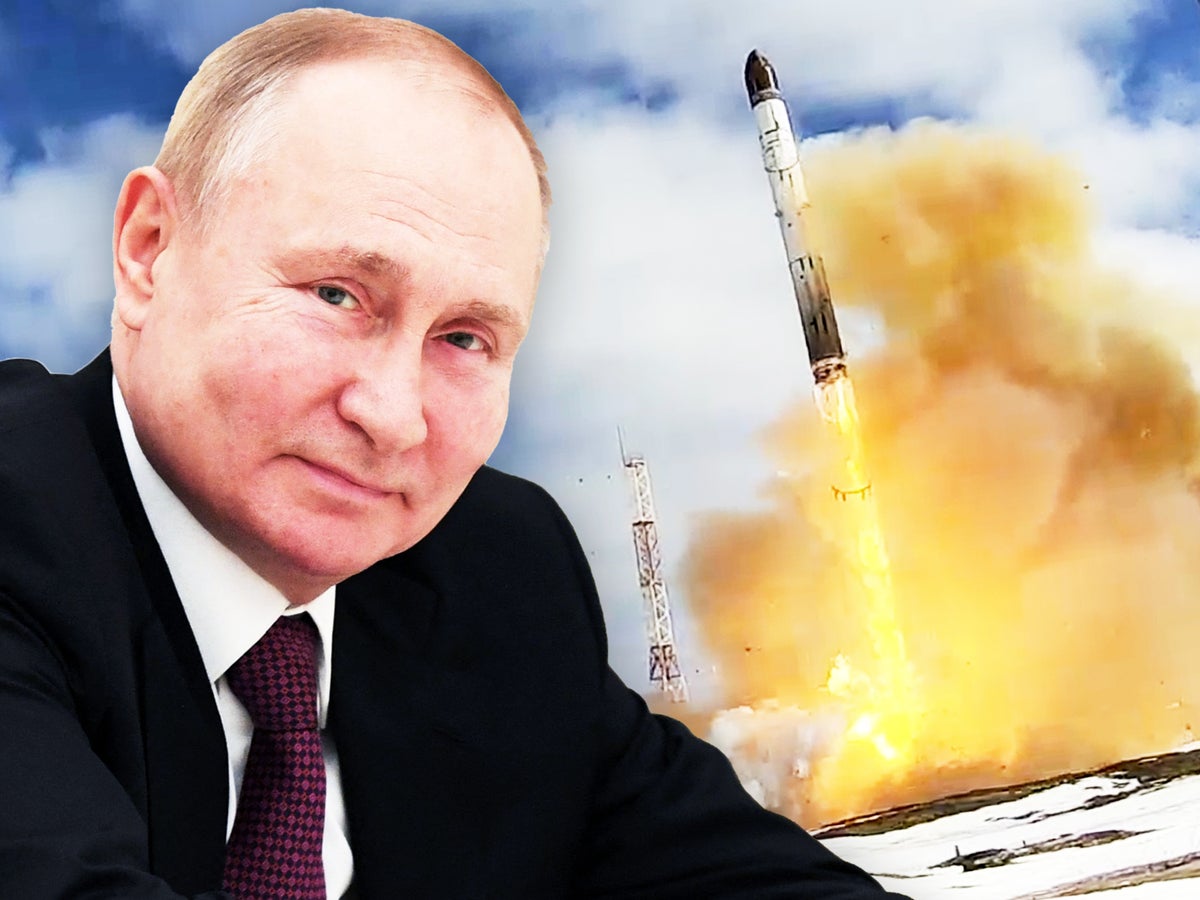 President Joe Biden has said the threat of Russian President Vladimir Putin using tactical nuclear weapons is "real", days after denouncing Russia's deployment of such weapons in Belarus.
Biden called Putin's announcement that Russia had deployed its first tactical nuclear weapons to Belarus "absolutely irresponsible".
"When I was out here about two years ago saying I worried about the Colorado river drying up, everybody looked at me like I was crazy," Biden told a group of donors in California on Monday.
"They looked at me like when I said I worry about Putin using tactical nuclear weapons. It's real," Biden said.
Last week, Belarusian President Alexander Lukashenko said his country has started taking delivery of Russian tactical nuclear weapons, some of which he said were three times more powerful than the atomic bombs the U.S. dropped on Hiroshima and Nagasaki in 1945.
The deployment is Russia's first move of such warheads – shorter-range, less powerful nuclear weapons that could be used on the battlefield – outside Russia since the fall of the Soviet Union.
The United States has said it has no intention of altering its stance on strategic nuclear weapons in response to the deployment and has not seen any signs that Russia is preparing to use a nuclear weapon.
In May, Russia dismissed Biden's criticism of its plan to deploy tactical nuclear weapons in Belarus, saying the U.S. had for decades deployed such nuclear weapons in Europe.
The Russian deployment is being watched closely by the United States and its allies as well as by China, which has repeatedly cautioned against the use of nuclear weapons in the war in Ukraine.
A new military strategy
Earlier this year A Russian defence ministry journal said Moscow was developing a new type of military strategy using nuclear weapons to protect against possible US aggression.
It was the latest in a series of combative remarks by Russian politicians and commentators after the invasion of Ukraine.
The article published in the Voennaya Mysl (Military Thought) magazine suggested Moscow would, if necessary, be prepared to deploy its vast nuclear arsenal.
Putin pulled out of nuclear arms treaty
Vladimir Putin suspended a landmark nuclear arms control treaty, announced new strategic systems had been put on combat duty, and threatened to resume nuclear tests.
Although Moscow says it would only use nuclear weapons in case Russia's territorial integrity were threatened, Putin allies have regularly suggested calamity could be close.
Former Russian president Dmitri Medvedev said the West's continued supply of weaponry to Kyiv risked a global catastrophe, repeating a threat of nuclear war over Ukraine.
Upon last week's suspension, the US criticised Russia for pulling out of the treaty.
"Russia is once again showing the world that it is not a responsible nuclear power," Bonnie Jenkins, the US undersecretary of state for arms control said.
Putin's previous sympathy towards nucelar options
Putin has emphasised that Moscow was not withdrawing from the pact altogether, and the Russian Foreign Ministry said the country would respect the caps on nuclear weapons.
However, it does further show Putin's favour for nuclear options which has been expressed at times throughout the Ukraine conflict.
In March 2022, Russia released an expanded list of countries who were said to be taking "unfriendly actions" against the country amid the invasion – with the United Kingdom featuring.
Putin repeated the phrase in July when he did not congratulate Joe Biden on the US independence day. The list has been expanded now to 49 states, including all of the European Union and Japan. No specific nuclear threat was made but it did continue the hostility towards the West.
Putin claims West will use nuclear weapons on Russia
Later in May, Putin was on the defensive saying that the West was looking to invade the Crimea and could use nucelar weapons to help.
"In Kyiv, they were saying they might get nuclear weapons and Nato started exploring the lands close to us, and that became an obvious threat to us and our borders," a baseless statement read.
He doubled down on this line in a statement in September when he claimed Western leaders were engaging in "nuclear blackmail" against Moscow.
What nuclear weapons does Russia have?
The Russian president reportedly has access to the largest stockpile of nuclear weapons in the world.
As of 2023, Russia has about 5,977 nuclear warheads, an estimated 1,500 awaiting dismantling, 2,565 deployed strategic warheads and 466 Intercontinental ballistic missiles and submarine-launched ballistic missiles, according to the Bulletin of the Atomic Scientists.
Ukraine also inherited a large number of nuclear weapons after the collapse of the Soviet Union in 1991 but the country decided to fully de-nuclearise under the 1994 Budapest Memorandum.
play youtube
,
xnxx
,
xvideos
,
porn
,
porn
,
xnxx
,
Phim sex
,
mp3 download
,
sex 4K
,
Straka Pga
,
gay teen porn
,
Hentai haven
,
free Hentai
,