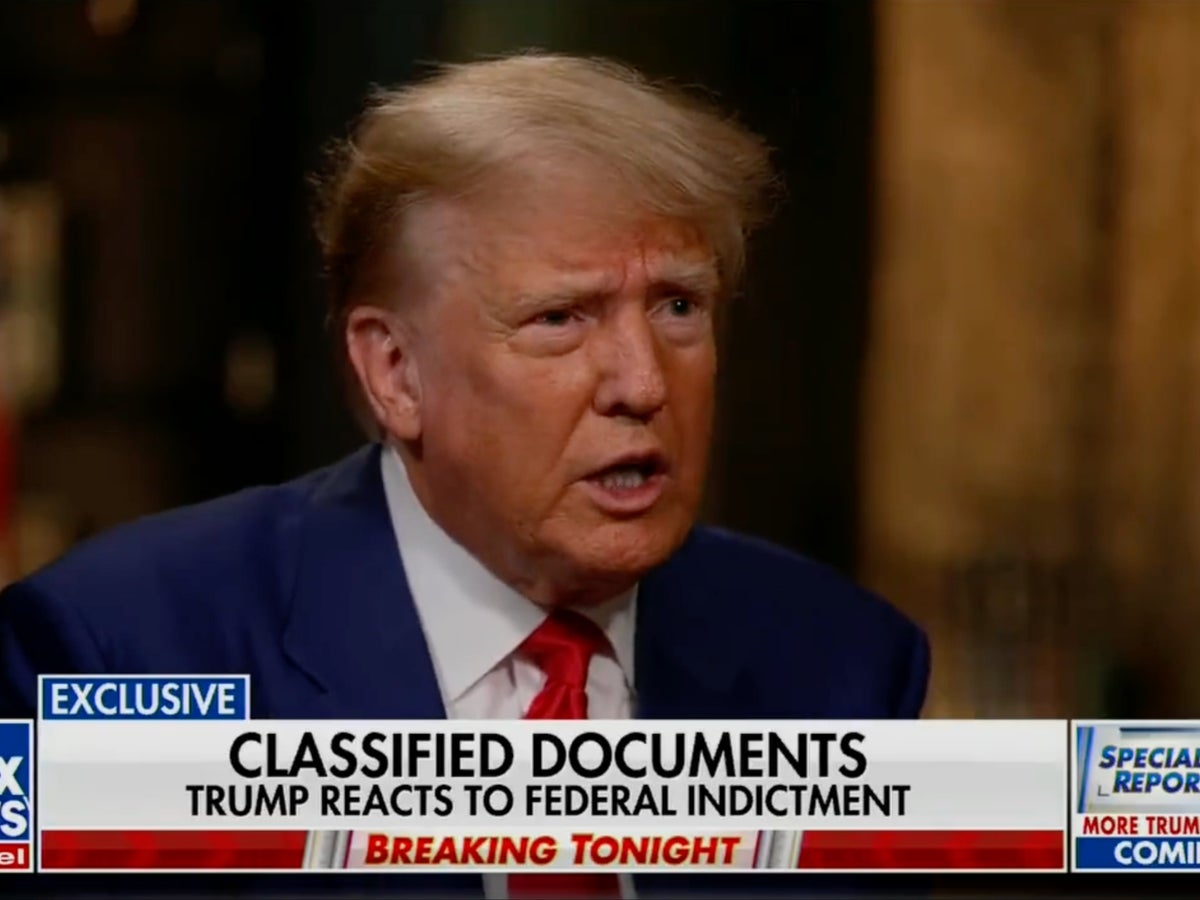 Former president Donald Trump denied that he ever possessed a secret document about attacking Iran despite the fact a recording exists that had him discussing a document he kept from his presidency.
Mr Trump spoke in an interview with Fox News anchor Bret Baier at his property in Bedminster, New Jersey less than a week after he pleaded not guilty to 37 charges in a federal court in Miami for his arraignment in Miami. A federal grand jury had indicted him for allegedly willfully mishandling of classified documents, obstruction of justice and making false statements.
Late last month, CNN reported that federal prosecutors had obtained audio of a recording in the summer of 2021 where Mr Trump acknowledged that he had held onto a classified document from the Pentagon detailing a potential attack on Iran.
But Mr Trump denied there was a document.
"I had lots of paper, I had copies of newspaper articles, I had copies of magazines," he said.
Baier responded by reading back from the indictment wherein Mr Trump reportedly said that the plan to attack Iran was "highly confidential" and "secret," and that "as president, I could have declassified it." The ex-president was then supposedly recorded adding: "Now I can't, you know, but it's still a secret."
When confronted with the supposed recording – which is apparently matched by testimony from people in the room at the time – Mr Trump told Baier: "When I said I couldn't declassify it now, that's because I wasn't president, I've never made any bones about that. When I'm not president, I can't declassify."
Mr Trump denied that such a document even existed.
"That was a massive amount of papers and everything else talking about Iran and other things," he said. "And it may have been held up or it may not but that was not a document. I did not have a document per se."
Baier responded by saying he was reading what the indictment said about a recording, as well as from people in the room who testified about Mr Trump's.
"These people are very dishonest people," he said. "They're thugs. If you look at what they've done, to other people and overturned in the US Supreme Court, these are thugs."
The unsealed indictment said that Mr Trump met with a writer and a publisher of his former White House chief of staff Mark Meadow's book. Upon the meeting, the indictment says, Mr Trump said "Look what I found" and showed an unnamed military official's plan of attack on Iran. The official was Chairman of the Joint Chiefs of Staff Mark Milley.
At the time, neither the writer nor the publisher had security clearances.
Baier said that the suggestion was Mr Trump had requested the documents because there was evidence that the US military and Gen Milley had pre-emptively sent him plans on an attack on Iran and that Mr Trump did not order such an attack to occur.
But Mr Trump denied that he had done so, and proceeded to attack Gen Milley.
"Milley, frankly, was incompetent," he said. "The last one I'd want to attack with as my leader would be Milley."
The instance Baier discussed was one of allegedly two where Mr Trump supposedly showed classified information to people who were not authorised to see them.
On the second occasion in August or September 2021, also in Bedminster, Mr Trump commented on a military operation that was not going well and reportedly showed a representative from his political action committee a classified map of the country, before saying he should not be showing it.
The interview is Mr Trump's first interview with Fox News, a network with which he has regularly feuded since leaving office. Mr Trump has maintained his innocence. Mr Trump also explained to Baier why he failed to return documents to the National Archives and Records Administration.
"The only way NARA could ever get this stuff, this back, would be 'please, please, please, could we have it back?" he said.
He also said that many of the documents were "interspersed" with personal effects.
"I want to go through the boxes and get all my personal things out. I don't want to hand that over to (National Archives) yet. And I was very busy, as you've sort of seen," he said.
Bevan Hurley contributed to this report
play youtube
,
xnxx
,
xvideos
,
porn
,
porn
,
xnxx
,
Phim sex
,
mp3 download
,
sex 4K
,
Straka Pga
,
gay teen porn
,
Hentai haven
,
free Hentai
,