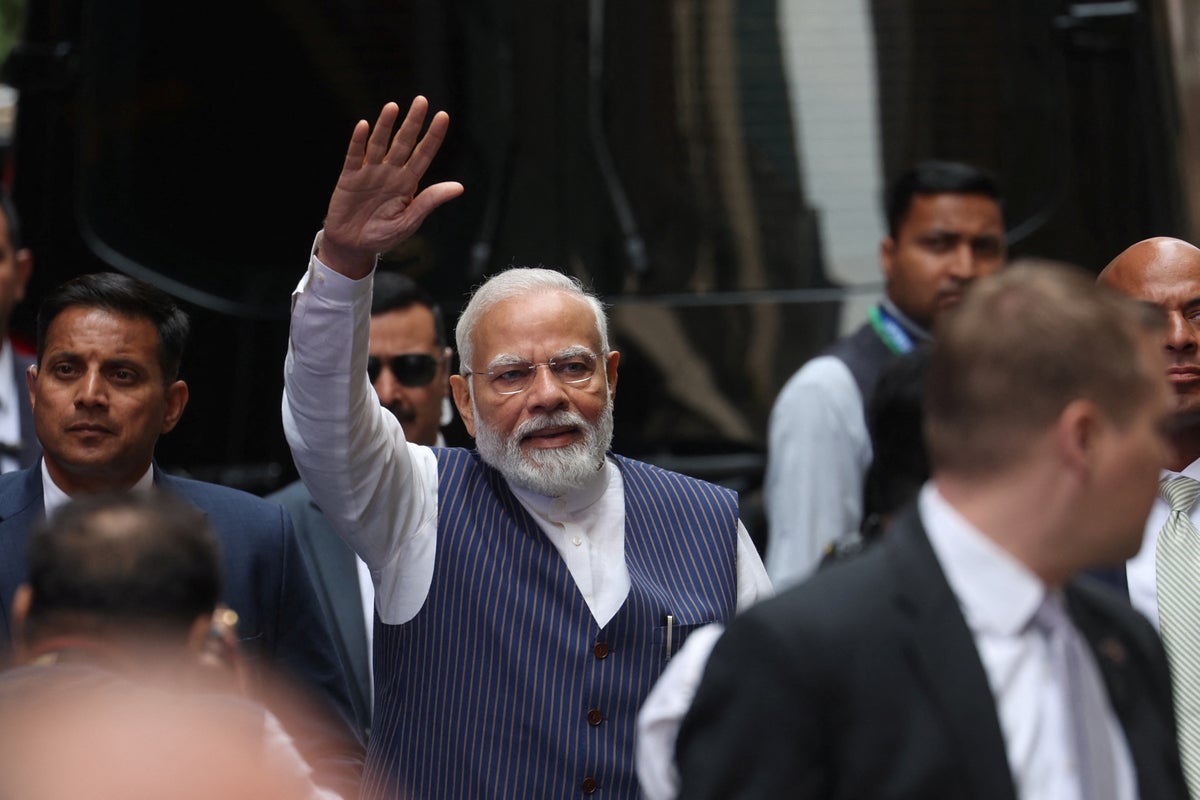 Joe Biden is not going to "lecture" Narendra Modi on India's human rights track record, the White House national security adviser has said.
The US president is expected to bring up concerns about democratic backsliding in India, but will not "lecture" Mr Modi on the subject, Jake Sullivan told the media on Wednesday.
Just a day earlier, 75 lawmakers – including Bernie Sanders and Elizabeth Warren – penned Mr Biden an open letter urging him to "raise directly" with Mr Modi, several "areas of concern" like the shrinking political space in India and growing restrictions on press freedom.
Mr Sullivan said when the US sees challenges to press, religious or other freedoms, "we make our views known. We do so in a way where we don't seek to lecture or assert that we don't have challenges ourselves".
"Ultimately, the question of where politics and the question of democratic institutions go in India is going to be determined within India by Indians. It's not going to be determined by the United States," he said.
The Biden administration's remarks come a day before the US president will meet India's prime minister.
The US president is under pressure from several progressive American voices, including vocal Democrat lawmakers and human rights groups to address the deteriorating human rights situation in India with Mr Modi.
On the same day as Mr Sullivan's address, firebrand US congresswoman Ilhan Omar tweeted that she "will NOT be attending Modi's speech" – an apparent reference to a joint sitting of the US Congress that the Indian prime minister is slated to address during his high-profile visit.
"Prime Minister Modi's government has repressed religious minorities, emboldened violent Hindu nationalist groups, and targeted journalists/human rights advocates with impunity," she tweeted.
Amnesty International earlier said both Mr Modi and Mr Biden must address grave human rights issues in both their nations.
Amnesty's top India official Aakar Patel said that "with the world watching, their silence will be felt by the people in India and the US whose rights are most at risk of abuse".
Amnesty has asserted that the Indian administration has "placed dangerous constraints on civil society".
On Tuesday, 75 senators and members of the House of Representatives urged their president to raise human rights issues with Mr Modi when he visits Washington.
"We do not endorse any particular Indian leader or political party – that is the decision of the people of India – but we do stand in support of the important principles that should be a core part of American foreign policy," the lawmakers said in the open letter to Mr Biden.
"As longtime supporters of a strong US-India relationship, we also believe that friends can and should discuss their differences in an honest and forthright way. That is why we respectfully request that – in addition to the many areas of shared interests between India and the US – you also raise directly with Prime Minister Modi areas of concern," they said.
The letter listed the "areas of concern" as "the shrinking of political space, the rise of religious intolerance, the targeting of civil society organizations and journalists, and growing restrictions on press freedoms and internet access".
Meanwhile, the US has called its relationship with India "one of the defining partnerships of our age".
Mr Modi on Tuesday met Tesla boss Elon Musk, who promised to bring Tesla to India "as soon as possible".
Mr Sullivan told reporters that "this visit is not about China. But the question of China's role in the military domain, the technology domain, the economic domain will be on the agenda".
Mr Modi is scheduled to visit the National Science Foundation with first lady Jill Biden on Wednesday and have a private dinner with Mr Biden at the White House.
play youtube
,
xnxx
,
xvideos
,
porn
,
porn
,
xnxx
,
Phim sex
,
mp3 download
,
sex 4K
,
Straka Pga
,
gay teen porn
,
Hentai haven
,
free Hentai
,