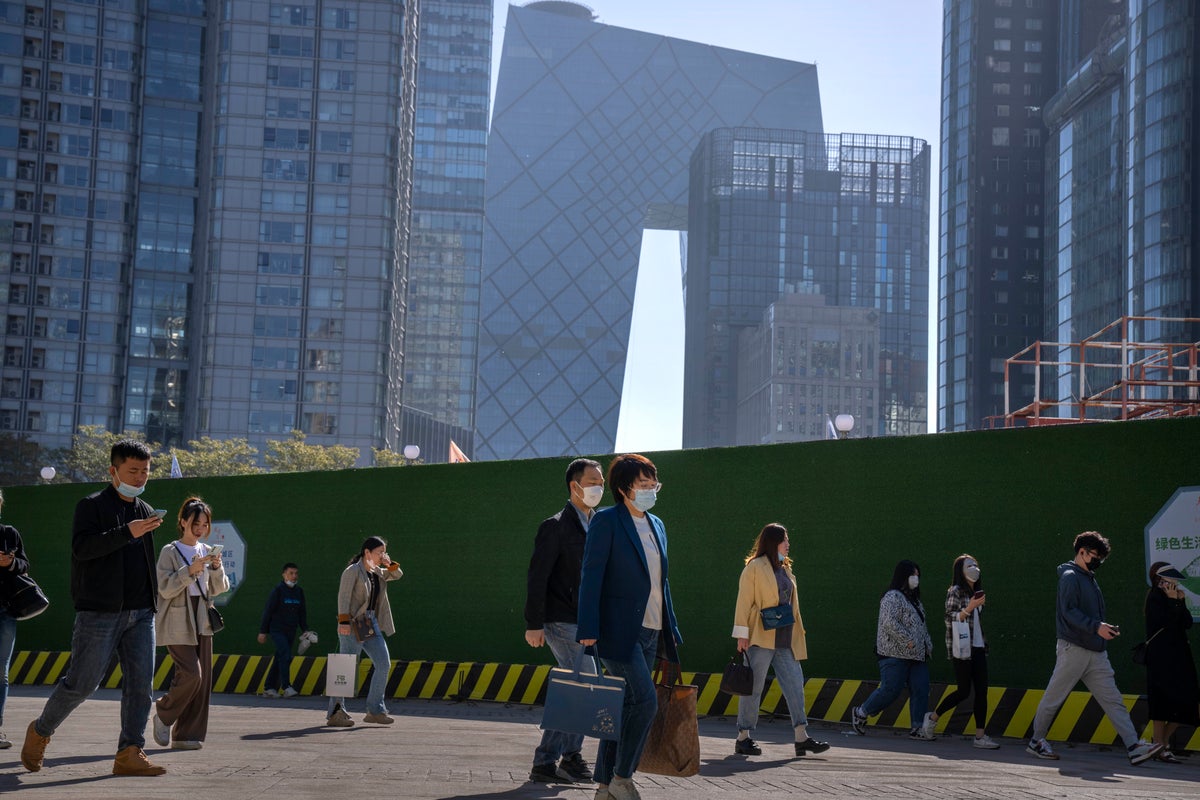 Foreign companies are shifting investments and their Asian headquarters out of China as confidence plunges following the expansion of an anti-spying law and other challenges, a business group said Wednesday.
The report by the European Union Chamber of Commerce in China adds is one of many signs of growing pessimism despite the ruling Communist Party's efforts to revive interest in the world's No. 2 economy following the end of anti-virus controls.
Companies are uneasy about security controls, government protection of their Chinese rivals and a lack of action on reform promises, according to the European Chamber. They also are being squeezed by slowing Chinese economic growth and rising costs.
Business confidence in China is "pretty much the lowest we have on record," the European Chamber president, Jens Eskelund, told reporters ahead of the report's release.
"There's no expectation that the regulatory environment is really going to improve over the next five years," Eskelund said.
President Xi Jinping's government, trying to shore up economic growth that sank to 3% last year, is trying to encourage foreign companies to invest and bring in technology. But they are uneasy about security rules and plans to create competitors to global suppliers of computer chips, commercial jetliners and other technology. That often involves subsidies and market barriers that Washington and the European Union say violate Beijing's free-trade commitments.
Two-thirds of the 570 companies that responded to the European Chamber's survey said doing business in China has become more difficult, up from less than half before the pandemic. Three out of five said the business environment is "more political," up from half the previous year.
Companies are on edge after police raided offices of two consultancies, Bain & Co. and Capvision, and a due diligence firm, Mintz Group, without public explanation. Authorities say companies are obliged to obey the law but have given no indication of possible violations.
Companies also are uneasy about Beijing's promotion of national self-reliance. Xi's government is pressing manufacturers, hospitals and others to use Chinese suppliers even if that raises their costs. Foreign companies worry they might be shut out of their markets.
Last month, the government banned using products from the biggest U.S. maker of memory chips, Micron Technology Inc., in computers that handle sensitive information. It said Micron had unspecified security flaws but gave no explanation.
One in 10 companies in the European Chamber survey said they have shifted investments out of China. Another 1 in 5 are delaying or considering shifting investments. In aviation and aerospace, 1 in 5 companies plan no future investment in China.
China has long been a top investment destination due to its huge and growing consumer market, but companies complain about market access restrictions, pressure to hand over technology and other irritants. The ruling party has tightened control since Xi took power in 2012, pressing foreign companies to give the party board seats and a direct say in hiring and other decisions.
The European Chamber noted it wasn't just foreign companies that are moving: 2 out of 5 in its survey reported Chinese customers or suppliers are shifting investments out of the country.
A separate group, the British Chamber of Commerce in China, said last month its members were waiting for "greater clarity" about anti-spying, data security and other rules before making new investments.
The biggest concern is the ruling party's sweeping expansion of its definition of national security to include the economy, food, energy and politics, Eskelund said.
"What does qualify as a state secret? Where does politics begin and the commercial world stop?" Eskelund said. That "creates uncertainty" about "where we can operate as normal businesses."
In the European Chamber survey, the top destination for companies moving their Asian headquarters out of China was Singapore, with 43% of companies that moved, followed by Malaysia. Only 9% went or plan to go to Hong Kong.
Leaders including Premier Li Qiang, China's top economic official, have promised to improve operating conditions, but businesses say they see few concrete changes.
"Our members are not really convinced that we are going to see tangible results," Eskelund said.
play youtube
,
xnxx
,
xvideos
,
porn
,
porn
,
xnxx
,
Phim sex
,
mp3 download
,
sex 4K
,
Straka Pga
,
gay teen porn
,
Hentai haven
,
free Hentai
,