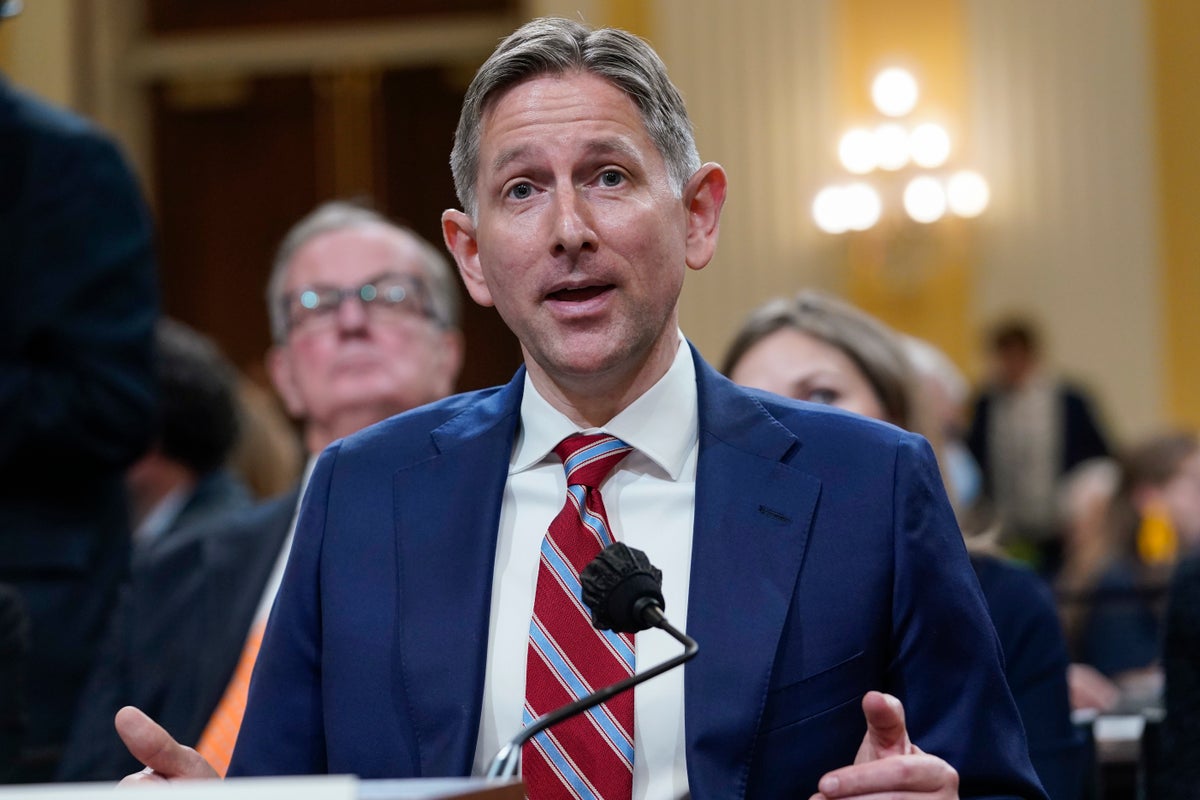 A lawyer representing attorney John Eastman, the architect of a legal strategy aimed at keeping former President Donald Trump in power after the 2020 election, spotlighted Wednesday legal debates surrounding the tallying electoral votes in a defense of Eastman's advice to the former president that could get him disbarred.
Eastman, a former law school dean, is facing 11 disciplinary charges in the State Bar Court of California stemming from his development of a dubious legal strategy aimed at having then-Vice President Mike Pence interfere with the certification of President Joe Biden's victory.
Prosecutors have depicted Eastman as a rogue attorney and Trump enabler who fabricated a baseless theory and made false claims of fraud in hopes of overturning the results of the election.
In the second day of proceedings, defense attorney Randall A. Miller highlighted scholarly debates about the reach of the vice president's authority in the electoral process, in an apparent attempt to counter the argument that Eastman was making groundless claims in a last-minute bid to salvage the Trump presidency.
Among his points, Miller pointed to a Dec. 8, 2020 memo written by Pence's counsel at the time, Gregory Jacob, who testified through much of the day. In the memo, Jacob tells Pence that there is disagreement about whether Pence's role is ministerial or whether the vice president can "play a decisive role in resolving objections to electoral votes on their merits."
However, Pence eventually concluded his role was largely ceremonial, and he did not have the authority to discard electoral votes that would make Democrat Joe Biden the next president, despite public pressure from Trump and Eastman's legal arguments.
In a Jan. 5 memo, Jacob argued that Eastman's advice to delay vote-counting would likely lose in court, and could result in a standoff in Congress.
Earlier in the day-long hearing, prosecutors who called Jacob as a witnesses walked him through his interactions with Eastman, largely echoing what Jacob told the House Jan. 6 committee during its investigation into the 2021 Capitol insurrection.
Assertions by Eastman at different times that the vice president should — and had the authority to — reject electors or delay the proceedings did not square with the Constitution or federal law, Jacob testified.
"No vice president in the entire history of our country had ever asserted — made any public statement — that they had the authority" to reject electoral vote certificates, Jacob said.
To Pence, "It did not make any constitutional sense … that the framers of our Constitution would vest authority to reject electors in one individual," he added.
Miller earlier argued that Eastman never intended to steal the election, but was considering ways to delay electoral-vote counting so states could investigate allegations of voting improprieties. Trump's claims of fraud were roundly rejected by courts, including by judges the Republican appointed.
Prosecutors have said that Eastman continued his efforts to undermine the election even after state and federal officials publicly rejected Trump allies' claims of fraud.
"All of his misconduct was done with one singular purpose: To obstruct the electoral count on Jan. 6 and stop Vice President Pence from certifying Joe Biden as the winner of the election," Duncan Carling of the office of chief trial counsel — which is seeking Eastman's disbarment — said in Tuesday's proceedings. "He was fully aware in real time that his plan was damaging the nation."
The proceedings are expected to last at least eight days. The California State Bar is a regulatory agency and the only court system in the U.S. that is dedicated to attorney discipline.
It could be weeks or months before a decision is reached.
Once the proceeding concludes, the State Bar Court has 90 days to file its decision, which is a recommendation that then goes to the California Supreme Court.
The State Bar alleges that Eastman violated California's business and professions code by making false and misleading statements that constitute acts of "moral turpitude, dishonesty, and corruption," and in doing so he "violated this duty in furtherance of an attempt to usurp the will of the American people and overturn election results for the highest office in the land — an egregious and unprecedented attack on our democracy."
Eastman was dean of the Chapman University law school from 2007 to 2010. He was a professor at the school when he retired in 2021.
Eastman has been a member of the California Bar since 1997, according to its website. He was a law clerk for U.S. Supreme Court Justice Clarence Thomas and a founding director of the Center for Constitutional Jurisprudence, a law firm affiliated with the Claremont Institute. He ran for California attorney general in 2010, finishing second in the Republican primary.
play youtube
,
xnxx
,
xvideos
,
porn
,
porn
,
xnxx
,
Phim sex
,
mp3 download
,
sex 4K
,
Straka Pga
,
gay teen porn
,
Hentai haven
,
free Hentai
,