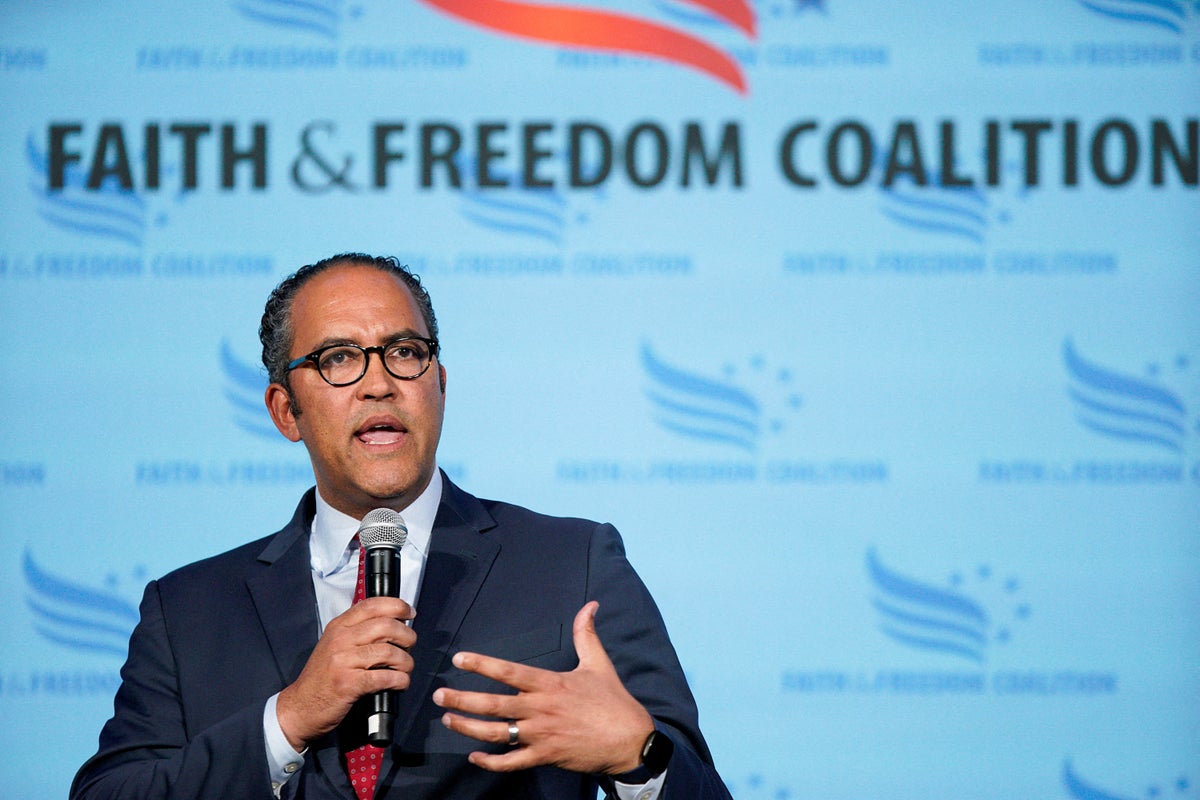 Former Texas Representative Will Hurd has launched a long-shot bid for the Republican presidential nomination.
The ex-CIA officer was strongly critical of then-President Donald Trump while serving in the US House before leaving at the end of his final term in January 2021.
The 45-year-old served three terms in the House, becoming the only Black Republican in the chamber in his last two years, the AP noted.
Mr Hurd appeared on CBS Mornings on Thursday, pitching himself as a moderate alternative in the growing field of GOP candidates.
"We need common sense," he said. "I believe the Republican Party can be the party of the future, not the past."
In an announcement video, Mr Hurd used similar language to President Joe Biden during his 2020 campaign.
Mr Hurd said the "soul of our country is under attack," while Mr Biden often used the phrase that the 2020 election was a "battle for the soul of the nation".
"Our enemies plot, create chaos and threaten the American Dream. At home, illegal immigration and fentanyl stream into our country. Inflation – still out of control. Crime and homelessness growing in our cities," Mr Hurd says in the footage. "President Biden can't solve these problems — or won't. And if we nominate a lawless, selfish, failed politician like Donald Trump — who lost the House, the Senate, and the White House — we all know Joe Biden will win again."
In May, Mr Hurd appeared on Meet the Press on NBC, saying that another Biden v Trump election would be "the rematch from hell".
He referred to himself on Thursday as a "dark horse candidate" and added that the one way to get to the GOP nomination is to "not be afraid of Donald Trump," but also noting that "we also have to articulate a different vision".
Apart from Mr Trump, the Republican primary field now also include Florida Governor Ron DeSantis, former Vice President Mike Pence, South Carolina Senator Tim Scott, former United Nations Ambassador and South Carolina Governor Nikki Haley, former New Jersey Governor Chris Christie, former Arkansas Governor Asa Hutchinson, North Dakota Governor Doug Burgum, entrepreneur Vivek Ramaswamy, radio host Larry Elder, and Miami Mayor Francis Suarez.
Mr Hurd has recently made trips to the early primary states of Iowa and New Hampshire. He said on Thursday that if he was elected, he wouldn't pardon Mr Trump in the classified documents case, calling other candidates "insane" for pledging to do so this early in the case proceedings.
The former CIA officer added the documents Mr Trump allegedly mishandled included "information that, if it got into the wrong hands, would lead to a loss of life".
"And the fact that Donald Trump willingly kept that material, and he wants to be the leader of the free world, is unacceptable to me," he told CBS. "It spits in the face of the thousands of men and women who, every single day and every single night, put themselves in harm's way in order to keep us safe."
As Mr Trump still has a strong base of support in the Republican Party, most of the primary field is currently trying to focus more on criticising Mr Biden than his predecessor.
Mr Hurd looks set to join Mr Christie and Mr Hutchinson among those willing to criticise Mr Trump.
The 45-year-old chose to not seek reelection in 2020, saying that he was going to "pursue opportunities outside the halls of Congress to solve problems at the nexus between technology and national security".
He went on a tour last year for his book American Reboot: An Idealist's Guide to Getting Big Things Done.
While in Congress, Mr Hurd's district was one of the most competitive in Texas, with more than 70 per cent of residents being Hispanic. It included parts of San Antonio and El Paso, and included most of the Texas border with Mexico – 800 miles (1,300 kilometres) out of the total 1,200 miles (1,900 kilometres).
Mr Hurd previously served as a clandestine officer in Pakistan, and he speaks the national language Urdu.
He gained a reputation as a bipartisan dealmaker while in Congress, once spending two days in a car with Democrat Beto O'Rourke in 2017 driving from San Antonio to Washington when a snowstorm cancelled the flights.
Mr O'Rourke was a US House Representative from Texas before unsuccessfully running for senate, president, and governor.
While Mr Hurd has focused on cybersecurity, he was booted from his role as the keynote speaker at a cybersecurity conference in 2019 for his votes against reproductive rights and against legislation set to provide financial support to women in STEM – science, technology, engineering, and math.
But he has also criticised the GOP's focus on culture war issues, tweeting in 2019 that "Our culture wars have grown to every facet of American life".
"America is better together," he said on Thursday. "And way more unites us than divides us."
The entrance of Mr Hurd into the race prolongs the streak for Texas having at least one major presidential candidate, with the last time the state didn't have a major candidate being the 1972 race, according to the AP.
play youtube
,
xnxx
,
xvideos
,
porn
,
porn
,
xnxx
,
Phim sex
,
mp3 download
,
sex 4K
,
Straka Pga
,
gay teen porn
,
Hentai haven
,
free Hentai
,