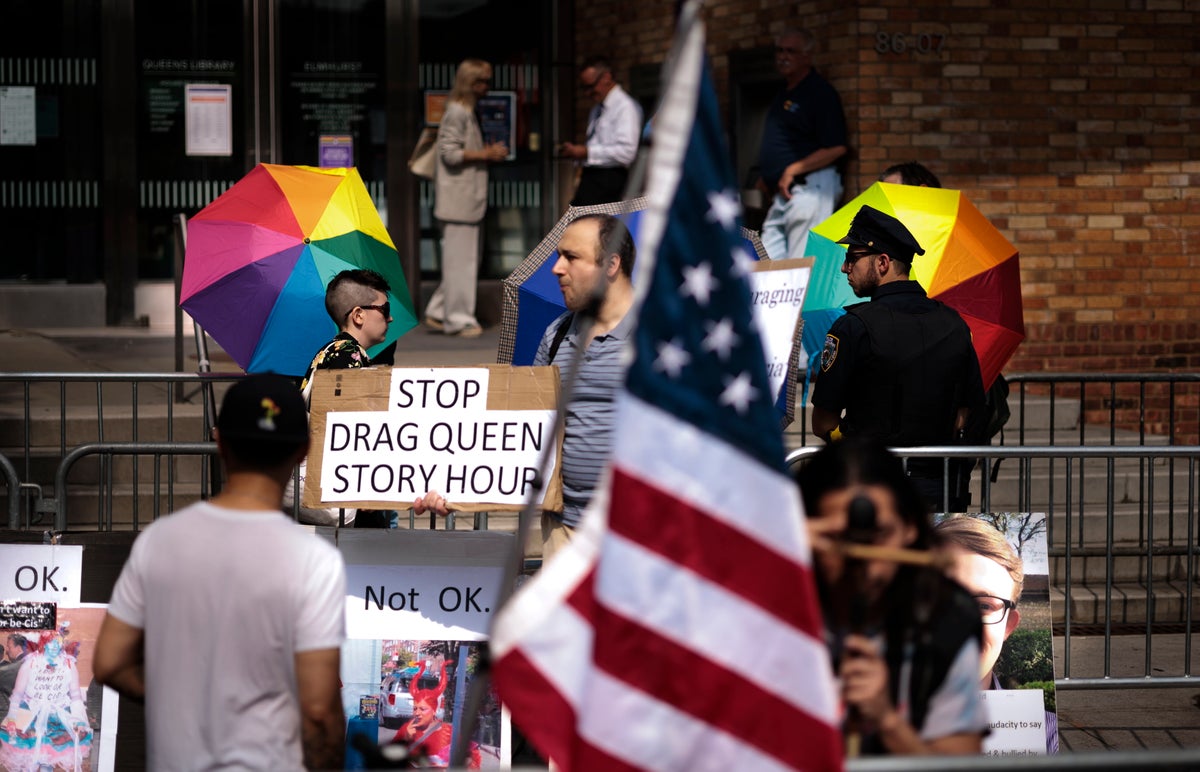 Anti-drag protests and acts of violence incited by homophobic and transphobic abuse have surged over the last year, with a marked increase in online rhetoric against LGBT+ people fuelling offline threats to drag events, according to a newly published report from extremism watchdogs.
From June 2022 to May 2023, incidents targeting drag performers and the people and venues that host them have accelerated across the US, with similar threats surfacing in the UK, according to the Institute for Strategic Dialogue's report released on 22 June.
Such threats have been carried not only by neo-fascist gangs like the Proud Boys, whose members have repeatedly sought to shut down drag events across the country, but also a constellation of disparate far-right groups united against LGBT+ people and events, the report found.
The report discovered 203 on- and offline threatening incidents within the last year, nearly half of which targeted drag queen story hours where colourful performers read books to children and their families at libraries and bookstores. Other incidents targeted drag shows, drag brunches and drag bingo games.
Proud Boys chapter targeted 60 such events, with more than half resulting in physical and verbal clashes, the report found.
The report also found 57 all-ages drag events targeted in the UK within that same time period, 10 of which were cancelled ahead of time over threats. Protesters attended 51 of them.
While the mobilisation of anti-drag threats has surfaced across the globe, the US has seen the largest number of incidents by far – and the only country reviewed in the report in which there have been violent attacks against drag events – while US organisers are setting trends for anti-LGBT+ narratives and tactics elsewhere, according to the report.
Global anti-drag actors have relied on a shared set of tactics targeting drag events – often with support from far-right online influencers who are central to spreading anti-LGBT+ content – to include protests, acts of vandalism, and outright intimidation and threats, as well as encouraging people to "doxx" or publish private information about drag performers and LGBT+ people and their allies, or allowing social media followers to promote violence in comment sections and threads that the report likens to incitement.
Incidents are fuelled by by baseless claims that drag performers are "grooming" children, reviving a long-running homophobic and transphobic slur accusing LGBT+ people of pedophilia and child abuse.
Anti-drag actors in the UK are also "importing" such anti-LGBT+ rhetoric and strategies from the US, including use of the "groomer" slur, the report found. There also are growing reports of abuse and harassment of drag performers and attendees, and multiple events have been cancelled due to safety concerns, according to the report.
The US also is the only country reviewed in the report where legislation has successfully been introduced and enacted to prevent drag performances.
"The numbers in this report suggest that we run the risk of dangerous backsliding toward hate and violence directed at LGBTQ+ people," ISD digital research analyst Clara Martiny said in a statement accompanying the report.
"It is no surprise that when political leaders advance anti-LGBTQ+ legislation and schools are forced to censor LGBTQ+ voices, anti-LGBTQ+ threats and harassment rise," she added.
A record number of bills impacting LGBT+ Americans were introduced in state legislatures in 2023, largely targeting gender-affirming care for transgender youth. Within the last few years, Republican lawmakers have advanced dozens of bills that would heavily regulate or criminalise young trans people, from the sports that they can play as themselves to the bathrooms, names or pronouns they can use, and what medically recommended and potentially life-saving medical care they can receive.
Other legislation has explicitly banned drag performance on public property, or specifically prohibited drag in libraries, with debate and rhetoric surrounding those bills mirroring the online remarks conflating drag with public sex acts.
Far-right influencer Chaya Raichik and her Libs of Tik Tok social media accounts are among the most popular and prolific disseminators of anti-drag content analysed in the report.
While Proud Boys have openly discussed plans to target drag events, such organising has also involved so-called "parents' rights" campaigns and similar activist groups that emerged from opposition to Covid-19 vaccines and safety measures in schools, the report found.
The report notes the evolution of "parents' rights" campaigns from movements against desegregating schools and sex education into current efforts against perceived leftist "indoctrination" and "sexualisation" of children who are learning about LGBT+ people.
One such group, Protect Texas Kids, was present at 13 anti-drag protests in the state over the last year, nine of which ended in verbal or physical classes, according to the report. At one event in December 2022, the group was joined by members of the Proud Boys, the neo-Nazi Aryan Freedom Network, Christian nationalist groups and Open Carry Texas, which advocates for openly carrying firearms, according to the report.
After the event, which was interrupted by law enforcement, a nearby business canceled a planned story hour, which Protect Texas Kids celebrated, the report found.
New York-based Guardians of Divinity, which emerged from anti-vaccine activism efforts, orchestrated 21 anti-drag events within the last year, 16 of which ended with verbal or physical clashes, the report found.
After it was targeted online by "parents' rights" group Awake Illinois and the Proud Boys, a bakery in suburban Chicago that hosted drag events received threatening notes and assailants broke windows and spray-painted homophobic slurs. In April, the bakery's owner announced plans to move to a more "accepting" location after a successful crowd-funding campaign.
The report collected incidents through monitoring US-based Telegram channels, Twitter profiles and Facebook groups, with analysis from the Armed Conflict Location and Event Data Project, Crowd Counting Consortium, and previous reports on anti-drag activity from civil rights groups and advocacy organisations including GLAAD and the Southern Poverty Law Center.
ISD has urged policymakers in the states to improve hate crime reporting, implement discrimination protections for LGBT+ students, and improve law enforcement vigilance of "the tactics, techniques and procedures advanced online and offline by groups targeting drag events."
"The spread of anti-LGBTQ+ hate in the US is advancing across the globe," ISD's US executive director Dixon Osburn said in a statement.
"It's imperative that policy makers address the rise of hate and extremism online and off," he added. "It starts with taking online threats seriously. We need to be proactive in protecting LGBTQ+ communities to avoid a snowballing effect of hate."
play youtube
,
xnxx
,
xvideos
,
porn
,
porn
,
xnxx
,
Phim sex
,
mp3 download
,
sex 4K
,
Straka Pga
,
gay teen porn
,
Hentai haven
,
free Hentai
,