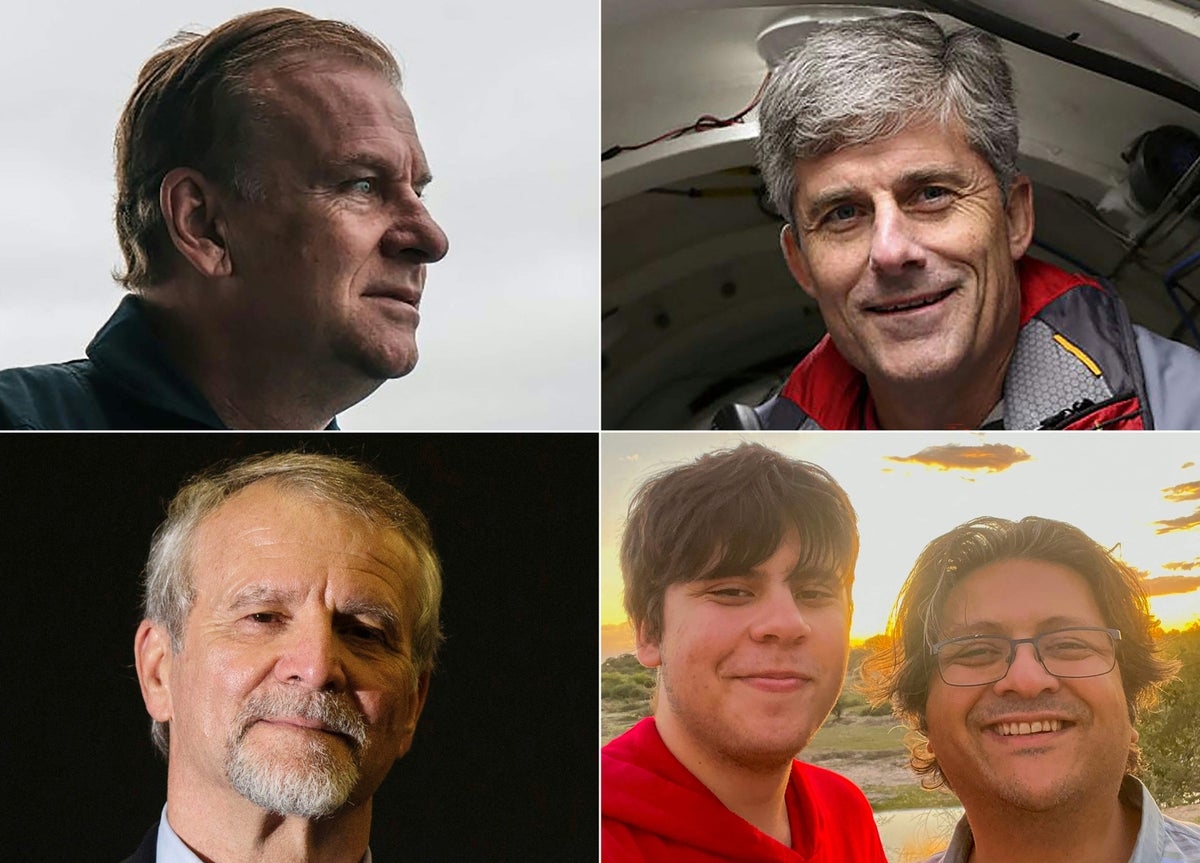 A cousin of the British billionaire who died in the submersible trip to the Titanic says his death as the vessel imploded was the "best outcome" compared with the crew slowly running out of oxygen.
Kathleen Cosnett, the cousin of explorer Hamish Harding, said "knowing nothing about it" was the best way to go.
It's thought Mr Harding and four others on board were killed instantly when the Titan sub, launched by OceanGate Expeditions, imploded during its dive to the wreckage in the Atlantic Ocean off Canada on Sunday.
Mr Harding, 58, had been on the trip with French Titanic expert Paul-Henri Nargeolet, 77, UK-based Pakistani businessman Shahzada Dawood, 48, his 19-year-old son Suleman, and OceanGate founder Stockton Rush, 61.
Deep-sea robots will continue searching the seabed for clues to the tragedy.
The US Coast Guard says a conclusive investigation will take time but the US Navy told the Wall Street Journal an acoustic detection system recorded a sound "consistent with an implosion or explosion" in the area where the Titan sub lost communication less than two hours into its descent.
Meanwhile, email exchanges from 2018 suggest that Mr Rush repeatedly dismissed safety warnings about the Titan.
In emails seen by the BBC, leading deep-sea exploration specialist Rob McCallum is quoted telling Mr Rush to stop using the sub until it had been classified by an independent body.
"I think you are potentially placing yourself and your clients in a dangerous dynamic," he said. "In your race to Titanic you are mirroring that famous catch cry: 'She is unsinkable'."
Mr Rush reportedly responded that he was "tired of industry players who try to use a safety argument to stop innovation". The exchange ended after OceanGate lawyers threatened legal action, Mr McCallum said.
In a tribute on Friday, Ms Cosnett said her cousin, "a daredevil" who had been "a real apple of his parents' eye", died doing what he loved – undertaking an adventure.
"Now we know that it likely imploded on the descent, it is really the best outcome. They would have not known it was coming," she told The Times.
"In a way, it is the best way to go, as he didn't know it was happening. It's really the best way to go isn't it, being killed and knowing nothing about it?"
Ms Cosnett, from Twyford, Berkshire, told Sky News: "He's a great adventurer, going up as high as he can get to, to space even, where he did go for 10 minutes last year, with other people, not the only person. So, to me it wasn't too much of a surprise… This was just a sad disaster, perhaps waiting to happen."
James Cameron, director of the 1997 Oscar-winning film Titanic, said he wished he had sounded the alarm earlier about the submersible, because he was sceptical about its carbon fibre and titanium hull.
"I thought it was a horrible idea. I wish I'd spoken up, but I assumed somebody was smarter than me," Mr Cameron said.
He claimed he knew the submersible was lost from the start of the four-day ordeal, suspecting it imploded when it lost contact with the mother ship.
Mr Harding's immediate family said his death had "left a gap in our lives that can never be filled", adding they were "united in grief" with the other families.
"We adored him," they said. "He was a passionate explorer – whatever the terrain – who lived his life for his family, his business and for the next adventure. What he achieved in his lifetime was truly remarkable."
Heartfelt tributes were also paid to the others on board.
Mr Nargeolet's family said he would be remembered as "one of the greatest deep-sea explorers in modern history".
"But what we will remember him most for is his big heart, his incredible sense of humour and how much he loved his family. We will miss him today and every day for the rest of our lives," they said.
A former commander in the French navy, Mr Nargeolet was on the first expedition to the Titanic in 1987 and led later trips there.
Richard Garriott de Cayeux, president of the Explorers Club, said of both Mr Nargeolet and Mr Harding: "They were drawn to explore, like so many of us, and did so in the name of meaningful science for the betterment of mankind."
The Dawood family said: "Please continue to keep the departed souls of our family in your prayers during this difficult period of mourning.
"We extend our heartfelt condolences to the families of the other passengers."
Suleman was a business student at the University of Strathclyde in Glasgow, which said its community has been left "shocked and profoundly saddened".
Before officials confirmed the five deaths, his aunt Azmeh Dawood told NBC News he had been scared about the expedition and only agreed to go because it was important to his "Titanic-obsessed" father. Suleman reportedly told family members he was concerned about the tour.
Shahzada Dawood was an adviser to the King's charity, Prince's Trust International, with a focus on its work in Pakistan.
OceanGate described its founder Mr Rush and Mr Nargeolet as "highly professional".
He originally trained as a pilot, becoming the youngest jet transport-rated pilot in the world aged 19 in 1981.
Mike Reiss, a writer and producer of The Simpsons, described him as a "magnetic man" who was "the last of the great American dreamers", the New York Times reported.
Professor Mark Hannaford, a friend of Mr Harding, said: "As explorers, we are typically an optimistic bunch, and while there was slim hope of survival, we strove to recover and save Hamish and his fellow travellers. But fate has not allowed that. The families will be devastated as will the rescue teams."
play youtube
,
xnxx
,
xvideos
,
porn
,
porn
,
xnxx
,
Phim sex
,
mp3 download
,
sex 4K
,
Straka Pga
,
gay teen porn
,
Hentai haven
,
free Hentai
,