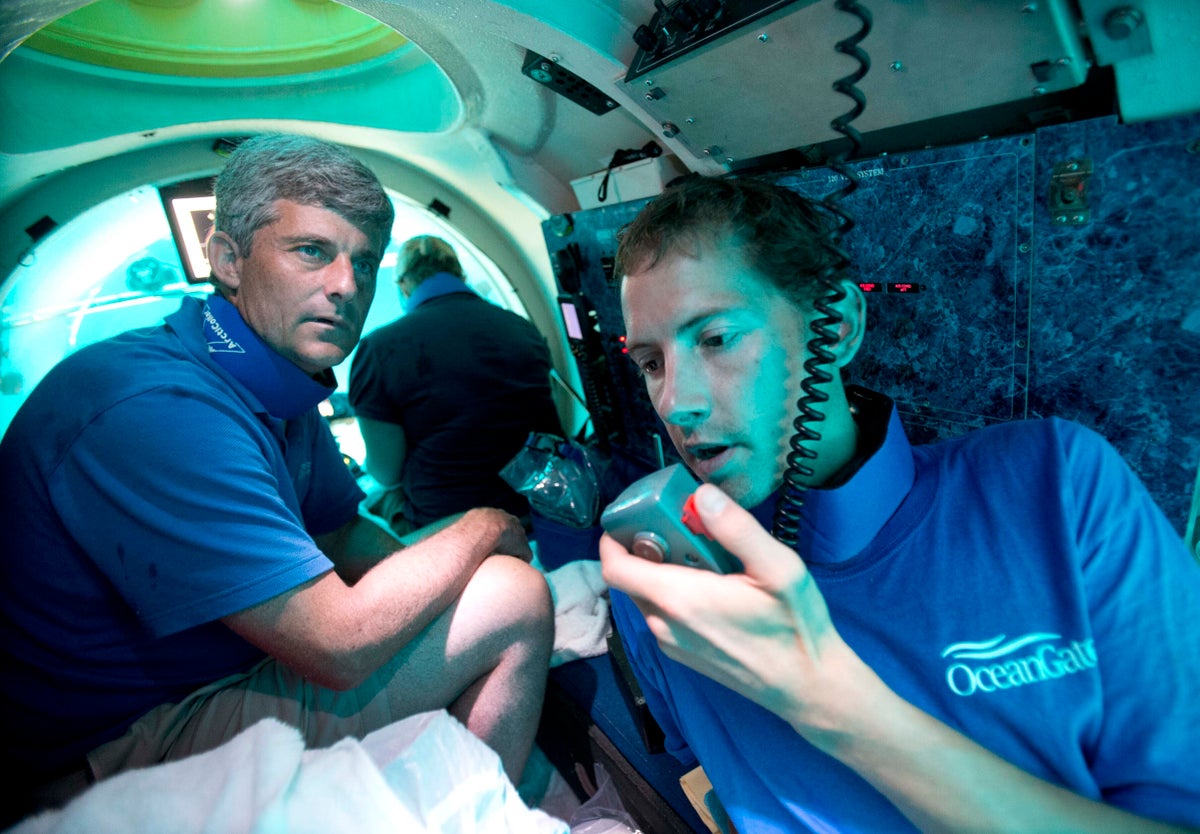 The co-founder of Oceangate, the company at the centre of the submersible tragedy, had hopes to contract deals with oil and gas companies after developing a reputation from its dives to see the Titanic wreckage.
Stockton Rush, who was killed aboard the Titan sub after it suffered a "catastrophic implosion", had spent years developing submarine technology to advance deep sea exploration.
He was one of five passengers on board the 21ft-long vessel which embarked on Sunday for the 2.4mile descent to the ocean-bed. A four-day international search and rescue mission was launched after it lost communications and failed to return to its mother ship, the Polar Prince.
The US Coastguard confirmed on Thursday afternoon that a remotely operated vehicle (ROV) had discovered a debris field with missing portions of the Titan. All five passengers, including Mr Rush and British billionaire Hamish Harding, were confirmed dead.
OceanGate launched its Titanic tours in 2021, with customers expected to pay $250,000 to see the infamous wreck, which lies nearly 400 miles off the coast of Newfoundland, Canada.
However, the self-described "daredevil inventor" had more plans for the Titan vessel once it had proven its ability to explore depths of 13,000ft.
During a 2017 interview with business magazine FastCompany, Rush said that after the demand for high-paying adventurers to visit the Titanic had dwindled, he hoped his submarine technology would prove an enticing investment for oil and gas companies.
"The biggest resource is oil and gas, and they spend about $16 billion a year on robots to service oil and gas platforms," he said. "But oil and gas [companies] don't take new technology. They want it proven, they want it out there."
"There's all these resources to be explored, and I couldn't understand why there aren't any manned subs," he told the outlet. He added that OceanGate would not be involved in oil production, but in the "inspection, repair and maintenance" of potential mining sites.
"Turns out one of the reasons was that people had not looked at the business aspect of operating a manned sub, because operations were funded by governments through universities for research. Nobody thought about cost, nobody thought about revenue."
His plans came despite repeated warnings about the safety of the submersible, with 38 experts in the submersible craft industry writing to Mr Rush to express "unanimous concern" about the way Titan had been developed.
A former lawsuit filed in 2018 by OceanGate's former director of operations, David Lockridge, also said that the vessel could subject passengers to "potential extreme dangers".
The company however responded to say that Lochridge was "not an engineer and was not hired or asked to perform engineering services on the Titan".
play youtube
,
xnxx
,
xvideos
,
porn
,
porn
,
xnxx
,
Phim sex
,
mp3 download
,
sex 4K
,
Straka Pga
,
gay teen porn
,
Hentai haven
,
free Hentai
,