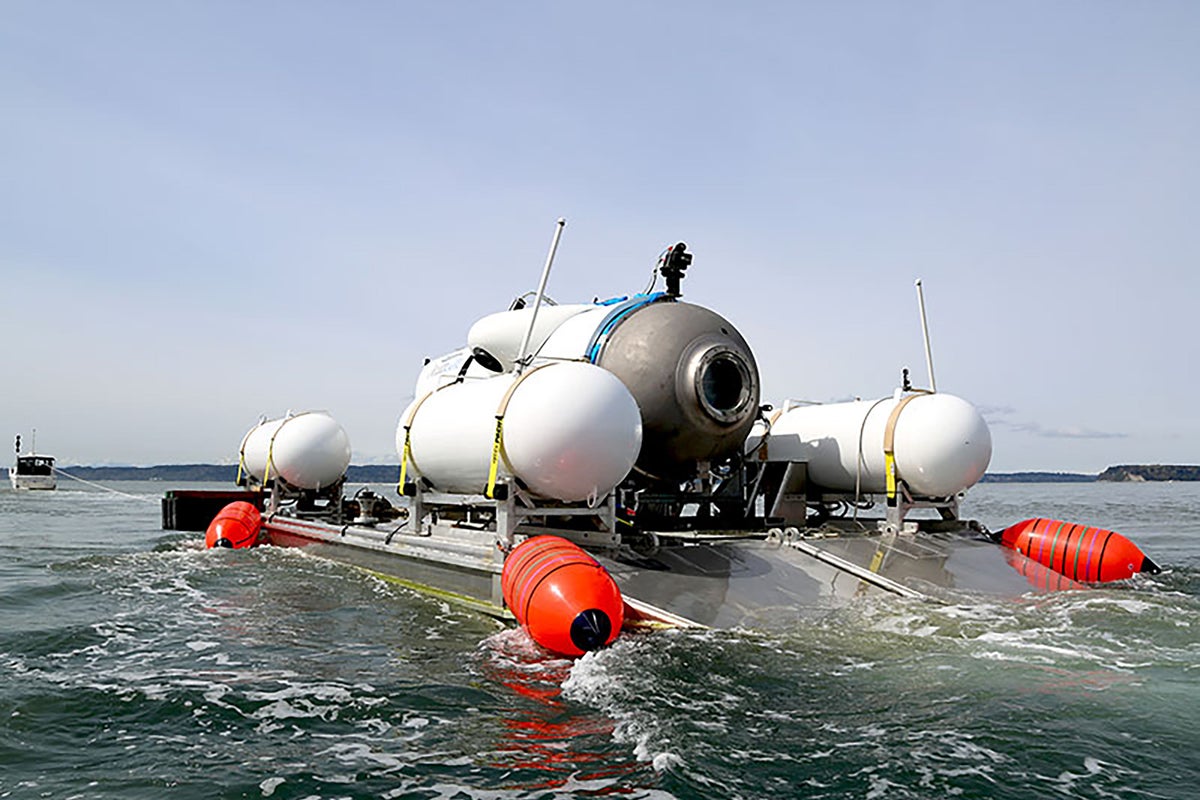 Secret US Navy underwater microphones detected the Titan sub's implosion several days ago, officials say.
The Navy used a top secret acoustic detection system to search for any sign of the OceanGate Expeditions submersible soon after it was reported missing on Sunday, a US Defense official told The Wall Street Journal. The claim was also reported by the Associated Press.
An implosion was heard near the site where debris was located on Thursday, about 500m from the Titanic shipwreck, soon after the sub disappeared, according to the report.
Follow the latest updates on the missing Titanic submarine here
The system is used to monitor enemy submarines, and the Navy asked that it not be identified due to national security concerns, the Journal reported.
"The U.S. Navy conducted an analysis of acoustic data and detected an anomaly consistent with an implosion or explosion in the general vicinity of where the Titan submersible was operating when communications were lost," a senior official told The Wall Street Journal in a statement. 
"While not definitive, this information was immediately shared with the Incident Commander to assist with the ongoing search and rescue mission."
The Navy reported the sound to the US Coast Guard command, the official added.
The Independent has contacted the US Navy for comment.
The US Navy used a passive sonar system known as a Sound Surveillance System to monitor Soviet submarines during the Cold War.
On Thursday, the US Coast Guard revealed that the five Titan crew members died in a "catastrophic implosion" soon after it lost contact with its support ship on a 4,000m dive to the Titanic shipwreck on Sunday morning.
OceanGate Expeditions CEO Stockton Rush, Pakistani businessman Shahzada Dawood and his son Suleman, British billionaire Hamish Harding, and French adventurer Paul-Henri Nargeolet were on board the Titan when it lost communications with a support ship less than two hours into on Sunday.
A remotely operated vehicle (ROV) located pieces of debris from the Titan on the seabed 1,600ft (about 500m) from the bow of the Titanic wreck on Thursday morning, Rear Admiral John Mauger, the First Coast Guard District commander, told a press briefing.
The US Coast Guard said it had found five major pieces of debris in two fields containing separate ends of the pressure hull.
Admiral Mauger implied that none of the crew members could have survived the "catastrophic implosion".
"This is an incredibly unforgiving environment down there on the sea floor and the debris is consistent with a catastrophic implosion of the vessel."
Harding's family paid tribute to the billionaire businessman, aviator and explorer in a statement through his company Action Aviation on Thursday.
"He was one of a kind and we adored him. He was a passionate explorer – whatever the terrain – who lived his life for his family, his business and for the next adventure," the statement read.
play youtube
,
xnxx
,
xvideos
,
porn
,
porn
,
xnxx
,
Phim sex
,
mp3 download
,
sex 4K
,
Straka Pga
,
gay teen porn
,
Hentai haven
,
free Hentai
,