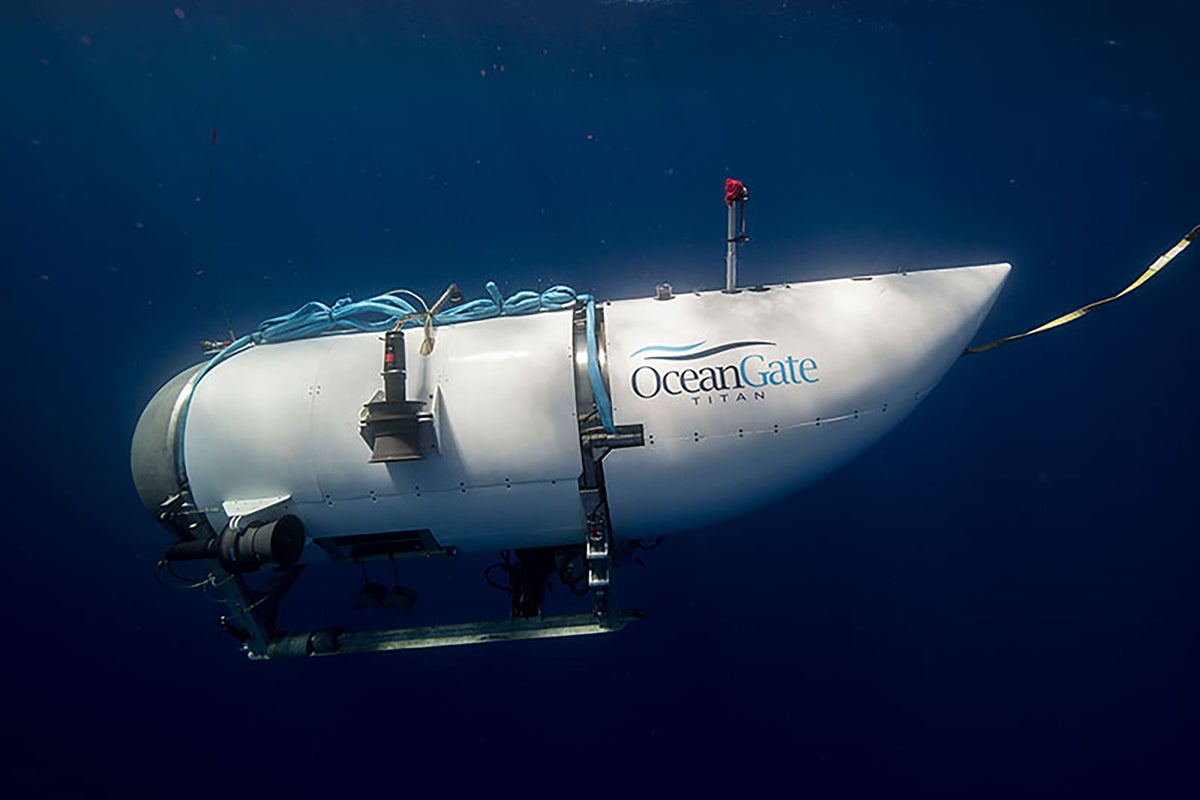 Online gamblers bet hundreds of thousands of dollars on whether the submarine that went missing on a recent expedition to the Titanic, in what online critics called a "dystopian" use of digital finance.
Since Wednesday, people wagered at least $300,000 on the fate of the vehicle using the crypto platform Polymarket, Mother Jones reports.
On the site, betters buy and sell shares on the outcomes of events using cryptocurrency, and can redeem their shares for $1 each if their guesses are correct.
Follow the latest updates on the missing Titanic submarine here
"For the purposes of this market, the vessel need not have been rescued or physically recovered to be considered 'found,'" reads the description page for the submarine bets. "If pieces are located, but not the cabin which contains the vessel's passengers, that will not suffice for this market to resolve to 'Yes.'"
One user, asking only to be identified by his first name, Rich, told Mother Jones he made around $3,250 betting.
He argued what he was doing was morally defensible because unlike the regular stock market, it had no impact on the fate of the entity being wagered upon.
"My answer would be that markets are fundamentally immoral. There's no ethical consumption under capitalism," Rich said.
Others weren't so sure.
Social media users racked up thousands of likes criticising such gamblers.
"Actually insane," one commenter wrote. "Imagine making money off of if someone is gonna die or not."
Polymarket defended its offerings on the submarine, arguing that it was a neutral way of calculating the likelihood of a rescue.
"If the families were privy to Polymarket, they could use the market as a way to obtain the real-time, unbiased probability of the submarine being recovered," the company said in an email to Gizmodo. "That is a far more valuable service to them than sensationalist media coverage: with our markets at least they understand the true probabilities."
Bookmakers take bets on nearly everything, from sports to sex tapes, but the industry does have some lines regarding poor taste.
According to Betting Gods, a gambling industry tip site, most major bookmakers refused to take bets regarding the death of Queen Elizabeth.
"Major bookmakers won't bet on the Queen dying as it would offend most of its regular customers. Whether they all agree with Britain having a royal family or not, most people would prefer to bet on a variety of other things such as sports," the site wrote in an article. "When asked the question of why bookmakers won't bet on what age the queen will die, the spokespeople of all the major bookmakers were unanimous in saying that it was important that people understand where the parameters of bad taste bets can't be crossed."
play youtube
,
xnxx
,
xvideos
,
porn
,
porn
,
xnxx
,
Phim sex
,
mp3 download
,
sex 4K
,
Straka Pga
,
gay teen porn
,
Hentai haven
,
free Hentai
,