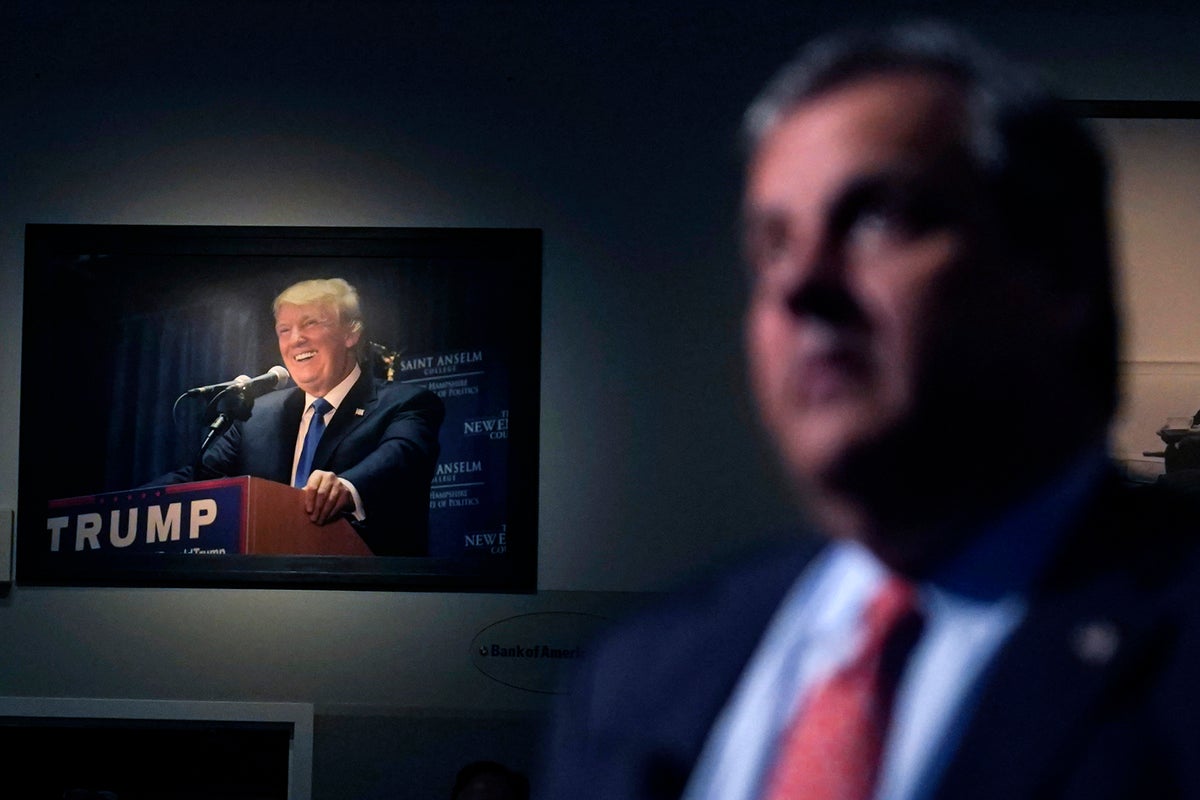 Trump grilled by Fox News presenter over all the aides that turned against him
Former New Jersey governor Chris Christie on Friday defended his criticism of former president Donald Trump before a sometimes-hostile crowd at the first day of the Faith and Freedom Coalition's annual Road to the Majority Conference, telling an audience of evangelical voters that Mr Trump had let down the people who voted for him in 2016 and in 2020.
"He's unwilling to take responsibility for any of the mistakes that were made, and any of the faults that he has, and any of the things that he's done, and that is not leadership," said Mr Christie.
Meanwhile, CNN reports that special counsel Jack Smith has compelled at least two Republican fake electors to testify to a federal grand jury in Washington in recent weeks by giving them limited immunity.
This is part of a push by federal prosecutors to swiftly nail down evidence in the sprawling criminal investigation into efforts to overturn the 2020 election, which some believe may now be drawing to a conclusion.
In other news, the former president urged Congress on Thursday to investigate the multiple investigations into him, as two of his staunchest allies launched bills to expunge both of his impeachments in a symbolic move.
1687558553
Trump claims he 'doesn't want any help' fighting federal indictment
Donald Trump told a crowd at his Bedminster golf club in New Jersey that he "doesn't need any help" fighting his numerous legal battles and that he has actively rejected major law firms offering him assistance.
He made the comments on Thursday night, according to Mediaite.
Graig Graziosi has the details.
Oliver O'Connell23 June 2023 23:15
1687556753
McCarthy supports expunging Trump's impeachments
House Speaker Kevin McCarthy said Friday he supports the idea of expunging the two impeachments of Donald Trump as hard-right Republican allies of the former president introduce a pair of proposals to declare it as though the historic charges never happened.
McCarthy told reporters that he agrees with Reps. Marjorie Taylor Greene and Elise Stefanik who want to erase the charges against Trump from the former president's impeachments of 2019 and 2021.
Oliver O'Connell23 June 2023 22:45
1687554953
Mississippi senator wants old Confederate state flag back
Josh Marcus has the story.
Oliver O'Connell23 June 2023 22:15
1687554053
Newest GOP candidate won't sign RNC pledge to support nominee
Will Hurd, the newest Republican 2024 presidential candidate, says he won't sign the RNC pledge to support the eventual nominee.
"I'm not going to support Donald Trump."
Asked if the former president betrayed the nation if the allegations against him are true, he says: "100% he did."
Mr Hurd later tweeted: "We pledge allegiance to the United States, not political leaders. I'm working to fulfill the debate requirements but I'm not going to lie to the American people or my party for the sake of a microphone."
Oliver O'Connell23 June 2023 22:00
1687553663
Former Trump aide slams him for Jan 6 fundraiser
In response to the news that former president Donald Trump spoke at a fundraiser for January 6 defendants at his Bedminster golf club, co-host of The View and former White House aide Alyssa Farah Griffin tweeted: "Hey Republicans: remember how mad we were when then-Sen. Kamala Harris solicited bail funds for protestors? What Trump is doing is worse."
Oliver O'Connell23 June 2023 21:54
1687553153
Garland denies whistleblower claims of interference in Hunter Biden probe
Attorney General Merrick Garland pushed back Friday against claims from IRS whistleblowers that the Justice Department interfered with the investigation into Hunter Biden, saying more broadly that attacks on the department's independence are corrosive.
Oliver O'Connell23 June 2023 21:45
1687552253
Trump's staunchest allies in Congress seek to expunge impeachments
Elise Stefanik, the fourth highest-ranking Republican in the House of Representatives Republican, and rightwing hardliner Marjorie Taylor Greene introduced a pair of resolutions that if enacted would aim to change the record "as if such articles had never been passed".
Oliver O'Connell23 June 2023 21:30
1687551176
AOC responds to DeSantis remarks about San Francisco
Alexandria Ocasio-Cortez has responded to video footage of Florida Governor Ron DeSantis's speech this morning at the Faith & Freedom Coalition conference in which he said: "Don't tell me [woke] doesn't affect people's lives. I was just in San Francisco. I saw … people defecating on the sidewalk. I saw people using fentanyl. I saw people smoking crack."
The New York representative commented on Twitter: "DeSantis led a Florida law that has already forced women to carry unviable pregnancies to term, just to watch their newborn die.
"But instead of acknowledg[ing] his brutality against women, he wants to scare you with his alleged accounts of struggling people, whom he also won't help."
Oliver O'Connell23 June 2023 21:12
1687549853
Hunter Biden attorney dismisses WhatApp text allegations
Hunter Biden's attorney Chris Clark gave a statement to Fox News about the WhatsApp text allegations about the president's son: "Any verifiable words or actions of my client in the midst of a horrible addiction are solely his own and have no connection to anyone in his family."
Oliver O'Connell23 June 2023 20:50
1687548653
Christie: 'We can't pretend Donald Trump is a man of character'
Following his speech at the Faith & Freedom Coalition conference, Chris Christie spoke with reporters as he departed the Washington Hilton.
The former New Jersey governor said: "We can't pretend Donald Trump is a man of character," before listing his reasons and who he now stands with against the former president.
Mr Christie also characterised Mr Trump as either an "idiot or a liar".
He posted footage of his remarks to Twitter shortly after, writing: "One of the cornerstones of faith is character. I'm not afraid to say the quiet part out loud. Donald Trump is not a man of character. We all know this. Stop hiding from the truth."
Oliver O'Connell23 June 2023 20:30
play youtube
,
xnxx
,
xvideos
,
porn
,
porn
,
xnxx
,
Phim sex
,
mp3 download
,
sex 4K
,
Straka Pga
,
gay teen porn
,
Hentai haven
,
free Hentai
,