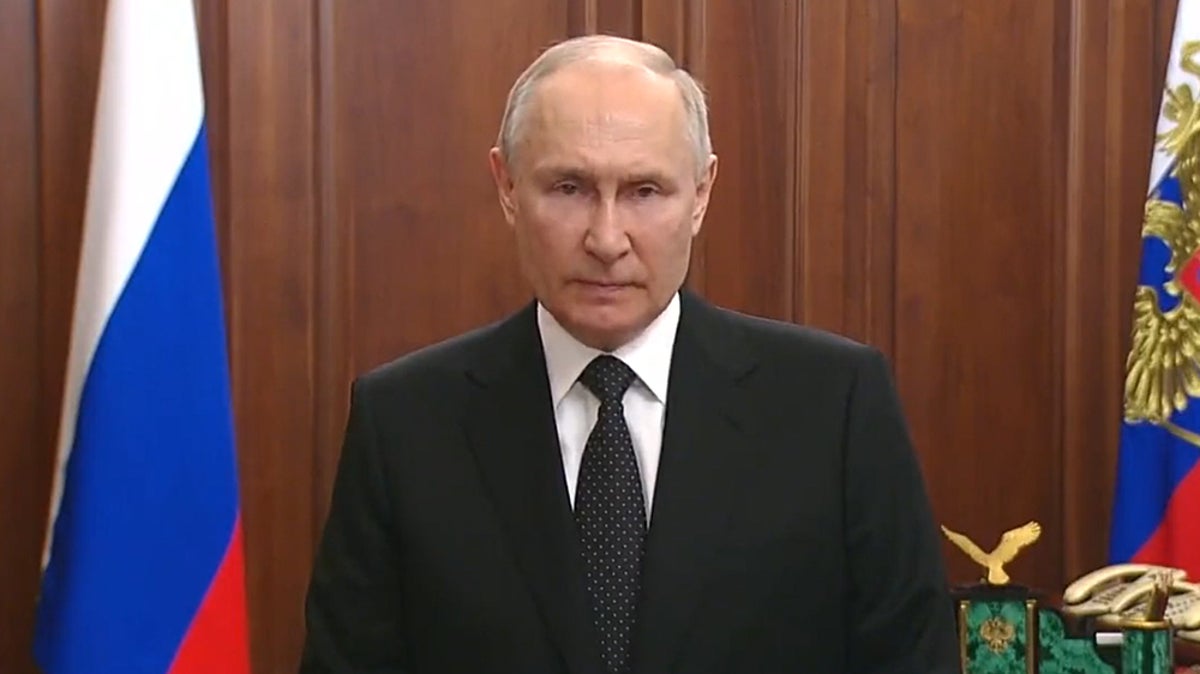 Earlier on Friday, drone footage showed a Russian troop being wiped out by a bomb
US spy agencies had learned in mid-June about armed action being planned by Wagner mercenary group boss Yevgeny Prigozhin, said a report.
There were "enough signals to be able to tell the leadership [in the US] that something was up", reported The Washington Post, citing an unnamed US official. "So I think they were ready for it."
Mr Prigozhin and his troops won't face criminal charges over his attempted coup in Russia, the Kremlin said.
He will be moved to Belarus, a close ally of Russia, after his mercenary army captured army bases in two Russian cities but called off their advance on Moscow at the 11th hour to "avoid bloodshed".
The move marked a humiliating climbdown for Vladimir Putin after he earlier vowed to take revenge on those behind the mutiny. Wagner's forces were about four hours away from Moscow when news of the dramatic turnaround came.
Earlier on Saturday, Mr Putin's whereabouts had come into question after an aircraft belonging to the presidency was spotted flying from Moscow to St Petersburg. Spokesperson Dmitry Peskov denied Mr Putin had fled.
1687675528
Russia's Rostov-on-Don calm after Prigozhin leaves
The situation around the headquarters of Russia's Southern Military District in Rostov-on-Don was calm and street traffic resumed, RIA state news agency said on Sunday after Yevgeny Prigozhin and his mercenaries left the city.
In a video on the agency's Telegram messaging app, which it said was taken in the city of Rostov-on-Don, a man was sweeping a street and cars were moving along another street.
Reuters could not independently verify the report.
Late on Saturday, Prigozhin, the head of Russia's Wagner mercenary group, was seen leaving the district military headquarters in Rostov-on-Don after halting a rebellion against Russia's military establishment.
Maryam Zakir-Hussain25 June 2023 07:45
1687674614
Mapped: Inside Russian Wagner group's road towards Moscow
Rogue Russian mercenary fighters had their efforts labelled as "treason" by Vladimir Putin after the shock advance that began on Friday evening.
The mutiny, called off when troops were just four hours from the Russian capital in a deal brokered by Belarus, marked one of the most explosive episodes in the country's war saga to date.
The move came after the group's leader Yevgeny Prigozhin accused the Kremlin of deliberately bombing Wagner troops in Bakhmut.
Namita Singh25 June 2023 07:30
1687673261
Russia urges Moscow residents to temporarily avoid key highway
Russia's Federal Road Agency urged residents of the Moscow region on Sunday to refrain from travelling along the M-4 "Don" major expressway until 10am local time.
The agency had said earlier in the day on the Telegram messaging app, in a post now deleted, that traffic restrictions on the highway in the Moscow and Tula regions remained.
Heavily armed Russian mercenaries who had advanced most of the way to Moscow on Saturday then halted their approach, de-escalating a major challenge to president Vladimir Putin's grip on power, in a move their leader said would avoid bloodshed.
Namita Singh25 June 2023 07:07
1687671014
Kremlin denies Putin has fled Moscow as Russia president's plane 'disappears'
One of several planes that the Russian president uses for official visits took off from Moscow at 2.15pm local time, according to Flight Radar, which tracks aircraft in real-time.
Less than half an hour later, it went off radar about 150 kilometres from Putin's official residence.
Namita Singh25 June 2023 06:30
1687669181
US briefed on Wagner forces days before rebellion started
US congressional leaders were reportedly briefed on a build-up of Wagner forces days before their commander claimed the attacks, which sparked their rebellion against Russia, took place.
Yevgeny Prigozhin said his mercenary group's camps in Ukraine had been attacked by rival forces from the Russian military on Friday, leading to them taking over the strategic city of Rostov-on-Don and marching towards Moscow before a deal was agreed for them to withdraw.
But CNN and The New York Times reported that US intelligence briefings on Wagner building troops near the Russian border were taking place earlier in the week.
Namita Singh25 June 2023 05:59
1687667414
Mutiny, mayhem and panic on the streets of Moscow: Russia saved from brink of civil war at 11th hour
While the immediate threat seems to have been averted, the unprecedented attack on the Russian military establishment marks the most serious challenge to President Vladimir Putin in the 23 years he has ruled with an iron fist – and the crisis is unlikely to just disappear just because the military convoy halted about 200km (125 miles) from the Russian capital.
Earlier in an extraordinary day, a visibly angry Mr Putin made an emergency address to the nation railing against the attempted coup and said the very existence of the Russian state was at stake.
Our international correspondent Bel Trew reports from Kyiv:
Namita Singh25 June 2023 05:30
1687663814
Sunak to stay in touch with allies after deal to end Russia rebellion
Prime minister Rishi Sunak is expected to stay in close contact with Western allies about the extraordinary events in Russia, where a rebellion against Vladimir Putin appeared to be defused when mercenaries turned back from Moscow and their chief was ordered to Belarus.
Wagner boss Yevgeny Prigozhin will leave Russia as part of a deal to end his uprising and charges against him will be dropped, the Kremlin said.
Russian authorities will not prosecute troops who joined him in the mutiny and will offer Russian military contracts to those who did not.
Mr Prigozhin told his forces to halt their advance on the capital to avoid "bloodshed" as part of the deal, which de-escalated a growing crisis that amounted to the greatest ever security challenge to the Russian president.
Namita Singh25 June 2023 04:30
1687662059
Muscovites made uneasy by revolt, Ukrainians pleased at internal turmoil
Muscovites on Saturday expressed unease or dismissed as political theatre a standoff pitting the Kremlin against Wagner mercenaries who had vowed to descend on the capital in a "march of justice" denouncing the conduct of the war in Ukraine.
Ukrainians, on the other hand, were clearly satisfied, sometimes gleeful, at the prospect of a split in Russian ranks 16 months after the Kremlin's troops invaded their country.
Moscow Mayor Sergei Sobyanin, an ally of President Vladimir Putin, had declared that a "counter-terrorism regime" was in force, before the leader of the Wagner private militia announced that his fighters would turn back to avoid bloodshed.
Yevgeny Prigozhin had said he wanted to oust the army's top brass and "restore justice", while Putin had promised to crush the mutiny.
One Moscow resident who gave his name as Nikolai – declining like others to give his surname – watched the military take up positions to protect the city.
"It's frightening of course – you sit at home thinking about what might happen," he told Reuters. "It's disturbing, both for you and your loved ones."
William Mata25 June 2023 04:00
1687660259
Russia mercenary threat revives concern over nuclear arsenal security
The Wagner mercenary group's march on Moscow has revived an old fear in Washington: what happens to Russia's nuclear stockpile in the event of domestic upheaval.
An agreement on Saturday by Wagner's boss, Yevgeny Prigozhin, to order his fighters back to their camps quelled immediate worries of major conflict inside Russia. But the episode signaled that Russian President Vladimir Putin's grasp on power is weakening.
Images of tanks on Russian streets brought to mind the failed 1991 coup by communist hardliners that raised concerns about the security of the Soviet nuclear arsenal and the possibility of a rogue commander stealing a warhead, said former U.S. intelligence officials.
"The IC (intelligence community) will be super-focused on the (Russian) nuclear stockpile," said Marc Polymeropoulos, a former senior CIA officer who oversaw the agency's clandestine operations in Europe and Eurasia.
William Mata25 June 2023 03:30
1687658459
'The crisis in Russia will force Keir Starmer to focus on the responsibility of government'
It is not just the Conservative Party that is keeping an eye on the events in Russia.
William Mata25 June 2023 03:00
play youtube
,
xnxx
,
xvideos
,
porn
,
porn
,
xnxx
,
Phim sex
,
mp3 download
,
sex 4K
,
Straka Pga
,
gay teen porn
,
Hentai haven
,
free Hentai
,