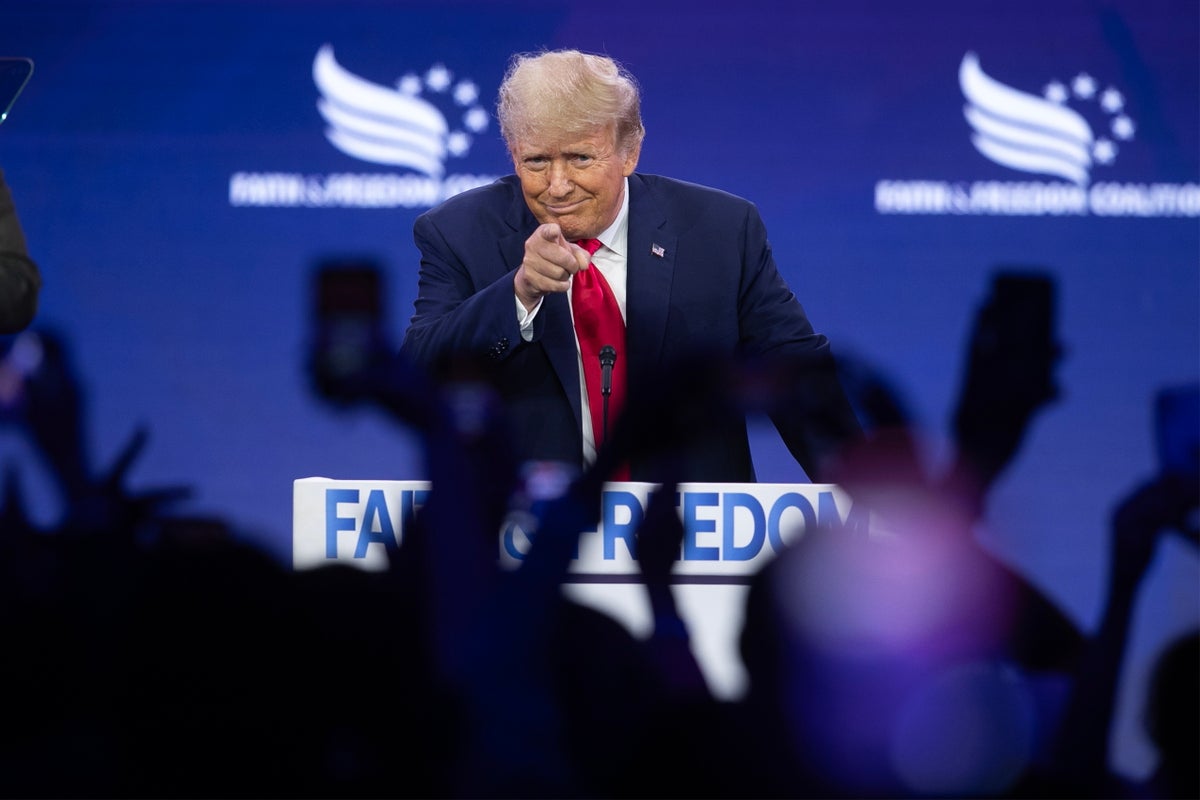 Trump grilled by Fox News presenter over all the aides that turned against him
Donald Trump told a crowd of evengelicals on Saturday that the federal government has a "vital role" to restriction abortion access while he once again took credit for overturning Roe v Wade.
But the former president did not detail his proposal for national abortion restrictions, in contrast to his 2024 rival Mike Pence, who supports outlawing care nationally at 15 weeks of pregnancy.
Mr Trump's remarks to a Faith & Freedom Coalition conference in Washington DC came on the one-year anniversary of the US Supreme Court's decision to revoke constitutional protections for abortion. Though he has repeatedly taken credit for the ruling, he has avoided questions about whether he would back a national ban if Republican lawmakers managed to pass one through Congress.
In his remarks, he also railed against the criminal indictments against him, as reporting from The New York Times finds that his presidential campaign has been diverting more funds raised by Mr Trump to a political action committee that has been used to cover his personal mounting legal fees.
1687708920
Trump's staunchest allies in Congress seek to expunge impeachments
Elise Stefanik, the fourth highest-ranking Republican in the House of Representatives Republican, and rightwing hardliner Marjorie Taylor Greene introduced a pair of resolutions that if enacted would aim to change the record "as if such articles had never been passed".
Graeme Massie25 June 2023 17:02
1687701143
GOP repeatedly claimed that ending Roe merely gave states freedom to decide abortion laws. Now they are pushing for national restrictions
After the decision in Dobbs v Jackson Women's Health Organization last year, Republicans have said that the Supreme Court ruling merely left abortion restrictions up to states.
But anti-abortion lawmakers and candidates for the 2024 Republican presidential nomination are pushing for a national ban that would also strike down state laws that protect and expand abortion access.
Congressional Republicans have passed several anti-abortion measures with national implications, and candidates vying for the 2024 Republican presidential nomination are endorsing national bans.
Trump, however, has offered only muddled answers, as national polling finds anti-abortion laws overwhelmingly unpopular. He has also blamed anti-abortion legislation for Republicans' losses in 2022 midterm elections.
"One of the reasons they wanted Roe v Wade terminated … is to bring it back into the states where a lot of people feel strongly the greatest progress for pro-life is now being made," he told the influential right-wing Faith & Freedom Coalition conference on Saturday.
But he said there remains "a vital role for the federal government in protecting unborn life."
Alex Woodward25 June 2023 14:52
1687700410
Trump celebrates anniversary of anti-abortion ruling as he tells religious crowd 'I'm getting indicted for you'
In remarks to an influential religious right-wing conference on Saturday, Trump took credit for the end of abortion rights enshrined under Roe v Wade, which was overturned by the US Supreme Court a year ago.
The crowd gave him a standing ovation when he referenced the ruling, a long-sought policy outcome of the religious right.
"Exactly one year ago today, those justices were the pivotal votes in the Supreme Court's landmark decision ending the constitutional atrocity known as Roe v Wade," he said.
Eric Garcia has more from Washington DC:
Alex Woodward25 June 2023 14:40
1687700170
Trump diverting more campaign cash into fund used to cover legal fees, report finds
Trump's campaign has been pushing more money raised for his 2024 presidential bid into a political action committee that has been used to cover his legal fees, as the former president faces several indictments and investigations in multiple jurisdictions in at least three states.
For every dollar raised for his campaign online beginning with its launch in November, 99 cents went to the campaign while a penny went to the PAC Save America.
But he appears to have adjusted that split, sending 90 per cent of donations to his campaign with another 10 per cent to Save America – a move that may have boosted his PAC by at least $1.5 million, according to The New York Times.
Save America spent $1.9 million in what it identified as legal expenses in the first half of 2022, according to The Times. That spending surged to $14.6 million in the second half of last year, according to records reviewed by the newspaper.
Alex Woodward25 June 2023 14:36
1687698000
Fox News's influence on GOP field still strong despite troubled year
The two leading GOP presidential contenders had very different interview experiences with Fox News in the past week — each an illustration of the influence that even a damaged Fox has over the Republican nominating process.
Graeme Massie25 June 2023 14:00
1687694460
In case that echoes Trump's, FBI analyst sentenced to four years over classified papers
A former FBI analyst has been sentenced to four years in prison after being convicted of illegally retaining classified documents in a case that bears similarities to the legal battle faced by former president Donald Trump.
Kendra Kingsbury, 50, worked as an analyst for the FBI for 12 years and held top secret security clearance when she was accused of taking classified documents out of the secure workspace and storing them in her Kansas City home.
Graeme Massie25 June 2023 13:01
1687690800
Trump criticizes US aid to Ukraine amid reports of armed rebellion in Russia
In a post to his Truth Social platform on Saturday morning, Trump blamed Joe Biden for a range of foreign policy decisions, baselessly accusing the president of "illegally" taking "millions and millions of dollars" from China, Ukraine and "many other countries.
"Why hundreds of billions of dollars are given, without any control, to Ukraine," he wrote.
Trump has repeatedly stated that he could end Russia's war in Ukraine and would withdraw aid and force a negotiated settlement, while the Biden administration has continued to support aid to the war-torn country and affirmed US support amid the crisis.
"We're focused on making sure that the Ukrainian Armed Forces have everything that they need to be successful," White House National Security Council spokesperson John Kirby told reporters at the White House on Friday.
Graeme Massie25 June 2023 12:00
1687680180
Nancy Mace is being tipped as Donald Trump's new running mate… who is she?
South Carolina congresswoman Nancy Mace, who once said that Donald Trump's "entire legacy was wiped out" by the Capitol riot (prompting him to back her primary opponent Katie Arrington last year out of spite) improbably finds herself being touted as the former president's next running mate after reinventing herself as his arch-defender.
Graeme Massie25 June 2023 09:03
1687676220
'Too busy': New ad mocks Trump's excuse for not handing back boxes
The group Republican Accountability has released a new advertisement slamming former president Donald Trump's excuse that he was too "busy" to return boxes of classified documents to the US government.
Mr Trump has claimed, first in a rally at his Bedminster golf club in New Jersey last week and then again during a Fox News interview earlier this week, that he failed to return the documents because they were mixed up with his personal belongings and he hadn't had a chance to go through them yet when the federal government called.
Graeme Massie25 June 2023 07:57
1687673700
Mississippi senator wants old Confederate state flag back
Josh Marcus has the story.
Graeme Massie25 June 2023 07:15
play youtube
,
xnxx
,
xvideos
,
porn
,
porn
,
xnxx
,
Phim sex
,
mp3 download
,
sex 4K
,
Straka Pga
,
gay teen porn
,
Hentai haven
,
free Hentai
,