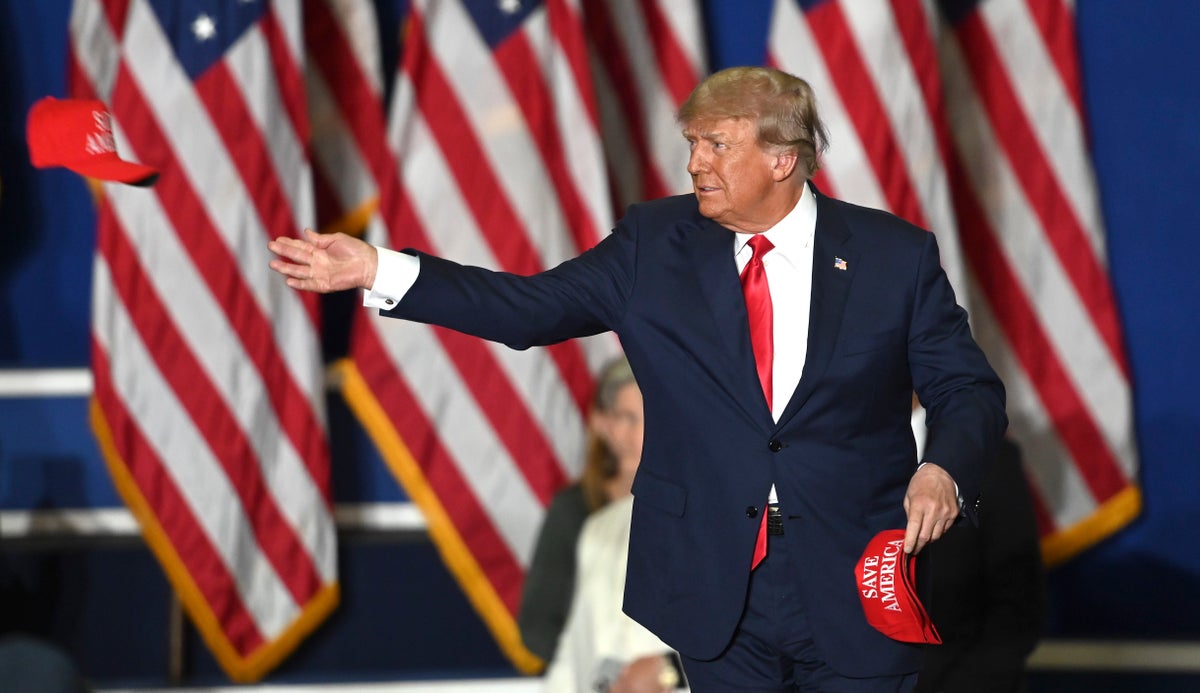 Donald Trump is set to appear in Michigan on Sunday as he looks to reclaim territory that helped propel him to the White House but slipped from his grasp four years later.
Campaigning for a return to the presidency while facing a federal indictment for allegedly mishandling classified documents, Trump will speak in suburban Detroit, where he lost ground between 2016 and 2020 and would need to win it back if he becomes the 2024 Republican nominee. He would have to reverse the recent trend in Michigan that has seen Democrats make some of their biggest gains nationally since Trump's reelection loss.
Trump is scheduled to speak at Oakland County GOP's Lincoln Day Dinner, where he is being honored by the party as its "Man of the Decade."
It will be his first campaign appearance in Michigan, one of three states, along with Pennsylvania and Wisconsin, that flipped in 2016 to put Trump in the White House and went for Democrat Joe Biden four years later.
Trump's popularity in Michigan has taken a hit since 2016.
"By Trump's calculations, he needs to win Michigan again to be the president. But he's been very disruptive here," said Dave Trott, a former GOP congressman. "Trump largely is the reason why the Michigan Republican Party is dead."
Last year, Trump's endorsed candidates in Michigan were among the loudest in repeating his unfounded claims that the 2020 election was rigged.
Trump's choice for attorney general, Matthew DePerno, spent the final months of his campaign under investigation into whether he should be criminally charged for attempting to gain access to voting machines after the 2020 election. Secretary of State candidate Kristina Karamo, a former community college professor, was handpicked by Trump to run for secretary of state after claiming she saw election fraud as a poll challenger in Detroit.
In November, the statewide candidates he backed were overwhelmingly defeated, including Tudor Dixon, who lost by over 10 percentage points to Democratic Gov. Gretchen Whitmer.
Michigan Republicans controlled all levels of state government from 2011 to 2019. Now, they are powerless for the first time in 40 years. The shift has been particularly evident in Oakland County, home to the largest number of Republican voters in the state.
"People who know Michigan electoral politics would say that it's pretty important that if Republicans are going to carry the state, they need to win Oakland County," Trott said.
While Trump lost the county in 2016 and 2020, Biden received nearly 100,000 more votes than Democratic nominee Hillary Clinton did there and won the state by about 155,000 votes, or 2.8 percentage points.
Trott, who represented Oakland County in the U.S. House from 2015 to 2019, initially endorsed Trump in 2016 but later said Trump was "unfit for office." Trump's support among Republicans in the Legislature has declined, with 25 lawmakers having already publicly backed Florida Gov. Ron DeSantis for president.
Among state GOP officials, however, support for Trump has not wavered. In February, Republican precinct delegates selected Karamo to led the party after she lost by 14% in the midterms. One of the first moves by new party leadership was a vote to change the state's traditional process of allocating all presidential delegates based on a primary open to the public.
Under a new plan widely expected to help Trump, Michigan will award just 16 of the state's 55 delegates based on the results of the Feb. 27 primary. The distribution of the remaining 39 delegates will come four days later in closed-door caucus meetings, conducted by the same party members who selected Karamo to lead the party.
"The plan gives Trump a significant leg up over the rest of the field. He's a grassroots favorite in the state and he's made Michigan his political playground for the last seven years," said Jason Cabel Roe, a former executive director of the Michigan GOP.
In an interview with The Associated Press, Karamo said she will remain impartial in the primary. She contends the party was forced to make the change after Michigan Democrats voted to move the state's primary from the second week of March to Feb. 27, a violation of the Republican National Committee's rules that could have resulted in a loss of delegates.
When asked whether Trump or his team had lobbied for the presidential primary change, Karamo refused to answer. She said she doesn't "discuss conversations with the different campaigns."
"We want to protect the voice of Michigan voters. So whether or not it may help one candidate over another, that's totally irrelevant," Karamo said.
According to Karamo, the Michigan GOP "worked on" the plan with the RNC and expects the national party to approve the new primary set-p.
The RNC said its conversations with the state party "focused on rules and process rather than the substance and language of Karamo's specific plan — the sort of guidance they offer each state party as they begin to formulate their individual paths forward for delegate selection."
"We look forward to reviewing each state and territory's plans," RNC spokesperson Emma Vaughn said in a statement.
___
Follow Joey Cappelletti at http://twitter.com/Cappelletti7
play youtube
,
xnxx
,
xvideos
,
porn
,
porn
,
xnxx
,
Phim sex
,
mp3 download
,
sex 4K
,
Straka Pga
,
gay teen porn
,
Hentai haven
,
free Hentai
,