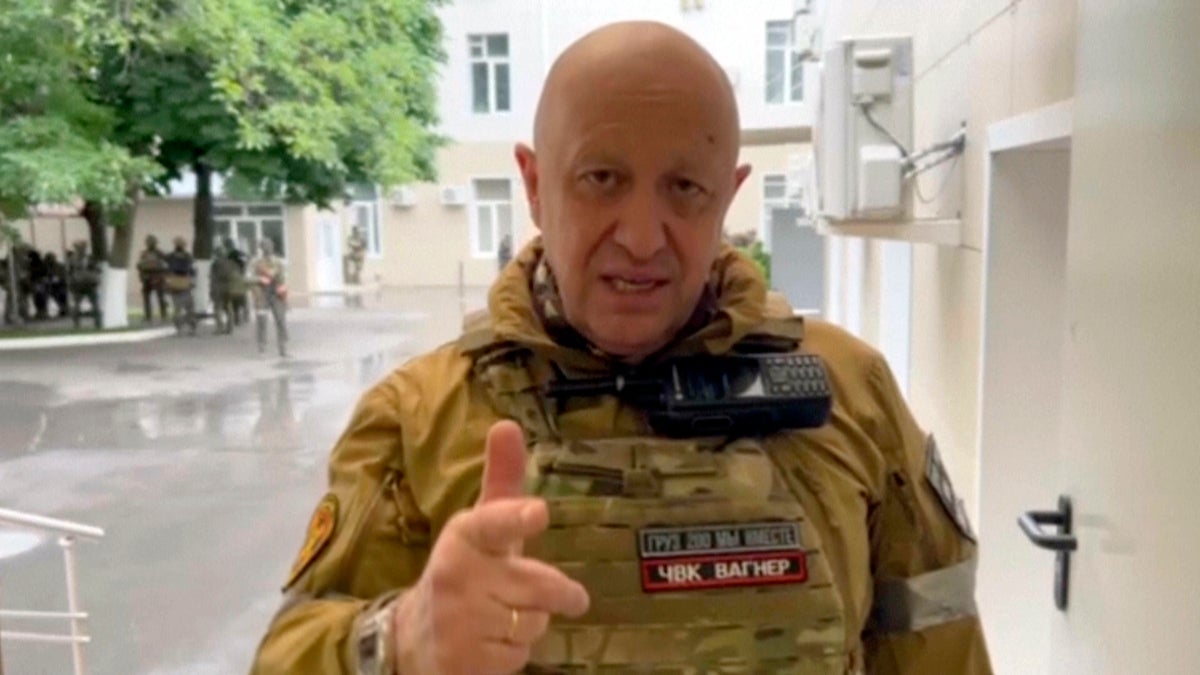 Earlier on Friday, drone footage showed a Russian troop being wiped out by a bomb
The Wagner Group's rebellion shows that 'cracks' are starting to form in Putin's power, the US has said.
Though it was short-lived, US secretary of state Anthony Blinken said the mutiny was a "direct challenge of Putin's authority".
Mr Blinken told US media: "We've seen more cracks emerge in the Russian façade. It is too soon to tell exactly where they go… but certainly, we have all sorts of new questions that Putin is going to have to address in the weeks and months ahead."
Wagner chief Yevgeny Prigozhin will be exiled from Russia to Belarus as part of a truce agreed with Vladimir Putin after an explosive armed rebellion raced to Moscow on Saturday.
The mutiny was called off at the 11th hour as Prigozhin said he wanted to "avoid bloodshed". Wagner's forces were about four hours away from Moscow when news of the dramatic turnaround came.
His decision to stop Wagner soldiers storming through Moscow saved him and his men from facing criminal charges over the attempted coup, the Kremlin said.
1687749046
Australia packs $74m military aid, including war vehicles, for Ukraine
Australia is sending a fresh A$110m (£57.5m) package to Ukraine including 70 military vehicles as it continues to repel Russian invasion, prime minister Anthony Albanese said today.
The package will include 28 M113 armoured vehicles, 14 special operations vehicles, 28 medium trucks and 14 trailers.
"Australia is unwavering in our resolve to condemn and oppose Russia's actions and to help Ukraine achieve victory," the prime minister said.
He added that Australia will also extend duty-free access for goods imported from Ukraine for a further 12 months, to support its recovery and trade opportunities.
The new assistance package, Mr Albanese said, was prepared before the news of Wagner's brief mutiny against Vladimir Putin regime emerged over the weekend.
Arpan Rai26 June 2023 04:10
1687748599
2023 will be a game changer in war, says Ukrainian defence minister
The current phase of the counteroffensive is a "preparatory operation" and once the counteroffensive is fully underway it will be a success, the Ukrainian defence minister Oleksii Reznikov said.
"This year will be a game changer," he told Fox News in an interview.
"My gut feeling is we will win this war because we are fighting for our country."
Denying that the ongoing fierce pushback from Ukrainian forces on multiple fronts is the counteroffensive, Mr Reznikov said the action is "some kind of preparatory operation", adding that Russian forces have built up "very strong defensive lines".
While the early expectations for the counteroffensive were "overestimated", Mr Reznikov said, he added that Ukraine is extremely careful in deploying its brave and motivated soldiers in dangerous way.
"We try to save their lives," the defence minister said.
Arpan Rai26 June 2023 04:03
1687748421
What happened in the Wagner Group mutiny?
On Saturday, Mr Prigozhin's forces appeared to control the military headquarters in the city of Rostov-on-Don near the Ukrainian border after crossing from occupied parts of Ukraine
The governor of the Lipetsk province later said the Wagner Group entered his region, which is about 225 miles south of Moscow.
The march was then dramatically called off later on Saturday as it abandoned a coup that saw soldiers take control of the military headquarters in both Rostov and Voronezh.
Rogue Russian mercenary fighters had their efforts labelled as "treason" by Vladimir Putin after the shock advance that began on Friday evening.
The mutiny, called off when troops were just four hours from the Russian capital in a deal brokered by Belarus, marked one of the most explosive episodes in the country's war saga to date.
The move came after the group's leader Yevgeny Prigozhin accused the Kremlin of deliberately bombing Wagner troops in Bakhmut.
Britain's Ministry of Defence has called the instalment "the most significant challenge to the Russian state" in a series of events that are set to put the city firmly on the map.
Lucy Skoulding26 June 2023 04:00
1687747256
US intelligence 'knew Wagner was planning insurrection' weeks ago
US intelligence agencies learned weeks ago that the Wagner Group was planning an insurrection, officials in Washington have said.
Multiple US officials told The Washington Post, that intelligence agencies learned in mid-June that the Russian mercernary group, led by Yevgeny Prigozhin, was planning an armed rebellion to take out the country's military leaders who he has blamed for the bungled invasion of Ukraine.
"There were enough signals to be able to tell the leadership … that something was up," an unnamed US official told the Post, referring to the White House. "So I think they were ready for it."
Arpan Rai26 June 2023 03:40
1687744821
Ukrainian president speaks with Biden following Wagner mutiny
President Zelensky connected with President Biden following the almost-coup in Russia by the Wagner Group.
Zelensky's full statement on Twitter read: "I spoke with President @POTUS. A positive and inspiring conversation.
"We discussed the course of hostilities and the processes taking place in Russia. The world must put pressure on Russia until international order is restored.
"I thanked the @POTUS for the unflagging support of Ukraine, especially for Patriots.
"It is important to further increase Ukraine's capabilities to protect our skies. In this context, I also thanked him for the support of the fighter jet coalition.
"We discussed further expansion of defense cooperation, with an emphasis on long-range weapons.
"I am grateful for the readiness of the US and the American people to stand side by side with Ukraine until the full liberation of all our territories within internationally recognized borders.
"We coordinated our positions on the eve of the @NATO Summit in Vilnius, discussed further work on the implementation of Peace Formula and preparations for the Global Peace Summit."
Lucy Skoulding26 June 2023 03:00
1687741221
Russian authorities tell journalists to 'take a day off'
Russian authorities have told journalists to "take a day off" after covering the march in on Moscow by the Wagner Group due to it being a "tense" weekend.
The rebellion led by Yevgeny Prigozhin which vowed to attack Russian military leadership caused reporters and newsrooms to work around the clock over the weekend, so authorities have told media employees to take a day off on Monday, according to Agence France-Presse.
"Saturday was a very emotional and tense day," the ministry of digital development, communications and mass media said in a statement on social media.
"We recommend giving employees of IT and telecom companies and media a day off."
"Many employees of the digital development ministry spent the weekend at their workplace," the statement said, "so we also made this decision for our employees."
Lucy Skoulding26 June 2023 02:00
1687737621
Zelensky speaks to Justin Trudeau
Zelensky held a series of phone calls with country leaders following the Wagner Group mutiny, including Canadian prime minister Justin Trudeau.
He said he drew him to the attention of the "threatening situation created by the occupation troops at the Zaporizhzhia NPP".
In a tweet summarising his call with the Canadian prime minister, Zelensky said: "I held the first of a series of important phone calls – with Prime Minister @JustinTrudeau. I'm grateful to him for his recent visit to Kyiv and to Canada and all Canadians for their continued support of Ukraine.
"I spoke about the current situation on the battlefield and shared assessments of the attempted coup in and the impact of this situation on the course of hostilities. I drew @JustinTrudeau's attention to the threatening situation created by the occupation troops at the Zaporizhzhia NPP.
"Insufficient reaction of the world to the blowing up of the Kakhovka hydroelectric power plant dam and the attempt to blow up the dam at the Kryvyi Rih reservoir allows the occupiers to prepare a terrorist attack with radiation leakage at the ZNPP.
"Partners of must demonstrate a principled response, in particular at the @NATO Summit in Vilnius."
Lucy Skoulding26 June 2023 01:00
1687734021
US secretary of state says we've not 'seen the last act' after Wagner Group's mutiny
Blinken and members of the U.S. Congress said in a series of television interviews that Saturday's turmoil in Russia has weakened Putin in ways that could aid Ukraine's counteroffensive against Russian forces within its territory while benefiting Russia's neighbors, including Poland and the Baltic states.
"I don't think we've seen the final act," Blinken said on ABC's "This Week" program after an aborted mutiny by forces led by Yevgeny Prigozhin.
Blinken said tensions that sparked the action had been growing for months and added the threat of internal turmoil could affect Moscow's military capabilities in Ukraine.
"We've seen more cracks emerge in the Russian facade. It is too soon to tell exactly where they go, and when they get there. But certainly, we have all sorts of new questions that Putin is going to have to address in the weeks and months ahead," Blinken told NBC's "Meet the Press" program.
Blinken described the turmoil as an "internal matter" for Putin.
"Our focus is resolutely and relentlessly on Ukraine, making sure that it has what it needs to defend itself and to take back territory that Russia seized," Blinken said.
Lucy Skoulding26 June 2023 00:00
1687732239
Ukrainian defence minister. says Russian authorities 'weak' and things are 'moving in the right direction'
Ukrainian Defence Minister Oleksii Reznikov said he discussed the turmoil in Russia in a phone call with his U.S. counterpart on Sunday, describing the Russian authorities as "weak" and saying things were "moving in the right direction."
In a brief readout of the call with Defence Secretary Lloyd Austin, Reznikov said they also discussed Ukraine's counteroffensive and steps to strengthen Ukraine's armed forces.
"We agree that the Russian authorities are weak and that withdrawing Russian troops from Ukraine is the best choice for the Kremlin," Reznikov wrote on Twitter.
Lucy Skoulding25 June 2023 23:30
1687730250
Biden administration warns more turmoil possible in Russia
The Biden administration has warned that more turmoil is possible in Russia after a short-lived coup instigated by a mercenary group once loyal to Putin.
Secretary of State Antony Blinken made the prediction on Sunday in the first comments from a senior administration official on Russia's future after a whirlwind 48 hours which left the leader of the Wagner Group exiled after his troops marched on Moscow.
"This is an unfolding story, and I think we're in the midst of a moving picture," Mr Blinken said on CBS show Face the Nation. "We haven't seen the last act. We're watching it very closely."
Lucy Skoulding25 June 2023 22:57
play youtube
,
xnxx
,
xvideos
,
porn
,
porn
,
xnxx
,
Phim sex
,
mp3 download
,
sex 4K
,
Straka Pga
,
gay teen porn
,
Hentai haven
,
free Hentai
,