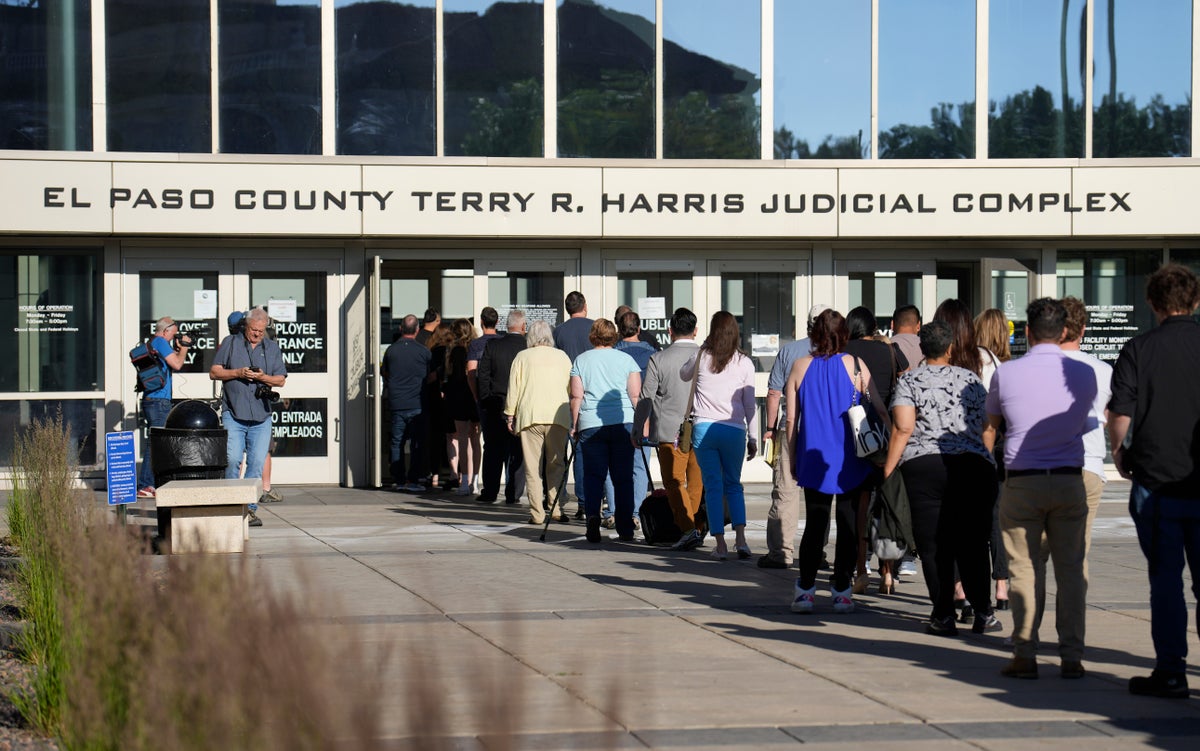 They waited somberly on Monday on the fourth floor of the El Paso County Courthouse – some in suits, some in t-shirts bearing the names and faces of victims, some in rainbow bracelets or attire – exactly two weeks and one day after Colorado Springs' Pride parade marched by the building where a shooter who attacked the city's LGBT+ community would soon face justice.
The friends, family and survivors of the November 2022 Club Q massacre were waiting to see shooter Anderson Lee Aldrich plead guilty in court. They were there to demand justice and to let the world know about the bravery and loss witnessed on that devastating night. And they were there to show defiance.
They called Aldrich a terrorist, an animal, a loser, a monster – even "it" in an attempt to dehumanise the shooter who took five lives and attempted to extinguish 46 others. Large, handcuffed and mostly silent, the shooter looked on before accepting the punishment of more than 2,000 years behind bars.
"Lock this animal away to the depths of hell, and send a clear message that love, and not hate, will be tolerated," said Cheryl Norton, whose daughter, Ashtin Gamblin, survived nine gunshot wounds after covering herself in the blood of friend and murdered coworker Daniel Aston.
Ms Norton and Ms Gamblin described in vivid and horrifying detail how Aston stood in front of his fellow Club Q employee as Aldrich – who had met Ms Gamblin and conversed with her earlier in the night before returning in body armour with a veritable arsenal -– opened fire just before midnight in Club Q.
"A positive force has been taken out of the world," Daniel's father told the judge and crowded courtroom. "Daniel should be here. He was in the prime of his life. He was happy; he had hopes, dreams and plans that will never be realised."
Describing Daniel's "contagious smile and burning blue eyes," he continued: "We will never hear any of his funny stories again. I will never again hear him laugh at my Dad jokes … he had a good life with many positive things in store for him that was taken away from him way too soon.
"He was a huge light in this world that was snuffed out by a heinous, evil and cowardly act."
Aston's parents were the first to speak. The final survivor to stand before the mic proved to be among the most dramatic, temporarily pausing the prosecution's address of the judge when Drea Norman – who helped subdue Aldrich on the night – swept into the courtroom.
Aldrich was first heroically tackled by Thomas James, an active member of the Navy, who was shot for his efforts but continued his attack on Aldrich. Then Army veteran and Colorado Springs brewery owner leapt into action, beating Aldrich and holding the shooter on the ground. Then Drea stepped in.
"I heard Richard shouting that he needed help; the shooter was crawling away from the grasp that he had him in," a statuesque Drea said on Monday. "As I stood above him, my only thought was, throw my foot down and stop him – and after I would imagine was 10 strikes, I stopped, feeling like that was more than enough – and I walked away … that was when the police came in, and they were looking for Mr Aldrich and I pointed, gesturing at him … and they proceeded to detain and arrest him."
Mr Fierro also spoke passionately, following remarks made by his wife, Jessica, and daughter, Kassandra, who were injured when Aldrich attacked Club Q. They had been enjoying a night out with Kassandra's boyfriend, Raymond Green Vance, who was killed in the shooting.
"This thing, sitting in this courtroom, is not a human," Jessica Fierro said, crying. "It is a monster, a killer, a murderer, a failure, a coward, a racist, a bigot, an embarrassment to society who has earned a one-way ticket to eternity in prison five times over and then some."
Her daughter, Kassandra, describing herself as Raymond's girlfriend of six years, lamented how they'd gone to Club Q "that night to celebrate, to dance, sing and laugh, only to have our entire futures ripped from us because of that evil man. I will never get to grow old with my person. I will never get the chance to marry the love of my life. I will never get to start a family with Raymond. I will never get to see or hear or feel Raymond ever again. I will never, ever be able to unsee my future laying in a casket before me. All of this for no reason."
She said she hoped Aldrich, for the rest of his imprisoned life, "hears our stories echoing in his head every time he lays his head down."
Her father still seemed barely able to contain his anger seven months after his military training kicked in on an innocuous night out at home – calling it "unforgivable to me [that] this terrorist brought combat and terror to our entire community.
"I have more respect for the adversaries I fought overseas than I do for this individual," he said, then directly addressing Aldrich.
"I hope the words I yelled into the back of your head echo for the rest of your life," he told the handcuffed shooter sitting to his right, adding that the people who "stopped him from continuing his evil represented everything that he could never be and everything he hates."
Adriana Vance, whose murdered son had a long-term relationship with Mr Fierro's daughter, also shared her grief.
"Raymond was 22 years old," his mother, Adriana Vance, told the judge, describing her son as a "kind, loving, gentle man who touched a lot of people's hearts. He was always there for his family and his friends; he was also there for people he didn't even know," she said. "He never harmed a soul. He was killed in a horrific manner in what amounts to less than five minutes … lives were taken, families disrupted, plans destroyed – and somehow, the families all need to find a way to go on.
"What matters now is that he never sees a sunrise or a sunset – that's all I have to say."
The survivors and their relatives were divided over the issue of forgiveness. Stephanie Clark, sister of 35-year-old victim Ashley Paugh, emotionally described how opinions differ drastically even within the same family.
"My 11-year-old niece wants to forgive you, because she says that's what she feels her mom would want her to do," Ms Clark said to Aldrich of the child whose mother was killed. "My sister taught her to be a caring and forgiving person, and I'm glad she still has that innocent mind and hasn't realised what an evil world we really live in."
Ms Paugh's husband, Kurt, steeled himself while describing his high school sweetheart, who devoted herself to working with foster families and "would have had a conversation with this low-life with no judgment whatsoever."
"Her love and joy for these children and these families was so special and person to her," he said of his wife's work. "Those families and these children are also feeling the loss of Ashley, who was taken by one senseless act of hate. It hurts that this monster gets to spend the rest of his life in prison living off our tax dollars … [and] rot in loneliness and hate.
"My wife's name – Ashley Marie Paugh – will live on through memories, through her loved ones and especially her daughter."
Wyatt Kent, a drag performer who'd been celebrating a birthday when Aldrich burst in, said he'd chosen to forgive he shooter.
"I forgive this individual, as they are a symbol of a broken system of hate and vitriol pushed against us as a comm," Kent said. "it is inexcusable, the action and the pain and trauma and holes that have been created from this tragic evening. What brings joy to me is that this hurt individual will never be able to see the joy and the light that has been brought into our community as an outcome of this."
Daniel's mother, Sabrina, said she was unable to feel similarly.
Her son, she said, "may have forgiven you, Mr Aldrich – but I will never forgive you … your actions were brutal, hate-filled and cowardly. You have to live with this shame in your small cell until you die.
"Not for one minute do I believe your words of regret and remorse," she said to Aldrich, who declined to speak on his own behalf on Monday, instead having his lawyer offer his apologies. "Our family and friends will never be able to watch Daniel grow and enjoy so many milestones of life."
The family of Derrick Rump — the beloved Club Q employee who worked and died alongside Mr Aston — said they had "no forgiveness in our hearts for him," a cousin said in a taped audio statement after Derrick's mother, crying as she told how "he was someone who would give you the shirt off his back," stumbled through her own words.
"We hope he never has a good night's sleep," Derrick's cousin said, adding: "We hope he never has a reason to smile … we hope he is greeted with the same hatred every day that he has shown. We hope he never has another day's peace, because the only peace our family will know is that one day this awful being will die – and we know that, when it comes time for his [final] judgement, he will be going straight to hell to rot.
"And even that's not good enough for him."
play youtube
,
xnxx
,
xvideos
,
porn
,
porn
,
xnxx
,
Phim sex
,
mp3 download
,
sex 4K
,
Straka Pga
,
gay teen porn
,
Hentai haven
,
free Hentai
,